Black and White and Blues: Chicago's 1970s South Side Nightclub Scene
Within the tradition of 20th century documentary nightlife photography, Europe had Brassaï, Ed Van Der Elsken and Anders Petersen; Chicago … Continued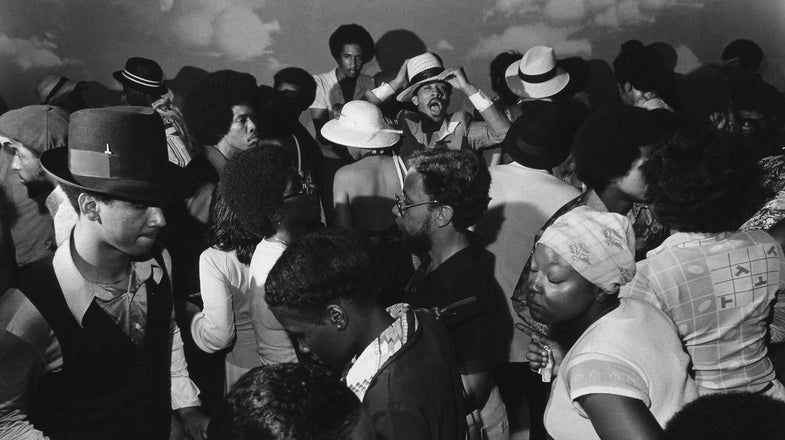 Within the tradition of 20th century documentary nightlife photography, Europe had Brassaï, Ed Van Der Elsken and Anders Petersen; Chicago had Michael Abramson. Throughout the seventies, Abramson, who passed away in 2011, captured the energy and emotion of the windy city's ballrooms, stripclubs, polkas and most memorably, the black blues clubs of the tumultuous, and still largely segregated, South Side.
"You're there to have fun… to forget whatever troubles or successes you might have," he told LENS blog in 2009. "When you're looking through the lens, you have a reason to wander all over the place."
This week, the first major exhibition of of Abramson's work since 1977 opened at the Columbia College Chicago Library. Copresented with the Museum of Contemporary Photography, Michael L. Abramson: Pulse of the Night (through Dec. 19, 2014) showcases original, and in most cases unseen prints from the South Side series, what began as the photographer's graduate thesis project, and ended up earning him a grant from the National Endowment for the Arts in 1978.
For two years, sometimes five nights a week, Abramson traveled from his northern Chicago suburb to the South Side, rambling from nighttime hotspots like Perv's House and the Five Fingers Social Club to the High Chaparral and the New Jazz Showcase Lounge. Shooting upwards of half a dozen rolls of film a night, he captured the energy and emotion of little life dramas unfolding around him through telling, but unsentimentalized gestures and gazes.
What his pictures lacked of course, was a soundtrack. Decades after he finished shooting the body of work, Chicago record label the Numero Group approached him about doing a combination monograph and two LP record set, Light: On the South Side, 100 images paired with 17 of the same tracks blaring from the jukeboxes of the clubs where he photographed. Below, check out this trailer featuring Ricky Allen's 1974 track "No Better Time Than Now" and additional pictures from the book set, copies of which will be available at the exhibition.