The Best Photojournalism of the Week: March 1, 2012
Be sure to check out our archive of past Photojournalism of the Week galleries, where you will find more great...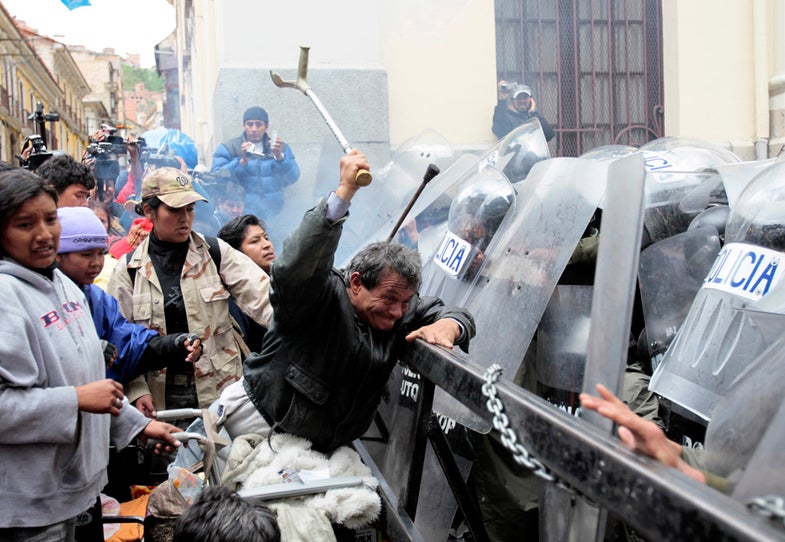 Kid Rock Joins Mitt Romney At Michigan Campaign Rally
Getty Images staff photographer Joe Raedle made this image of a Mitt Romney supporter during a campaign event held before the Michigan primary. Raedle has been on the ground covering several wars for Getty. In March of 2011 he was taken captive while covering the war in Libya, by Gaddafi forces. He was imprisoned for four days before being released.

54th Annual Daytona 500
Getty Images stringer John Harrelson made this image at the Daytona 500 when driver Juan Pablo Montoya collided with a dryer truck on the track during a caution. The truck was filled with jet fuel, causing a huge explosion. You can see more of John's work on his Website.

Ryan Miller
Associate press Photographer Gregory Bull captured this photo of Buffalo Sabres goalie Ryan Miller staring at a puck he had just stopped during an NHL game against the Anaheim Ducks. Bull has been shooting for the Associated press since 1996, and has worked in Mexico, Japan, Haiti and all over the United States.



Carissa Westfall helps salvage products from Nature's Sunshine Health Foods in Branson
Reuters contract-photographer Sarah Conard made this photograph of Carissa Westfall searching her Branson, Missouri health food store, for anything salvageable. Earlier in the week a Tornado ripped through the Midwest, killing at least six people and damaging many buildings. Check out more of Sarah's work on her Website.

Physically disabled people clash with riot police in the centre of La Paz
Reuters photographer David Mercado captured this incredible image of disabled protestors clashing with riot police in La Paz, Bolivia. They claim the country's government's lacks financial support for its nation's physically-disabled.

A man confronts protesters who were vandalising a bank facility during protests against cuts in education in Barcelona
This image of a man confronting hooded protestors as they vandalized a Barcelona bank was captured by Barcelona-based Reuters photographer Albert Gea.

Models present creations by Belgian designer Dries Van Noten as part of hisFall/Winter 2012-2013 women's ready-to-wear fashion show during Paris fashion week
Models reveal Belgian designer Dries Van Noten's new line at a fashion show in Paris, France. Stephane Mahe, a Reuters staffer based in France, made this image during Paris fashion week.

Muhammed Ibrahim
Gaia Anderson captured this portrait of Muhammed Ibrahim, an 18-year-old Syrian singer who was badly injured when a Syrian army shell exploded during an anti-Assad protest. Ibrahim is currently recovering at a hospital in Antakya, Turkey. Anderson is a freelance photographer working for the Associated Press in Turkey. You can check out one of his many photoblogs here, here and here.
Be sure to check out our archive of past Photojournalism of the Week galleries, where you will find more great work.