The Best Photojournalism of the Week: February 10, 2012
This week's images come to us from all across the globe, from a diverse group of photographers. Wherever possible, we've...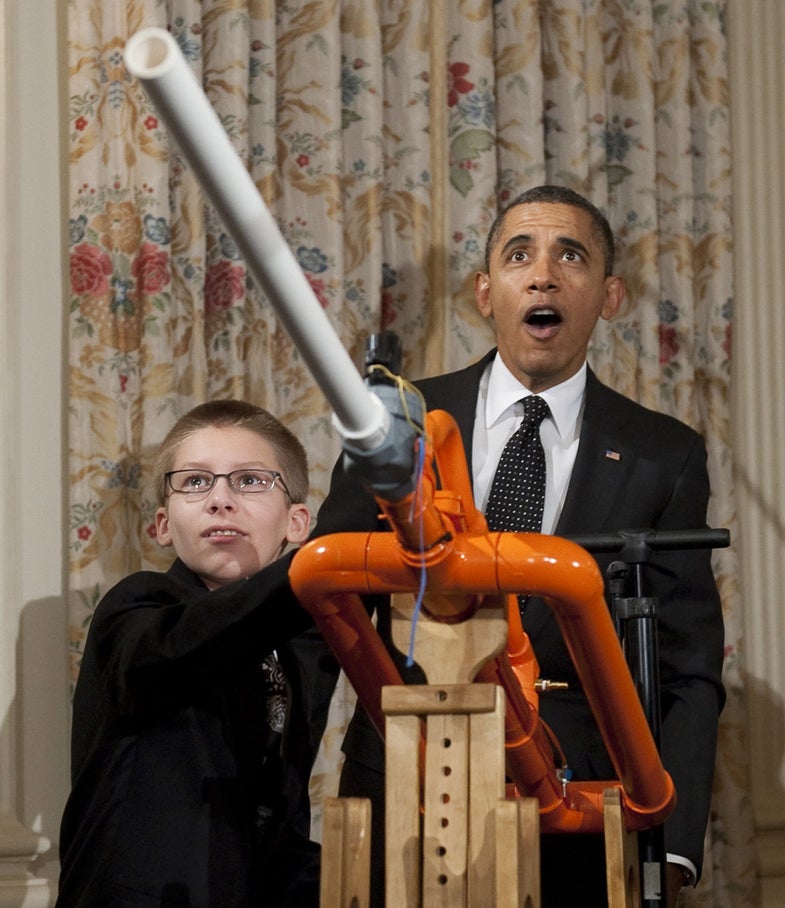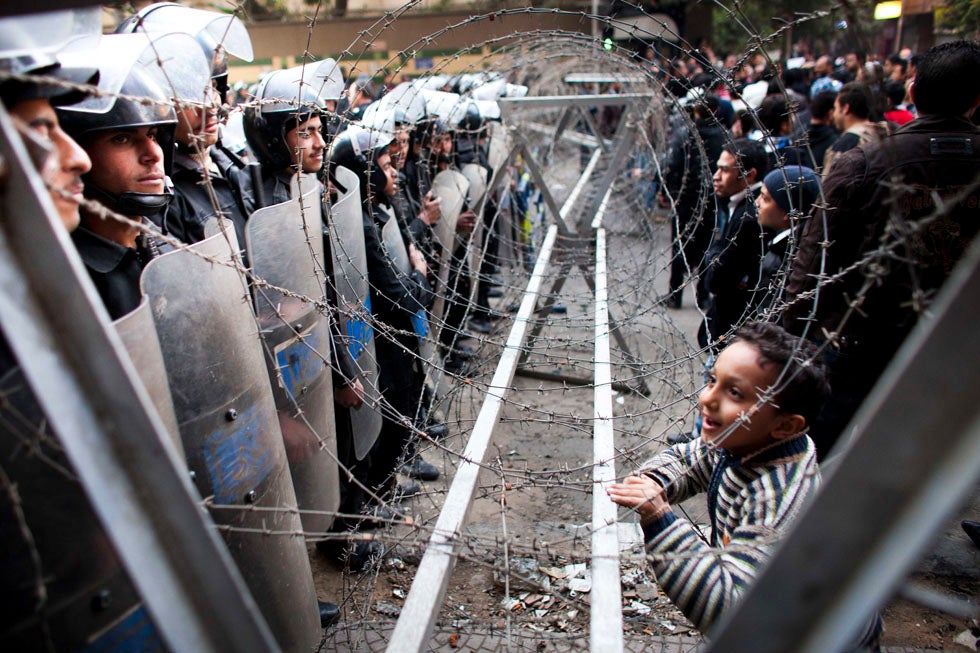 Demonstrations In Cairo Follow Football Stadium Deaths
Protests have continued this week in Egypt, calling for improvements in police protection after 74 football fans died in violence at a match earlier this month. Getty Images contributing photographer Carsten Koall made this image of a boy looking up at police officers during a march in Cairo. You may recall Koall's memorable image of a protester and his tear gas canisters from last week's roundup, as he continues to file amazing work from Egypt.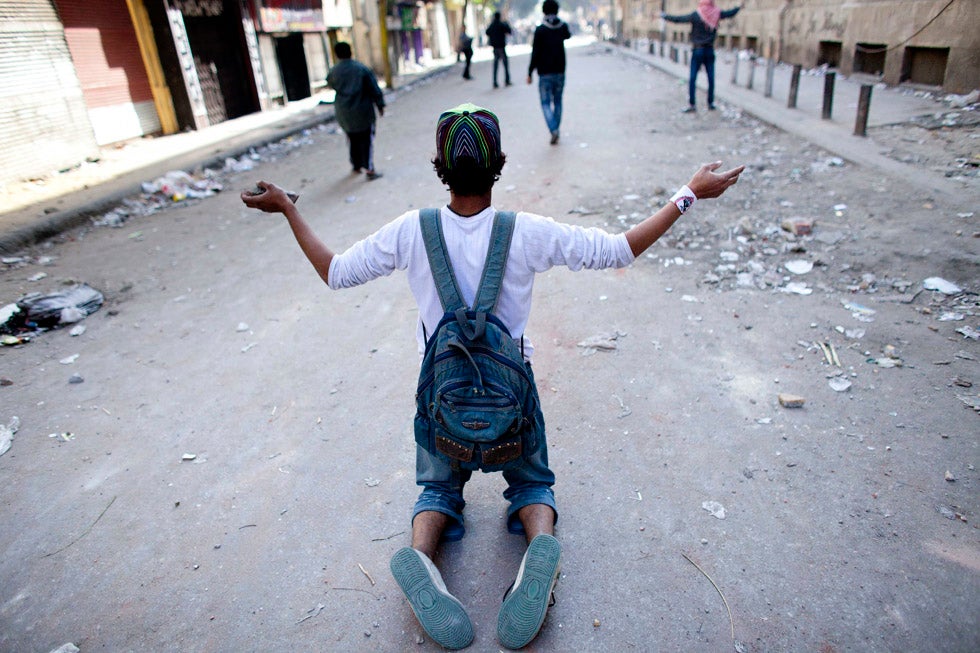 Clashes Continue In Streets Of Cairo
This image was also taken by Koall during protests in Cairo, Egypt. At least 4 protestors have also been killed during clashes with police this week and last.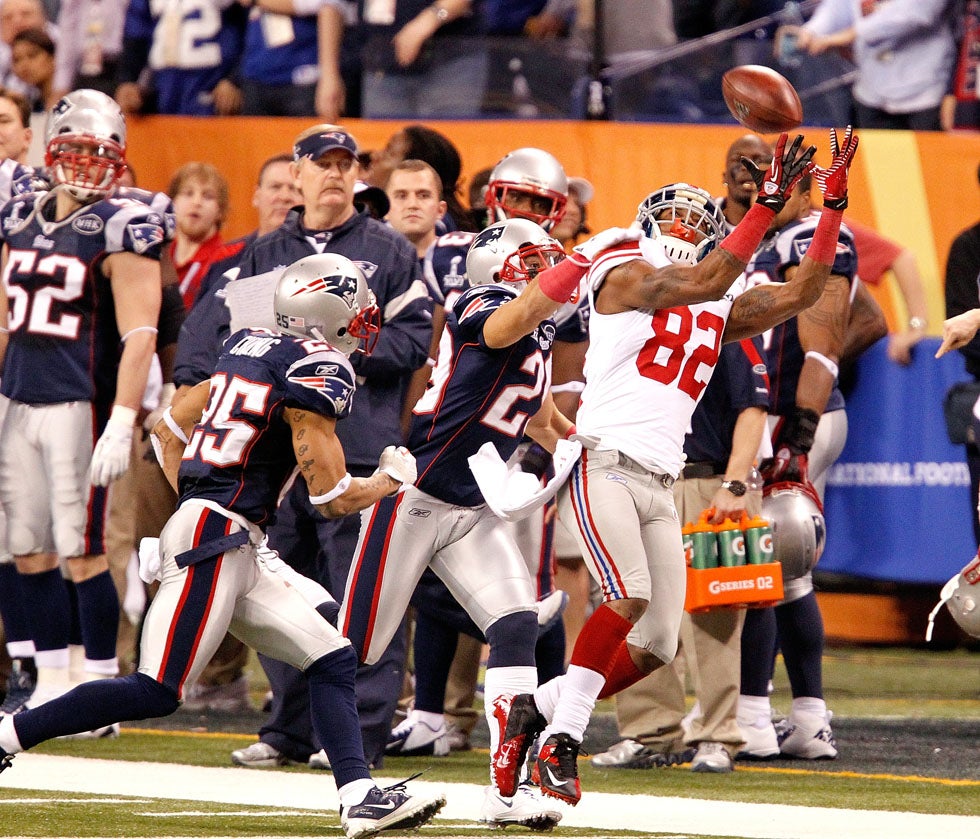 Super Bowl XLVI
New York Giants wide receiver Mario Manningham made this incredible catch during the Giants' Super-Bowl-winning fourth quarter drive last Sunday.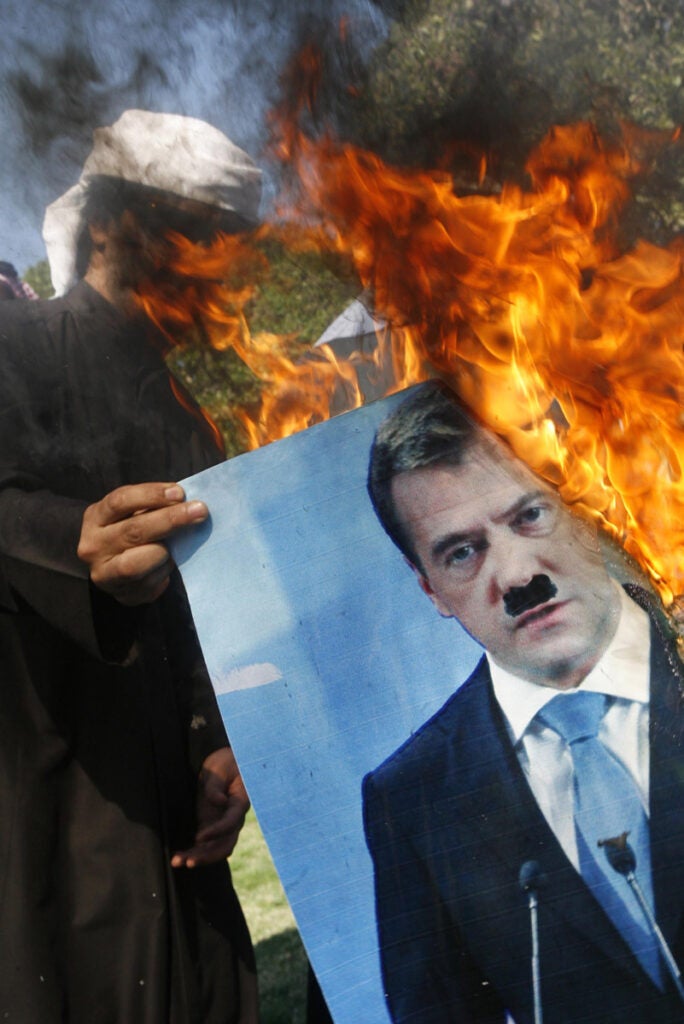 A Kuwaiti demonstrator holds a burning p
Yasser al-Zayyat, a stringer for AFP and Getty Images, made this image of a protestor burning a portrait of Russian President Dmitry Medvedev in Kuwait City outside of the Russian embassy. This week, Russia vetoed a U.N. Security Council resolution condemning the government's deadly crackdown in Syria, drawing protests in countries across Europe and the Middle East. See more of Yasser al-Zayyat's work on the AFP photographer portfolio site and on the New York Times Lens blog.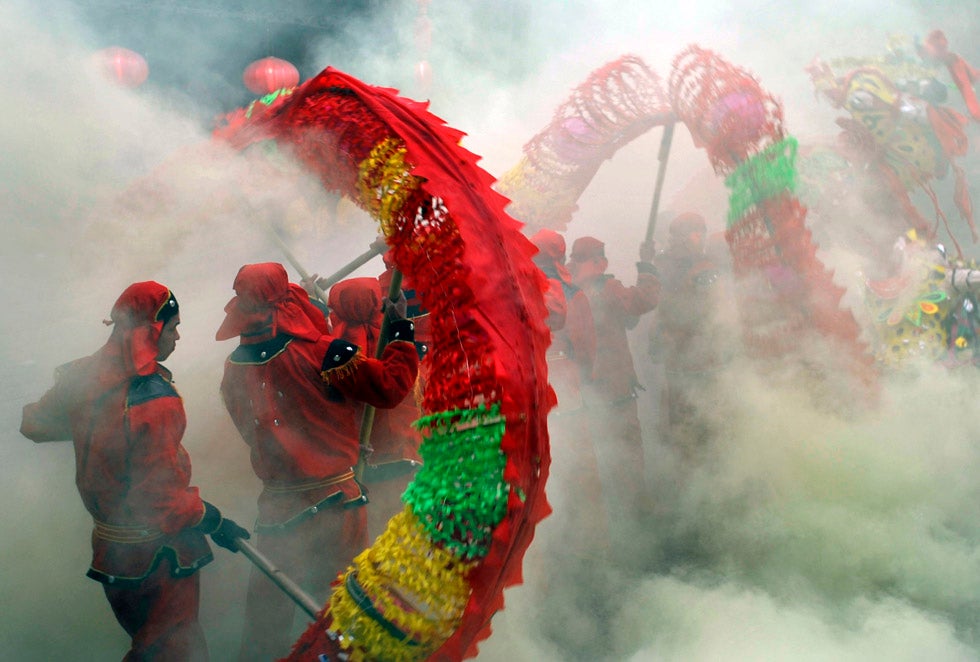 Chinese Prepare For The Lantern Festival
The Lantern Festival marks the end of the 15-day Chinese New Year celebration. Here, folk artists perform a dragon dance as part of the festivities in the Guizhou providence of China.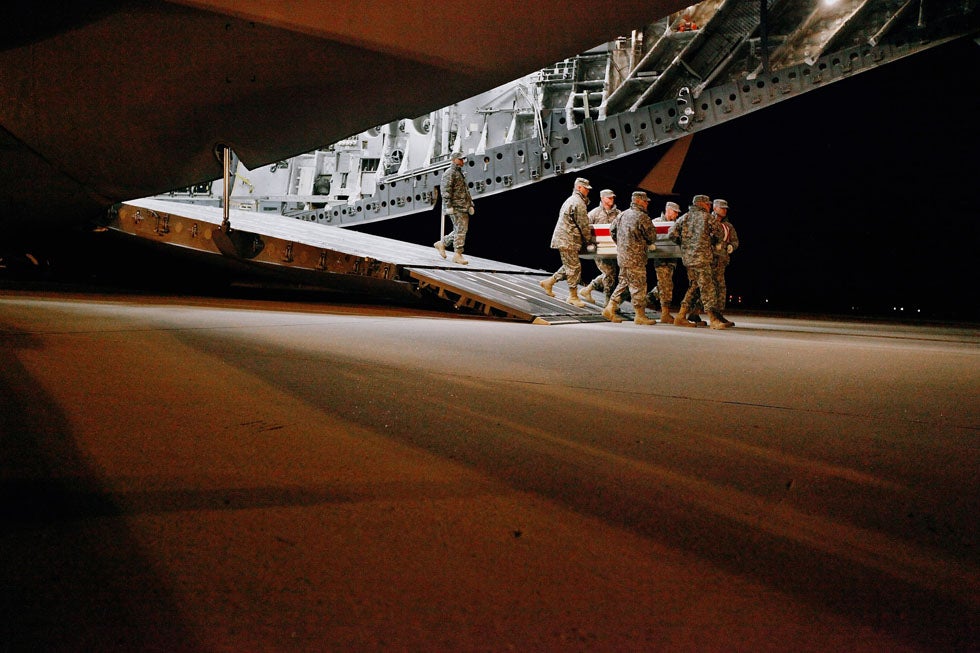 Remains Of One-Star General Return To Dover Air Force Base From Afghanistan
Chip Somodevilla, a Getty staff photographer ,captured this intimate moment of U.S. Army soldiers carrying the body of Brig. Gen. Terence J. Hildner during what is known as a dignified transfer at Dover Air Force Base, in Delaware. Hildner, a one-star general, was found dead in his sleeping quarters while stationed in Kabul. He is the highest-ranking officer to die in the war in Afghanistan, according to the State Department. Chip Somodevilla lives and works in Washington D.C. covering political assignments primarily. Prior to joining Getty in 2006, he was a photographer at the Fort Wayne News-Sentinel, the Fort Worth-Telegram and the Detroit Free Press.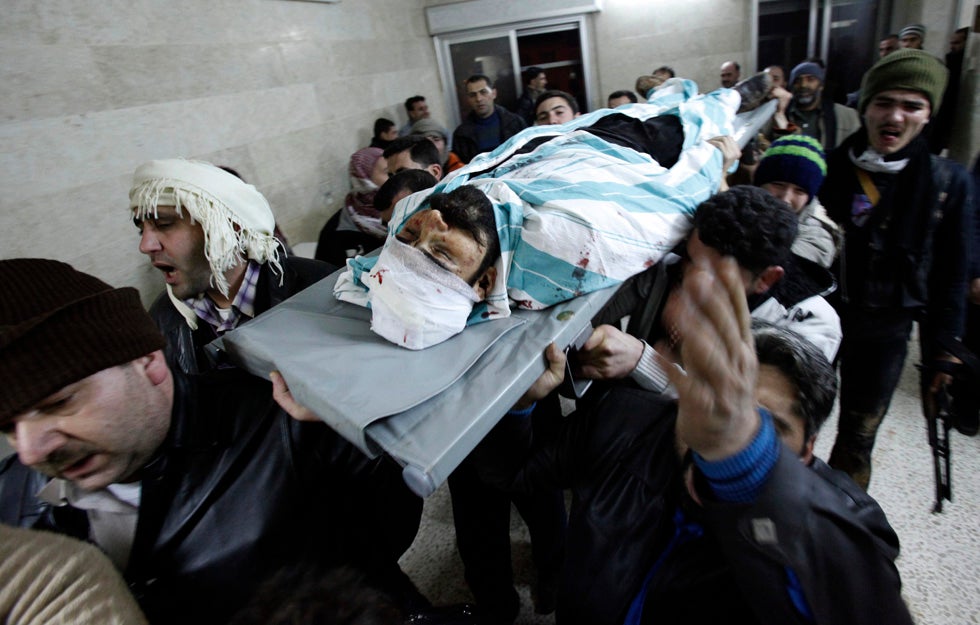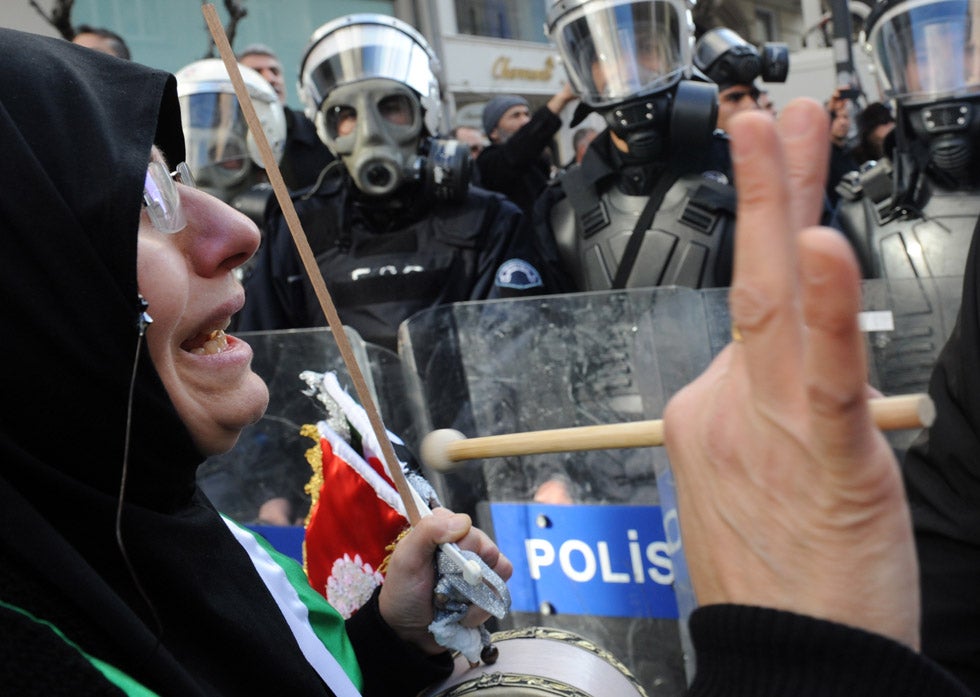 Demonstrators protest in front of the Sy
A female protestor clashes with police officers outside the Syrian consulate in Istanbul, Turkey. Demonstrators in many European countries, including Turkey and Great Britain, have taken to the streets to voice their disapproval of Syrian President Bashar al-Assad, who is violently squashing opposition protesters in his own country. Getty Images stringer Bulent Kilic, who made this image, was born and raised in Turkey. He graduated the Aegean Journalism Facility in 2003, and has been working as a stringer for AFP and various other Turkish publications for the past nine years. He currently lives and work in Istanbul.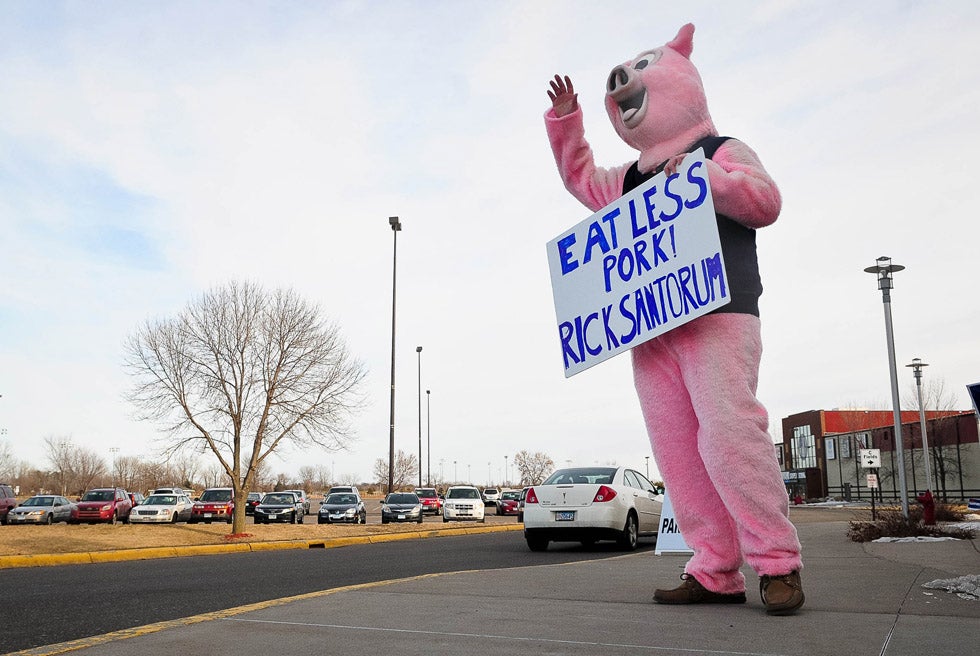 GOP Presidential Candidate Rick Santorum Campaigns In Blaine In Minnesota
A protestor stands outside a campaign event for presidential nominee hopeful and former Senator Rick Santorum prior to caucuses in Colorado, Minnesota and Missouri. Santorum would go on to win all three. This image was captured by Minnesota-based Getty Images stringer Ben Garvin, a full-time staff photographer for the Pioneer Press in St. Paul, Minnesota.
This week's images come to us from all across the globe, from a diverse group of photographers. Wherever possible, we've tried to gather some information about the shooters who've captured these images, so we can learn a little about their own stories.
Be sure to check out our archive of past Photojournalism of the Week galleries, where you will find more great work.