Best Photography Exhibitions of Summer 2016
These photo shows are on fire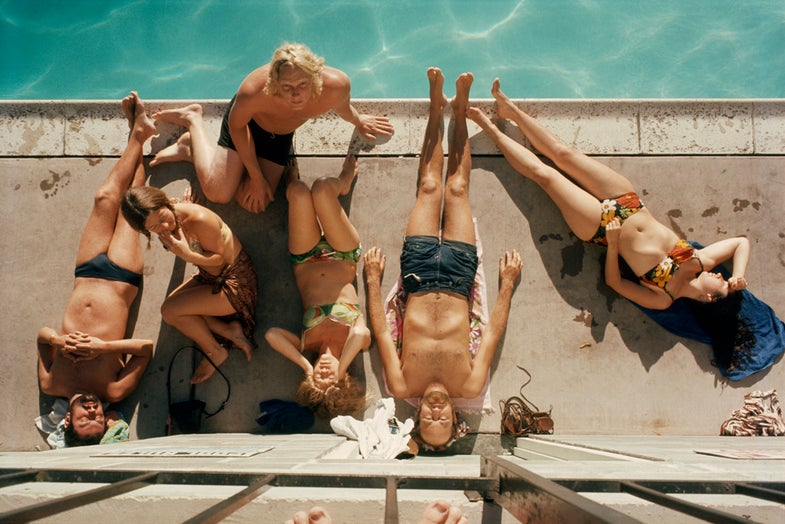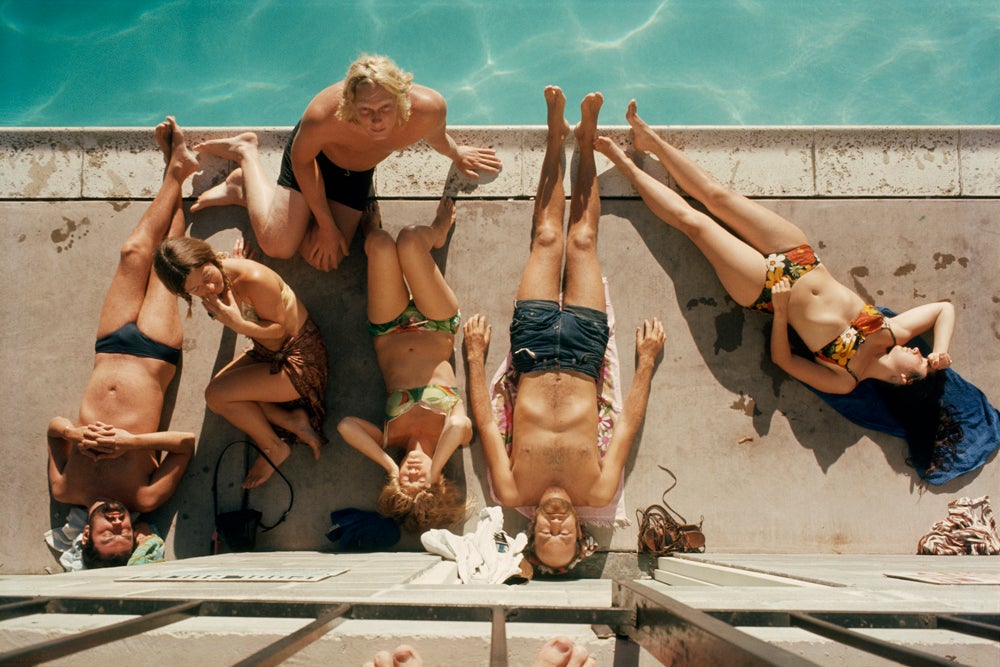 Summer exhibitions usually mark a time when galleries and museums take a vacation from heavy-hitters, and instead take risks on emerging artists in group exhibitions based on (often) whimsical themes. But this year, the summer exhibition lineup is just as hot as the weather. It's a season ripe with powerful one-person exhibits and exciting group shows that are equally intellectually challenging and visually stimulating.
Nan Goldin: The Ballad of Sexual Dependency | Museum of Modern Art, New York, NY | Through February 12, 2017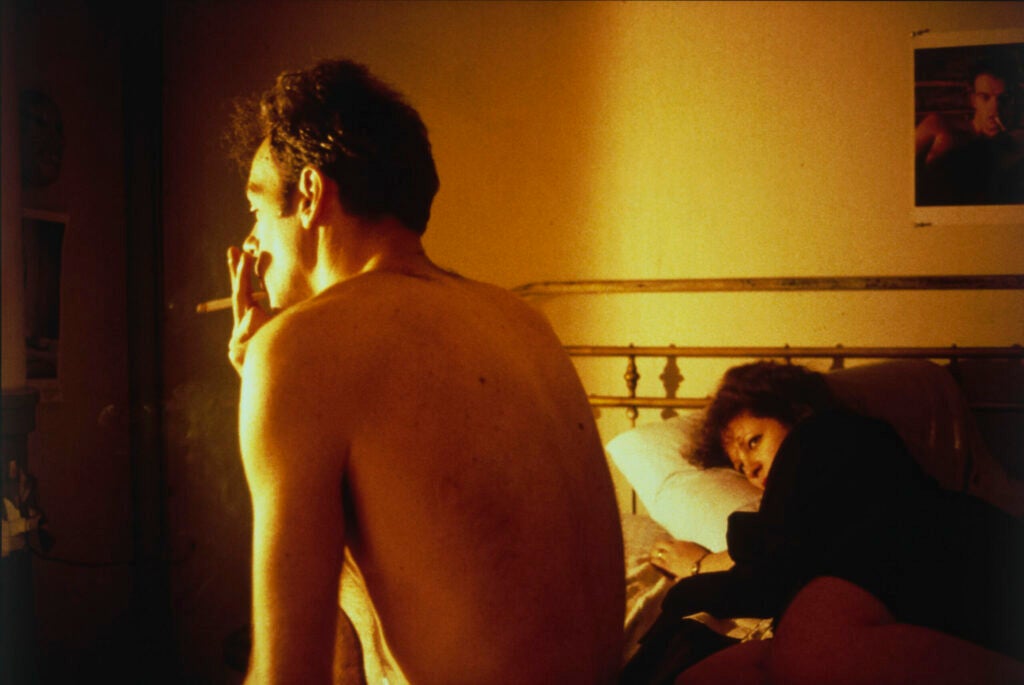 Nan and Brian in Bed, New York City, 1983
Have you ever really seen Nan Goldin's iconic The Ballad of Sexual Dependency? We don't mean the book; we're talking about the 42-minute multimedia presentation composed of 690 slides and a soundtrack from her documentation of life around Boston, New York and Berlin in the 1970s and '80s. In this special exhibition at MoMA, one can take a trip down memory lane, revisiting the trials and triumphs of the human condition—of love, sex, drugs, the AIDS epidemic and all tomorrow's parties—through the slideshow complete with a soundtrack made in 1986, photographic prints and an original mock-up of the Aperture book. "This is the diary I let people read," Goldin wrote of the series.
Danny Lyon: Message to the Future | Whitney Museum of American Art, New York, NY | Through September 25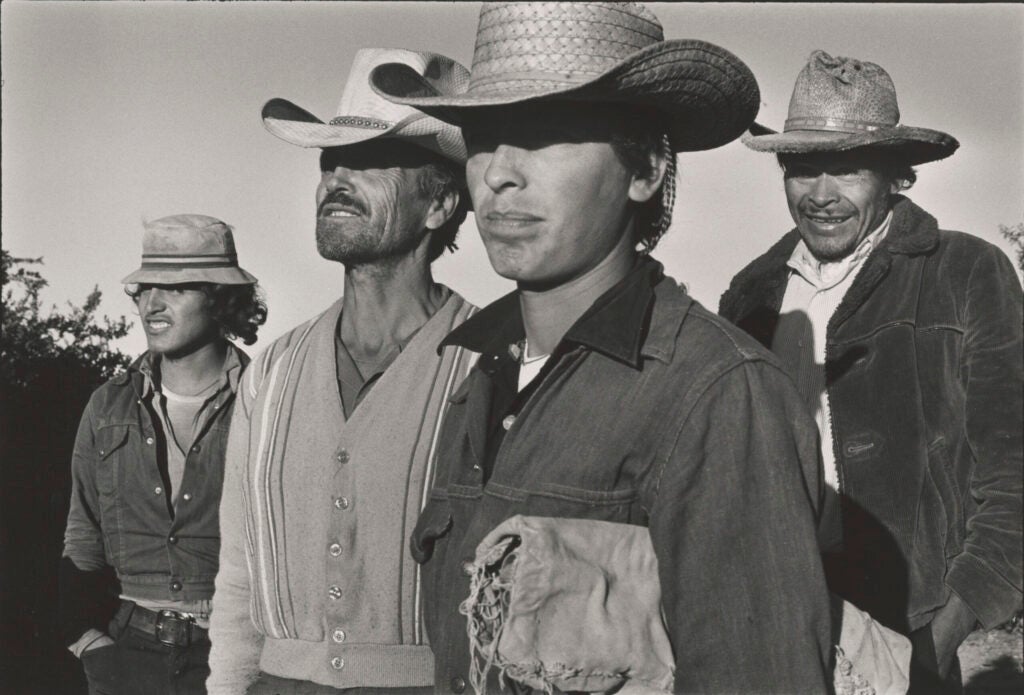 Maricopa County, Arizona, 1977
"Now I don't know that much about prisons but I know enough to realize I wouldn't want to put my dog in one," Danny Lyon said after photographing those incarcerated in Texas State prisons in the late 1960s. "Working toward the liberation of my fellow countrymen," Lyon hitchhiked to photograph the Civil Rights Movement and then turned his lens toward prisoners, migrant workers, tattoo artists, coal workers in China, and, recently, the Occupy Movement in California. Shaped in collaboration with the artist, the exhibit chronicles 50 years of Lyon's advocacy journalism and the diverse array of artistic contributions he's made to American culture, including 16mm films, writings, and photo montages.
Public, Private, Secret | International Center of Photography, New York, NY | June 23 to January 8, 2017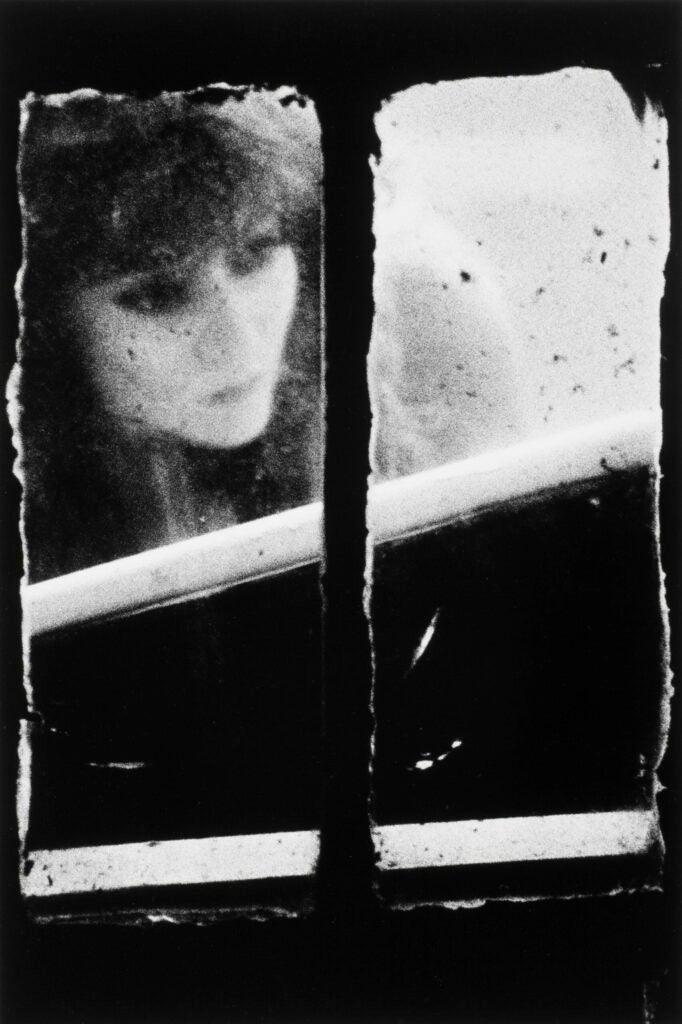 Dirty Windows Series #19, 1994
In an exhibition that honors lensmen and women from across the spectrum and generations—from such household names as Cindy Sherman, Larry Clark, and Nan Goldin, to celebrity sensations like Kim Kardashian to conceptual artists such as Trevor Paglen and John Houck—the inaugural exhibition in the museum's new space on the Bowery is making a powerful statement that contemporary photography may be less about the camera and more about its application. With videos, appropriated images, and data culled from social media, the exhibit honors the vast interpretations of the medium.
Liz Deschenes | Institute of Contemporary Art, Boston, MA | June 29 to October 16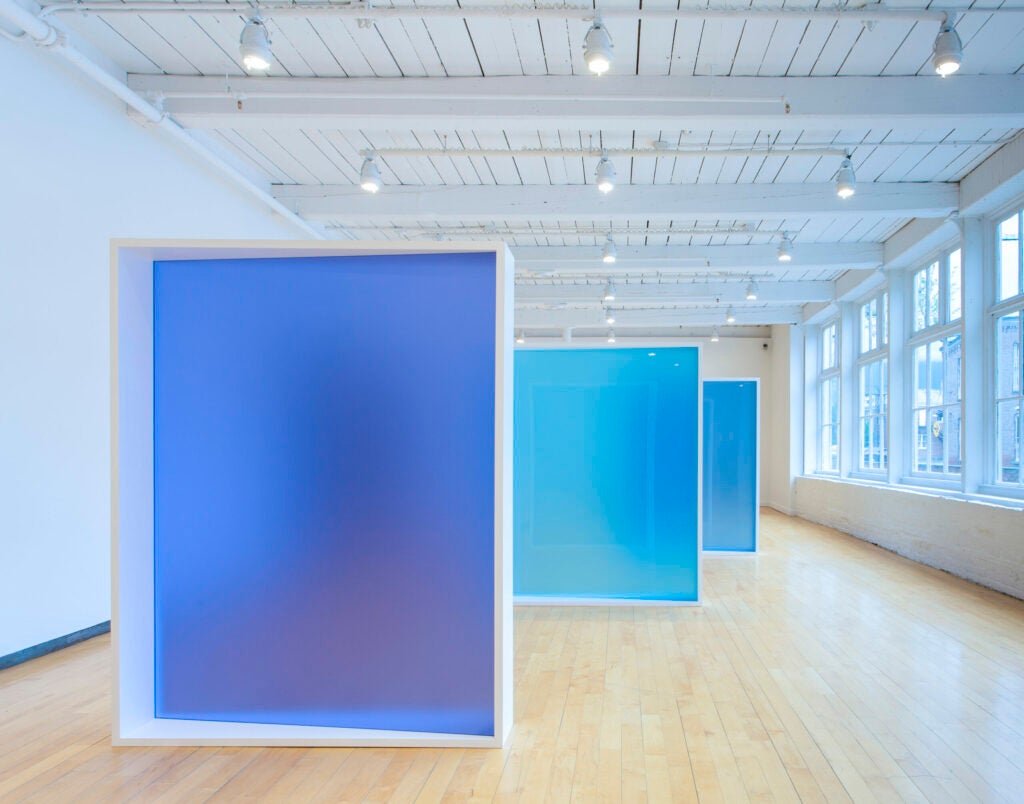 Moiré #2, 2007
Continuing with conceptual photo-based practices comes a new exhibit of work from Liz Deschenes who has been called "one of the quiet giants of post-conceptual photography," by the New York Times. Her work continues to look at the relation of color, atmosphere, and light and how it is experienced as subject in photograms; the installation of images as performative and immersive experiences for the viewer; and the experimentation with the cameraless photo. But rather than taking her work to a contemporary art realm that dismisses photographic history, she embraces its fundamentals: light, paper, chemicals, and time. According to exhibition curator Eva Respini, "Defying traditional photographic representation throughout her various bodies of work––mirrored surfaces, brightly hued monochromes, highly polished black façades, and carefully designed installations of hybrid photo-sculptures––Deschenes addresses and complicates the very act of perception." This is the first comprehensive survey of the artist's work, taking in the past two decades of her practice.
Invisible Man: Gordon Parks and Ralph Ellison in Harlem | Art Institute of Chicago, Chicago IL | Through August 28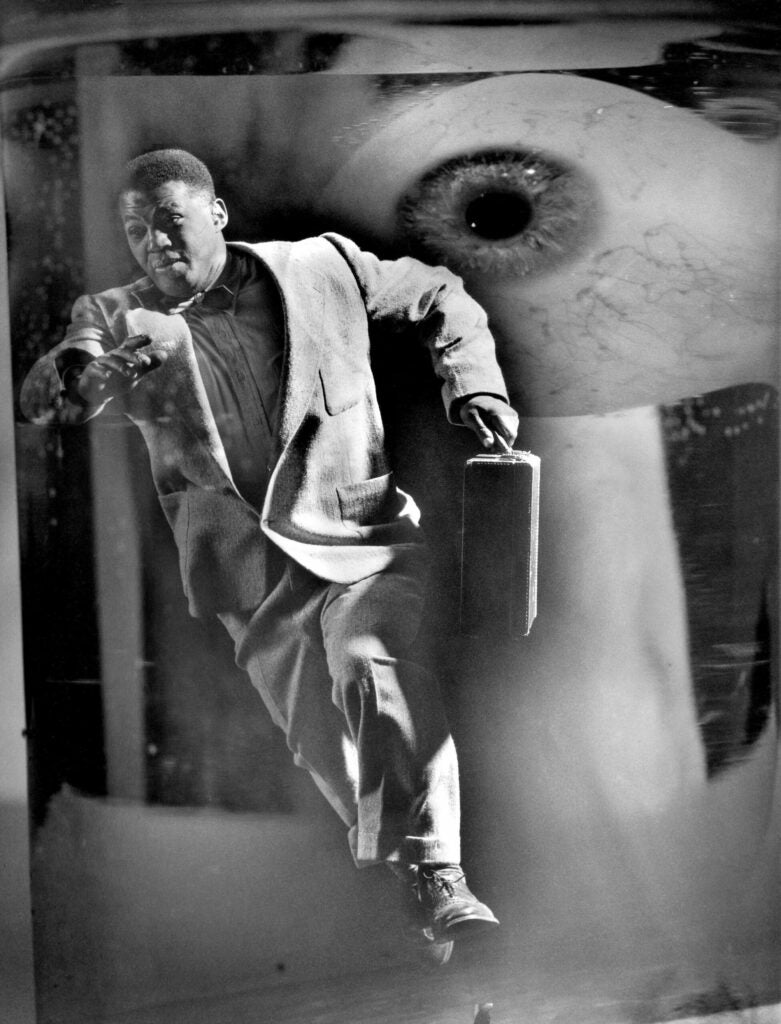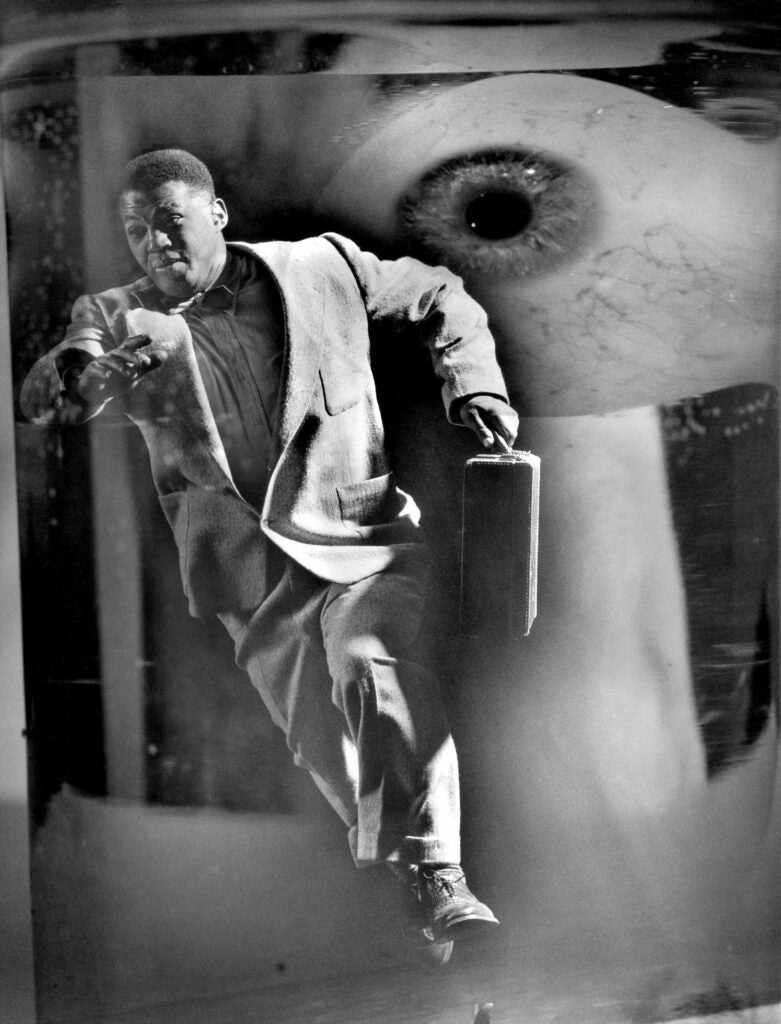 Untitled, Harlem, New York, 1952
This exhibit highlights an important relationship between photographer Gordon Parks and writer Ralph Ellison, who sought to shed light on the African-American experience and on racial injustices suffered by many in postwar America. Beginning with their collaboration on an illustrated essay centering on Harlem's Lafargue Mental Hygiene Clinic for '48: The Magazine of the Year and continuing with the Life story "A Man Becomes Invisible," the two partnered to attempt to reshape the narrative of black lives in the face of rampant racism and segregation in the United States. The exhibit includes never-before-seen photographs by Parks and unpublished manuscripts by Ellison.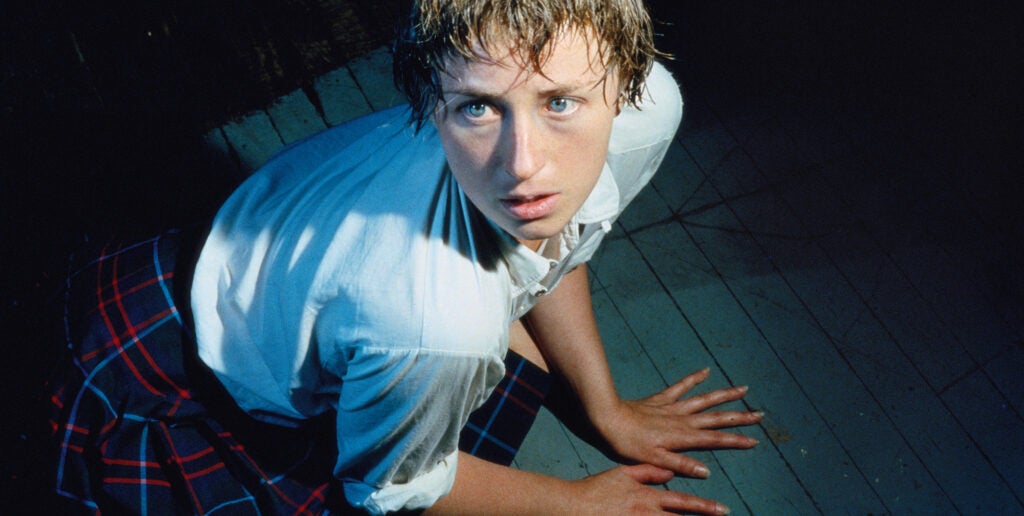 Untitled #92, 1981
Cindy Sherman has long held the gaze of the public, turning her gaze back on herself over and over again for the past four decades. With work that is part performance art, part photographic practice, Sherman has spent her artistic career recreating herself through various identities, including roles off-screen—as stylist, makeup artist, and director. In series such as her famous Untitled Film Stills, she comments not only on media culture but also on the ways in which we choose to represent ourselves when we take the stage daily in our public lives, or more accurately, in social media. This exhibit, which is the museum's first special exhibition and the first time it will charge visitors for entrance since its opening in September, also includes new photographs and site-specific installations.
The Family Acid | Benrubi Gallery, New York, NY | July 7 to August 26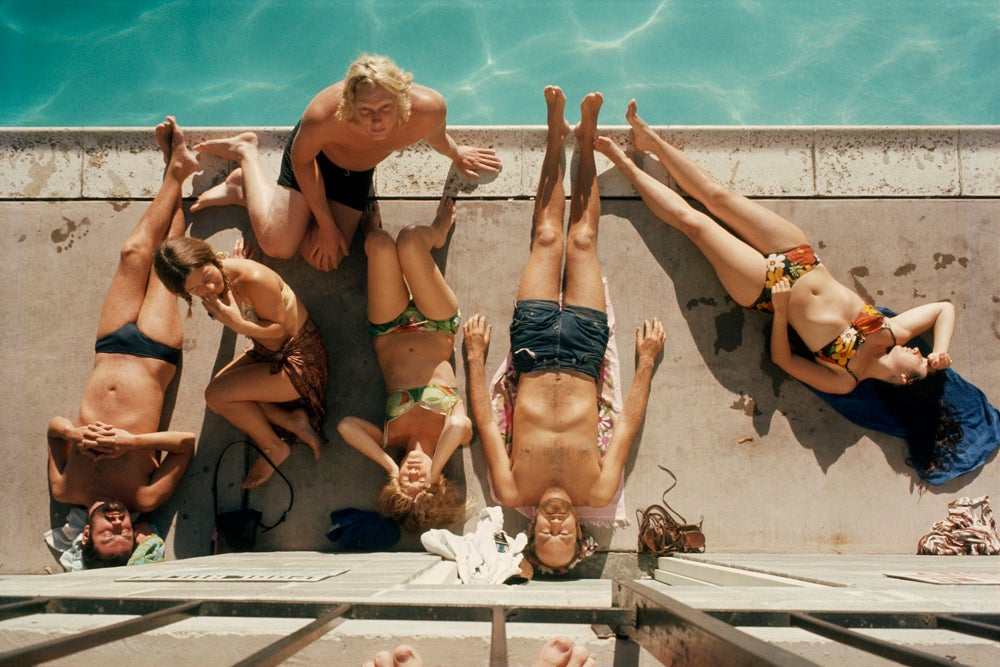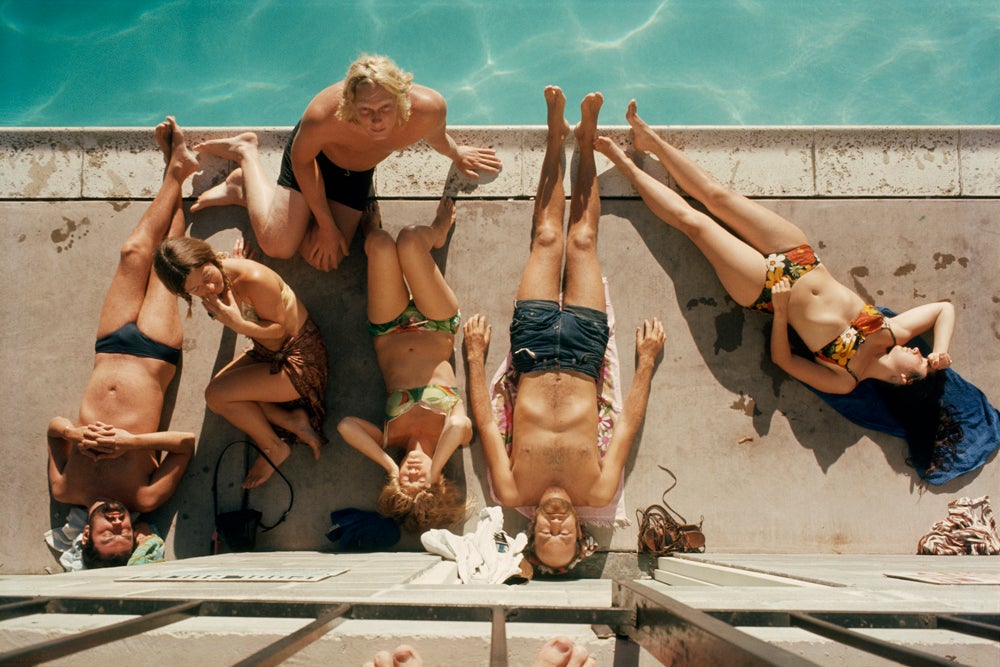 Joan Didion in Berkeley, August, 1972
Culled from an archive of 40,000 Kodachrome slides taken by Roger Steffens—a musicologist, actor, and film narrator—this exhibit is an account of one person's time serving in Vietnam, traveling around the world, and living an unconventional lifestyle. The Family Acid emerged as a collective formed by Steffen's son, daughter, and wife, who have archived, digitized, and curated exhibitions of his work. Buzz about Steffen's work began when his children started scanning and posting images to The Family Acid Instagram account in 2013 and has since grown to include a successful book about the work from an important voice in counterculture documentary photography of the 1960s and '70s.
2016 Aperture Summer Open: Photography is Magic | Aperture Gallery, New York, NY | July 14 to August 11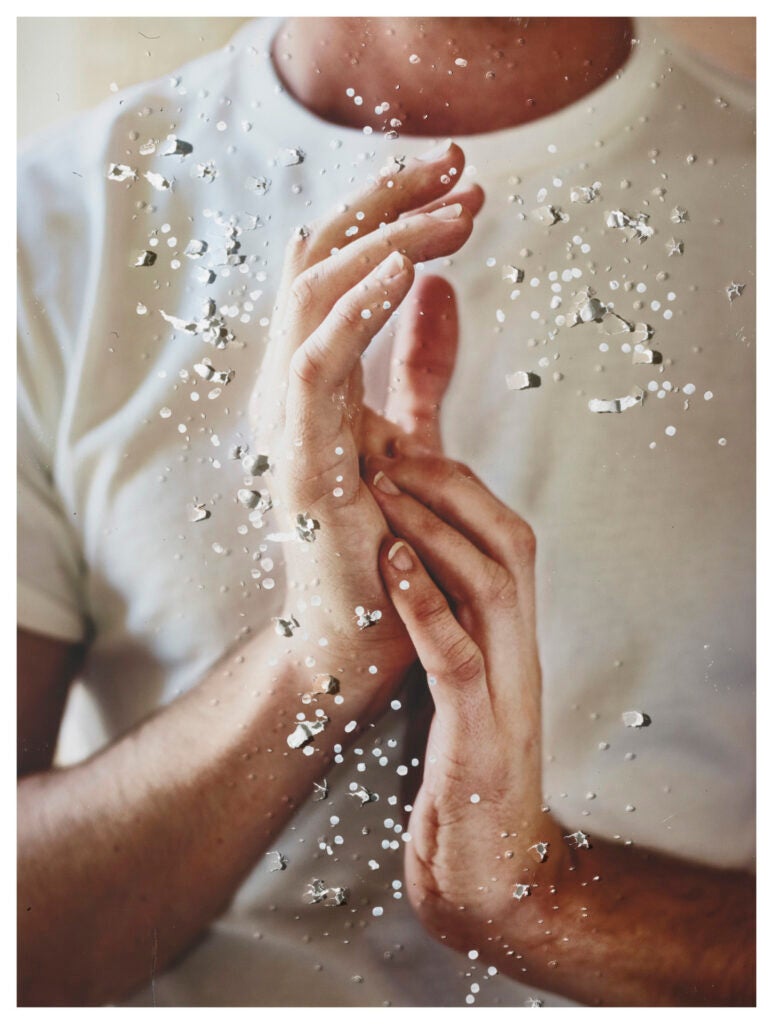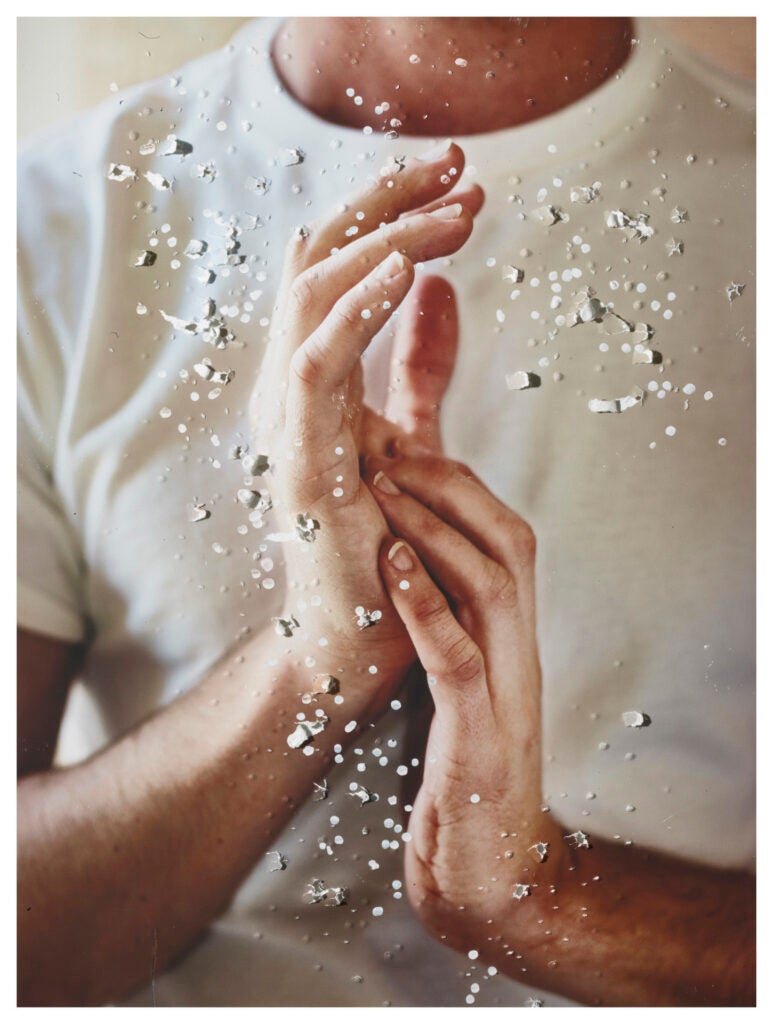 Untitled 023224, 2016
Nothing quite says "of the moment" as much as Aperture's annual summer open, and this year is no different. Including the images from 50 contemporary artists who are thinking about the medium in a new way, this exhibition is all about the magic that the act of making a photograph imparts upon the viewer and the maker, in both its analogue and tangential forms. This year Aperture brought in a guest curator, Charlotte Cotton, to arrange the exhibition (she also curated the ICP exhibition on display concurrently).
Diane Arbus: In the Beginning | The Met Breuer, New York, NY | July 12 to November 27
Jack Dracula at a Bar, New London, Conn. 1961
Though there have been many exhibitions to date centering on the oeuvre of the famed street and documentary photographer, few have taken such a focused look at Diane Arbus's beginnings. This exhibit, at the Met's new location in the Breuer building (former home of the Whitney Museum of American Art), looks at a small slice of her career—1956 to 1962—to examine her transition from fashion photographer to the Arbus who is so revered today. With more than two-thirds of the works in the exhibit never before having been exhibited or published, there is a lot of new information to be gleaned about her artistic trajectory.
Who Shot Sports: A Photographic History, 1843 to the Present | Brooklyn Museum, Brooklyn, NY | July 15 to January 8, 2017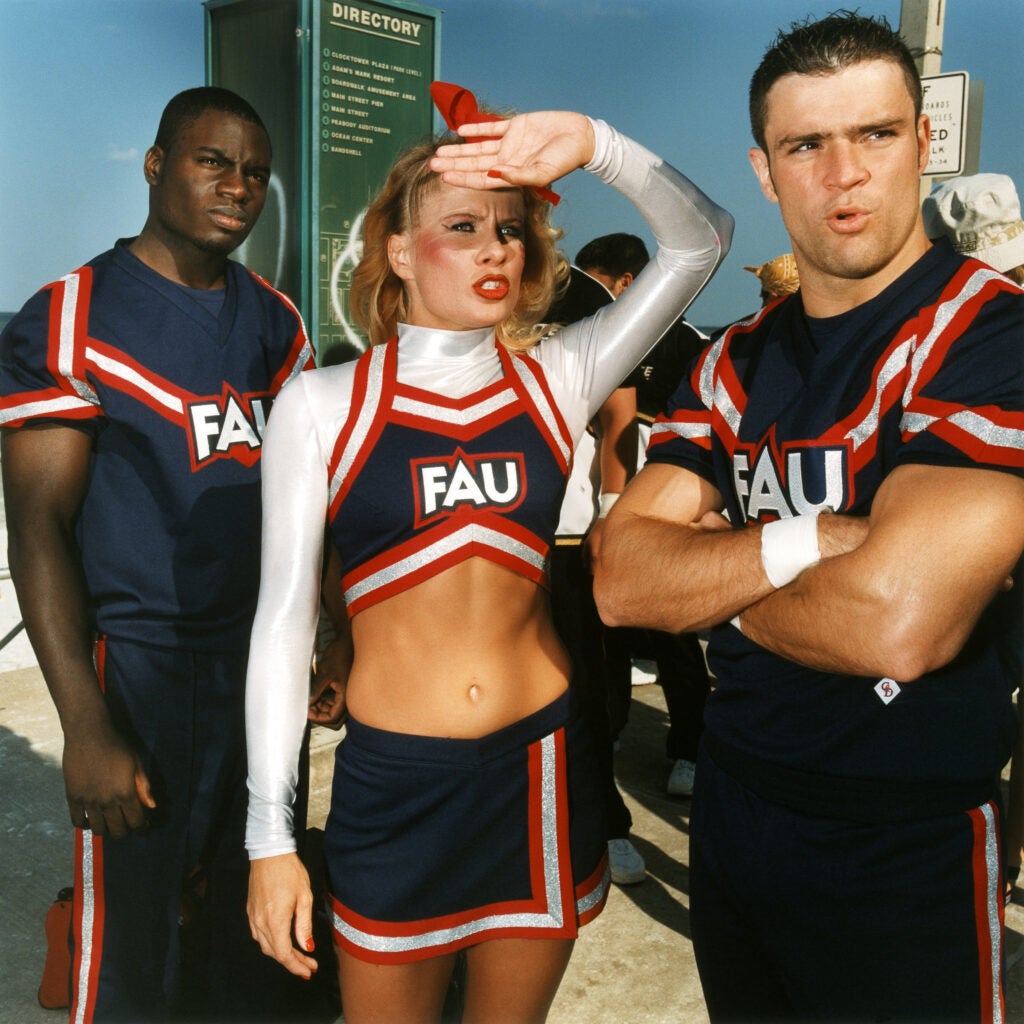 Untitled (Cheerleading #81), 2001
From Gail Buckland, the curator who brought the "Who Shot Rock and Roll" exhibit to the museum in 2009, comes a show honoring 170 photographers who have captured sports in varying forms. The exhibit looks at this specific genre of photography and the surprising variations in the way it has been captured for nearly 175 years: from classic portraitists such as Richard Avedon and Herb Ritts, to masters of the genre like Neil Leifer, to documentarians including Rineke Dijkstra and Brian Finke, to those better known for other art projects such as Catherine Opie and Andy Warhol. This exhibit proposes to be a comprehensive survey unique to the genre.