Backstage Pass With Lauren Dukoff
Reviving the spirit of intimate music reportage with medium-format film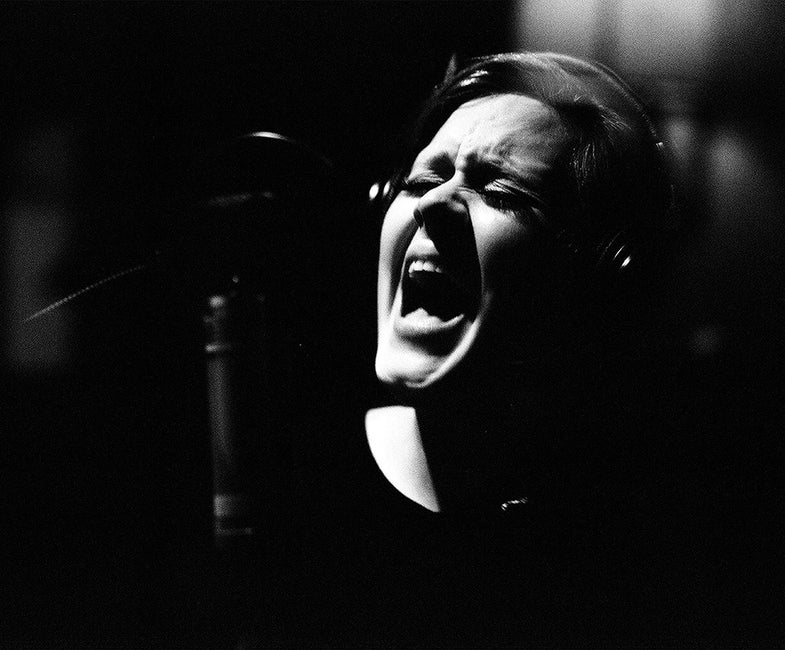 When I caught up with Los Angeles–based photographer Lauren Dukoff, she was having a girls weekend in Palm Springs, California, but that didn't stop her from graciously taking me on a tour through her flourishing photographic career.
Her journey started with a chance teenage friendship with Devendra Banhart, who would later help define a folk music revival. Dukoff's acclaimed book Family (Chronicle Books, 2009) documented him and his band of free-spirited collaborators. (Dukoff's name also appears on the credits of a couple of Banhart's albums as a flute player, which produces a burst of laughter when I ask her about it.)
Her intimate reportage photography—reminiscent of an era when music photographers doubled as roadies—has since extended to many musicians, including Beyoncé, Lady Gaga, Mary J. Blige, Katy Perry, Morrissey, and Adele, whom she's followed since a publicity shoot before the release of her debut album, 19. All this and she just turned 30.
Your work is reminiscent of iconic images taken of Bob Dylan and the Rolling Stones in the 1960s and '70s. Is this intimate style a natural progression of documenting your friends?
A lot of it was really natural. My father was a cinematographer and director; he gave me my first camera. Growing up in Malibu, I was close friends with Devendra. He became my first subject. It started casually, (with us taking pictures of each other), as teenagers do. As his music career grew, I continued taking pictures in the same way. They were naturally intimate because we were so close. I carried that style throughout my photography.
Are there iconic music photographers you've admired over the years?
I love Annie Leibovitz's early work of the Rolling Stones. Her career, from Rolling Stone photographer to Vanity Fair portraitist, has been a big inspiration for me—I just started shooting for Vanity Fair this last year and I'm really excited about it! I also love Autumn de Wilde's work. I grew up listening to The Smiths and Morrissey and a lot of the musicians she's photographed, like Elliott Smith and Beck. I was a fan of the music and then a fan of the photography. As a teenager having both of your mediums joined together, it doesn't get any better.
You assisted de Wilde. How did she inform your style?
She helped me find value in my work; I got a lot of my education from her. I studied for a year at the Brooks Institute in Santa Barbara, California, and after I left the school I spent about a year feeling disillusioned with photography. Then I started interning for Autumn. I admire her not just for her photography, which I think is incredible, but for her ability to make her subjects comfortable and make the people she's shooting feel that they are in a safe space. So when I'm shooting, I like to keep it calm. I want people to be able to really be themselves and relax. That gives me the opportunity to get something intimate or different out of my subjects.
What would you say was your breakout moment as a photographer?
In 2007, Rolling Stone published a photo I'd taken of Devendra in the recording studio. A few weeks later they called and asked me to shoot Mary J. Blige in the recording studio. I was 23, just a naïve kid. I walked in there with the same sort of casual energy that was in the Devendra picture—because I didn't know better.
Where does your success come from?
It's hard to say. I feel like you can attribute it to luck or being in the right place. But it's a lot of hard work and a lot of commitment, too. Some of the best advice came from my father. He said, "There will always be people more talented than you out there. But with all the rejection in this industry, they will eventually give up and fall by the wayside. If you stay your course, you will succeed." I definitely have had some down moments, but I stuck with it.
Knowing what I wanted to do (at a young age) helped. It had a lot to do with growing up in a creative household (my mother is an incredible cultural guide, and was always taking my brother and me to concerts). Being a photographer was a legitimate life choice. I was lucky to grow up in that environment. I'm sure in many families photography seems like a fake job, not a realistic goal.
Do the styles of music that your subjects make influence the way you approach a shoot?
Absolutely. I think a very good example of that would be Adele's album 21, which was released in 2011. I was fortunate enough to be with her in the recording studio a few weeks prior to shooting that record's cover—spending time listening to her write the record and record it, and then documenting that (process), I had such a good understanding of the album. The cover visual successfully connects to the music because I knew so very well where she was coming from.
Do you always try to develop this kind of rapport with your subjects?
It there's the opportunity and we like each other, yes (laughs).
What does your kind of photography mean in a world where social media has changed the way celebrities allow us access to their lives?
Access was more coveted when people didn't share as much. Bt there can still be these really special amazing moments for a documentary photographer. Again, I think dele is a great example, because her career skyrocketed while I was photographing her. Capturing her making the 21 record, the album cover, touring, the 2013 Grammys, and 2013 Academy Awards—I was very aware I was experiencing something special, and it was a once-in-a-lifetime opportunity.
You shoot daily film.
I am a medium-format film shooter; I don't really shoot a lot of 35mm. I'm comfortable shooting digital for studio portraits, but as far as my documentary photography goes, I won't shoot digital. That has to be on film for me. It calls back to the old rock and roll photography aesthetic of the film grain and the black and white. I still shoot with a Mamiya 645 and my Mamiya RZ67 with Ilford 3200 film. I stockpiled all that Polaroid 3000 (laughs). It's an aesthetic, it's a technical choice, and I think it's an emotional choice for me. I love shooting on film.
Also, when you're doing documentary film photography, it slows you down a bit and makes you choose your frames wisely. I get better images if I know I only have 15 frames when a moment is happening. It really makes you focus and make good decisions. The never-ending rapid-fire of digital—I don't know, it kinda makes you lazy.
How do you see music photography evolving?
The wonderful thing about photography is that our existence in this universe is being documented, and now that documentation has just exponentially increased. I think that's incredible. There are more ways for people to share and fans to see more of their favorite musicians. I think it's a really great thing. But I also think that now there's more of a place for really well curated art books made by photographers or musicians.
What's next for you?
I've been shooting a lot more fashion, which is fun. It's something I didn't think I would be interested in. But it's been a real growing experience for me as a photographer—it kind of took me by surprise. I like to think that whether I'm shooting musicians, actors, or models, it's all about collaborating with creative people. I'll be inspired by someone's music or by a designer's gown, and that will end up affecting my choices and how I approach the shoot—like the lighting I'll use, or how I'll frame the shot, or something else. I let my subject guide me and just see what happens.