The Third Dimension: Rollin Leonard's Digital Photography
Physical and in-camera interventions simulate digital filters and glitches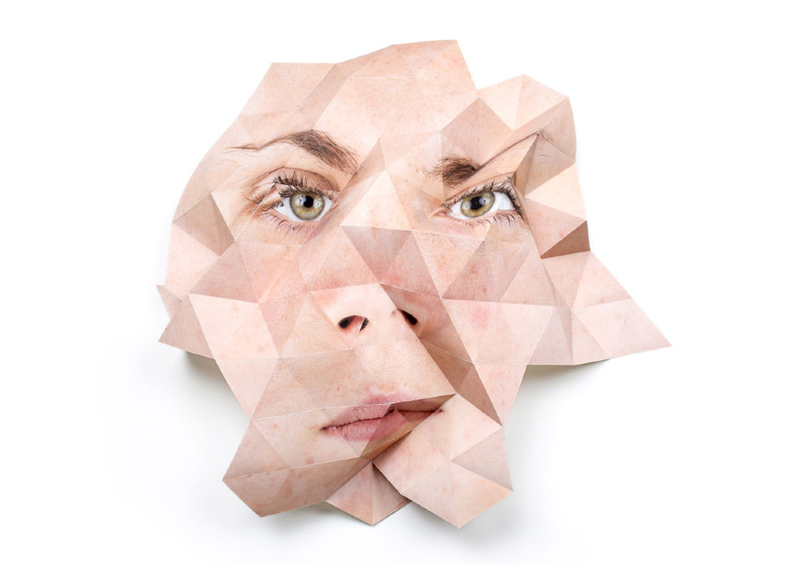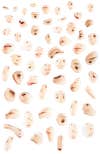 Contrary to what the brain and eyes might conspire to think, these images were made with virtually no digital manipulation in the traditional sense of the practice—no pixilating filters, no liquefy tool, and no Photoshopped distortion is responsible for creating the impression of a third dimension. These are installation images of the sculptural photographic works in Rollin Leonard's latest exhibition "New Portraiture," now on view at Brooklyn's net art-focused Transfer Gallery. They are portraits: a single sitter for each, named after the subject, bearing identifying markers such as scars, makeup, and piercings, but in varying degrees, approaching total abstraction.
Over the last decade, Leonard, a Maine-based digital artist, has been photographing the human form in extreme detail, from exhaustive angles to animate it into art for online exhibition. Photography has been the main means of cultivating the raw material for his artwork, though he has always worked on the periphery of the medium.
"There are tons of examples that separate me from the tradition of picture-making," he tells American Photo. Among them is his disregard for the photographic frame and its compositional concerns—his figures usually float in the white space that bleeds throughout our web browsers. He also diminishes the evidence of it being a photo by minimizing any bokeh or depth of field through focus stacking techniques.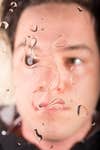 For this latest series, Leonard has to some degree inverted his process and began creating physical analogues of the glitchy, low poly, and fluid sinusoidal post-processing forms commonly associated with the internet aesthetic. "I'll start with learning a new digital technique, some 3-D processes, and I'll try to work backwards and reconstruct it," he says.
The portraits on slides 3 through 8 for instance, aside from the cropping, were all done in-camera. "I made kind of a secondary lens, but of water," Leonard says, by dripping on a plane of glass suspended over the subject laying on the floor. For the more complicated patterns, he uses a special hydrophobic spray to mask the water into place. "The goal is to light the subject as flatly as possible so that nothing reflects on the surface of the water. The drop should only be doing the job of refracting the face so that the captured image looks just like it was distorted in Photoshop." He then adds a sense of viscousness by coating the print in a thick resin.
Across the series, Leonard's going through exhaustive physical lengths, making thousands of exposures to replicate the effect of tools that were meant to simplify and cut out all that labor. For the "isometric" portraits, slides 1 and 2, he sketched an isometric grid on his subject, photographed every single triangle, and stitched the images together like a topography of the face, "like when you look at the map from a globe flattened out," he says. These are then crumpled back into the third dimension at the exhibition site, and like most of the work on view, in a new way upon each installation.

The massive portrait of "Derek," slides 10 through 12, at over 20 feet long, was made by stitching and focus stacking nearly 2,000 photos to achieve a perfectly crisp image. "It's really about capturing as much detail as possible," Leonard says. "If I could have put him through a scanner I would have used that." Not only was it made with the intention of being too big for the exhibition space, and thereby would need to bend or wave into the third dimension, the sheer scale of the object lends to a perspective distortion that recalls the digital distortions of his prior work.
Ultimately, the goal was not to replicate the experience of the web in a physical gallery, but to create hepatic art objects that reference a visual culture that occupies so much, but not all of our consciousness.
"I didn't approach any of this work as if it was printing something out that was online," he says. "It was more just making art objects while also having an internet life. I think that's the only connection left for me of physical work being related to net work."
Rollin Leonard's "New Portraiture" is on view at Transfer Gallery in Brooklyn until May 23, 2015 and at XPO Gallery in Paris from May 28 – June 23, 2015, with a concurrent online component at Cloaque.org.