Ansel Adams' Classic Arca-Swiss View Camera Up For Auction
A classic camera is set to fetch up to $100,000 at auction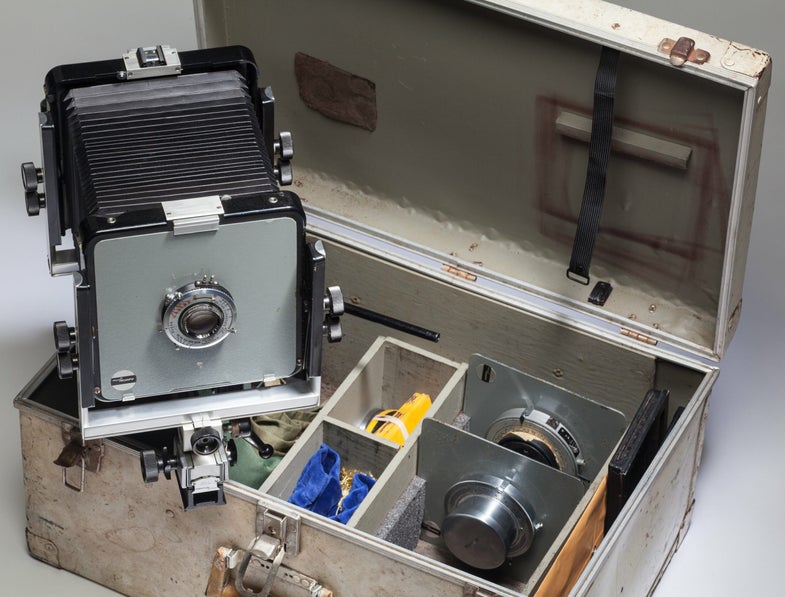 We may earn revenue from the products available on this page and participate in affiliate programs. Learn more ›
We typically cover auctions for photography here on American Photo, but a truly classic piece of photographic history is going up for bid through Heritage Auctions: Ansel Adams' Classic Arca-Swiss View Camera.
The camera dates back to the mid-'60s and according to the listing, it was featured in one of the chapters in his iconic book, The Making of 40 Photographs. The camera was given to Liliane de Cock the camera in 1968 and she continued using it throughout her career.
From a gear nerd standpoint, the camera is a very classic Arca-Swiss rail with all the standard movements you'd expect out of a camera used by Ansel Adams. It comes with three lenses, including: a Wollensak Raptar 13in. f/6.8 lens No. 971865 in Alphax shutter, a Ross Express 5in. f/4 lens No. 153041 in Ilex No.4 Acme Synchro shutter, a Kodak Ektar 203mm f/7.7 lens No. RE262 in Flash Supermatic Shutter, compendium lens hood.
You only get two film holders with the package, but you also get a classic tripod, which makes this whole package look pretty much ready to shoot assuming that the bellows are still clean and tight. You even get a rather swanky-looking dark cloth for composing shots.
The estimate on the auction puts it somewhere between $70,000 and $100,000 when the bidding ends later in October of 2016.
See the official auction page here.