Alice Wheeler Captures the Alternative Spirit of the Northwest In Outcasts and Innocents
Three decades of photographs from the Pacific Northwest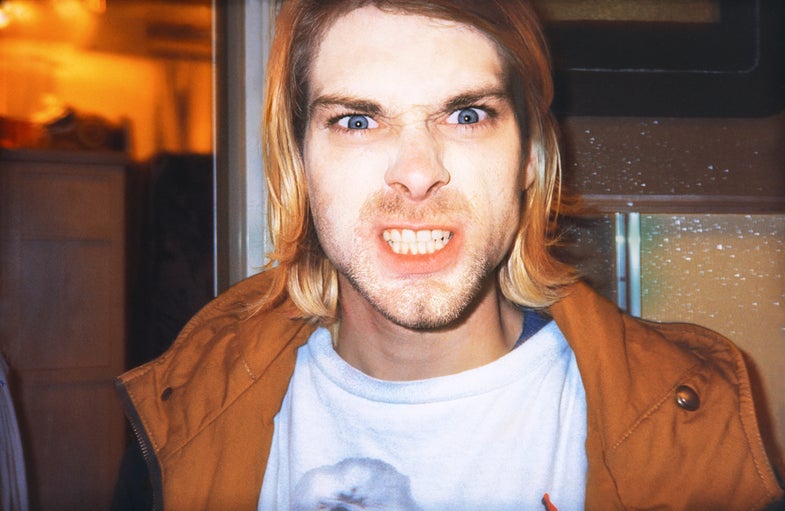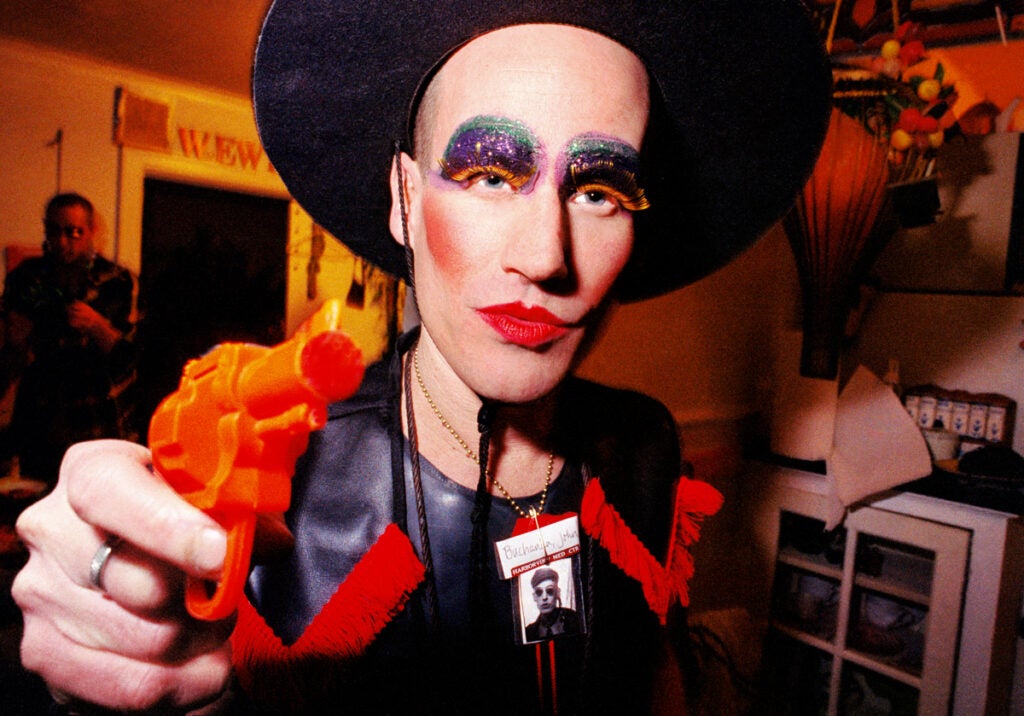 John at His Apartment in the El Captain Apartments, Capitol Hill, 1994
"That was my best friend John. He died of AIDs and his funeral was on my 35th birthday. The last couple years he had a methamphetamine problem, this picture of him was taken when he was doing meth. He was a writer and an artist too. The necklace that he has around his neck … he had just gotten out of Harborview Hospital, it is the charity hospital here. He was just kind of a character."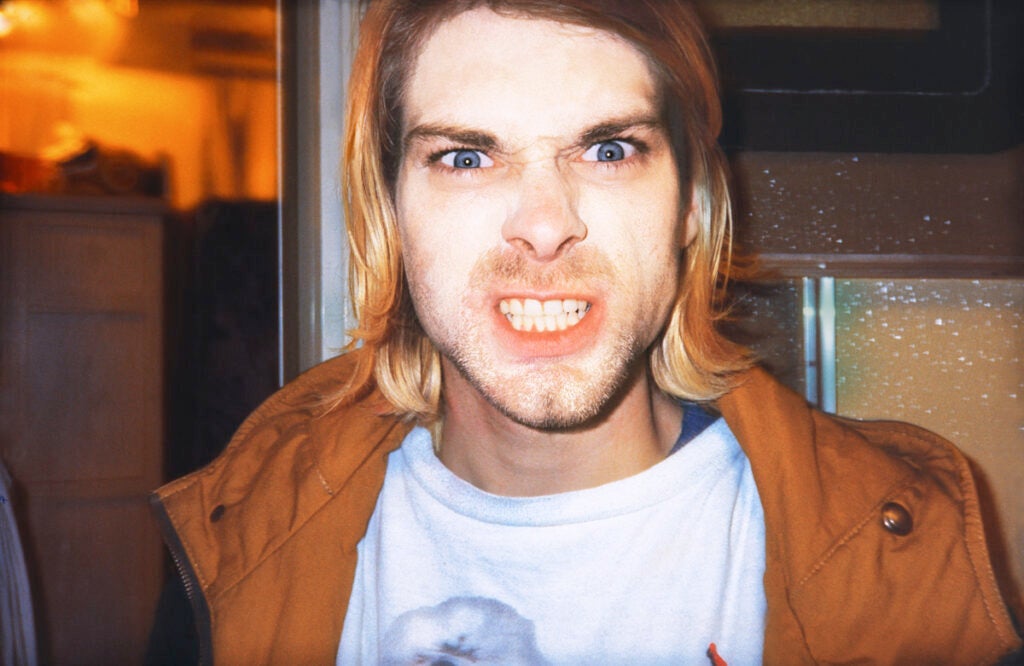 Kurt Kobain says "Take My Picture," Pier 48, Dec. 13, 1993
"Nirvana was playing at MTV's Live and Loud, we got tickets and after the show I went backstage. I hadn't seen Kurt for a while, it had been about a year or something since we went from a normal guy to a big rockstar. He just looked at me and was like 'Take my picture! I'm a rockstar now!' We were just playing around. He always hated to have his picture taken—a lot of musicians really hate to have their pictures taken."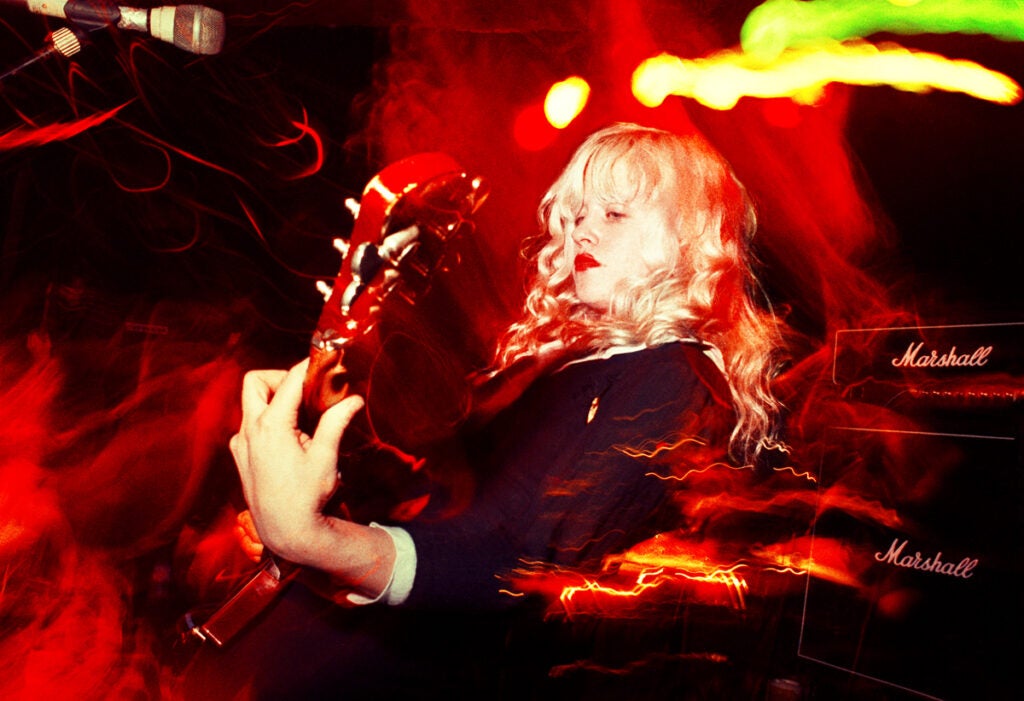 Babes in Toyland at The Crocodile Cafe, Second Avenue, 1993
"What I love about that picture is that the light in it is like a reflection of the music. The way the red swirls around her white hair—that just really worked. It's not only about the band Babes in Toyland, it works on a different level, even if you never knew their music."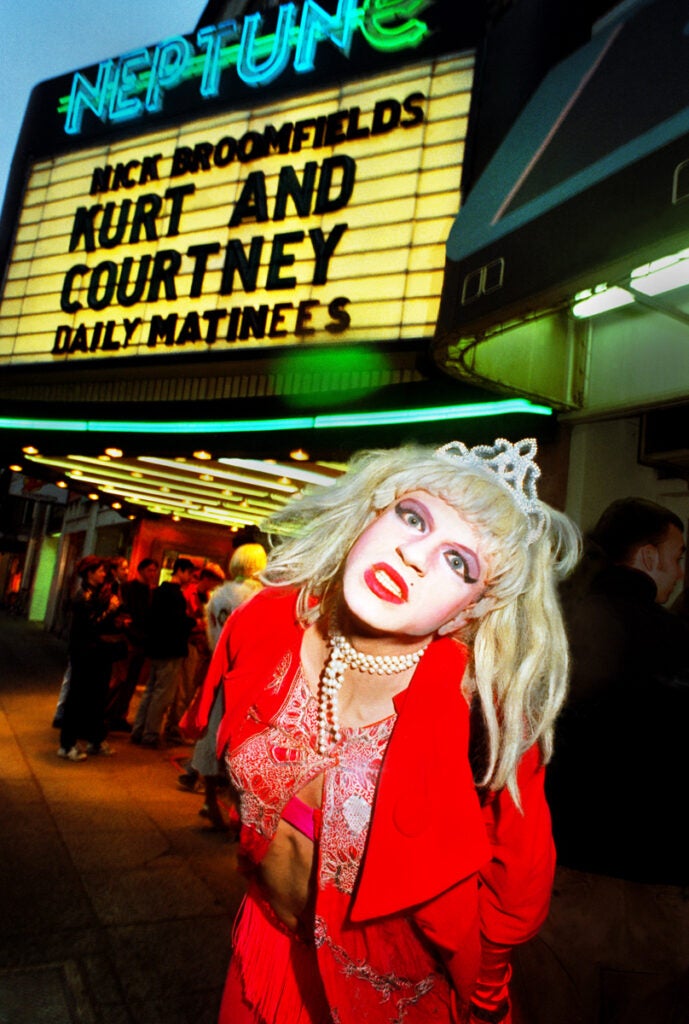 "Courtney Hate" at the Kurt & Courtney Movie Premiere, Neptune Theater, U District, April 2, 1988
"That's my friend Otto. He had a character called Courtney Hate for a while. I had a lot of drag queen friends who liked to dress up as Courtney. I was just hanging around outside and Otto posed for me."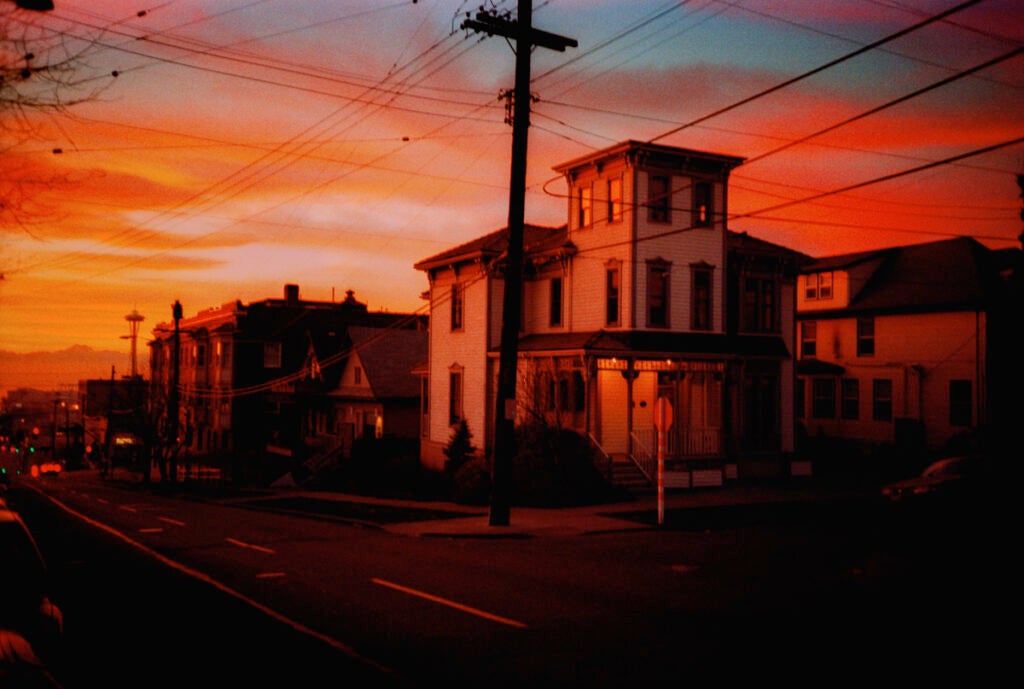 Belmont Avenue and Denny Way, 2010
"This one is one that I couldn't get without digital. It was a little bit underexposed. I was just walking down the street and all of the sudden the sky looked like it was on fire. Come to find out a red sky is indicative of forest fires."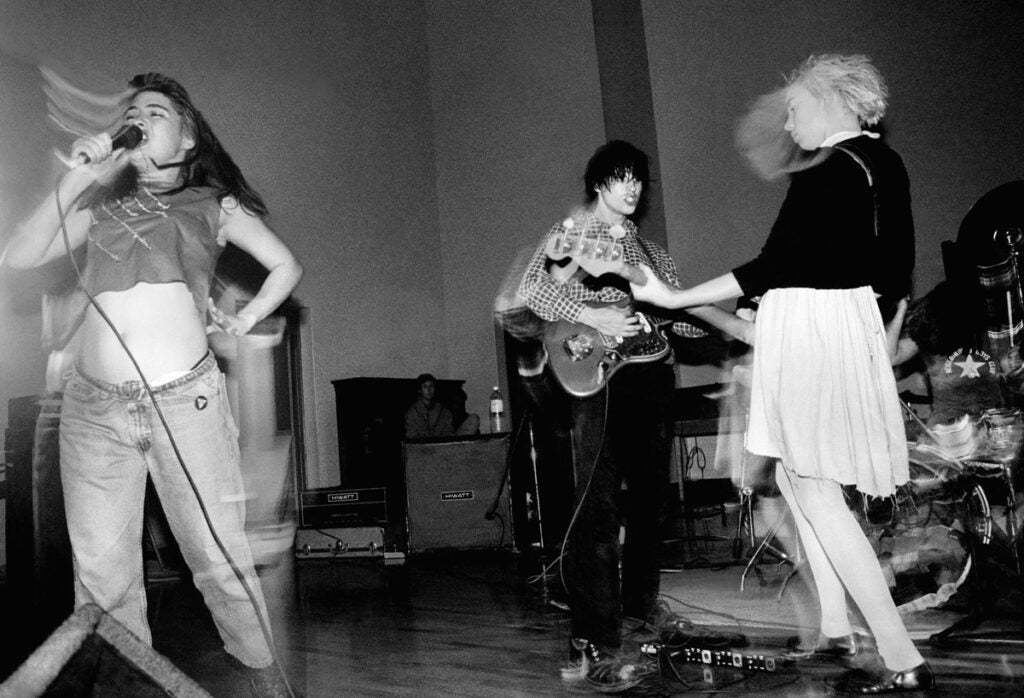 Bikini Kill at St. Joseph's Hall, 18th Avenue East, Oct. 20, 1991
"This was in a Catholic church on Capital in the basement. It used to be hard to have shows where people under 21 could come because of the liquor laws in Washington State, so they would have shows in churches or different ethnic halls. Bikini Kill played and this was the first time I saw them."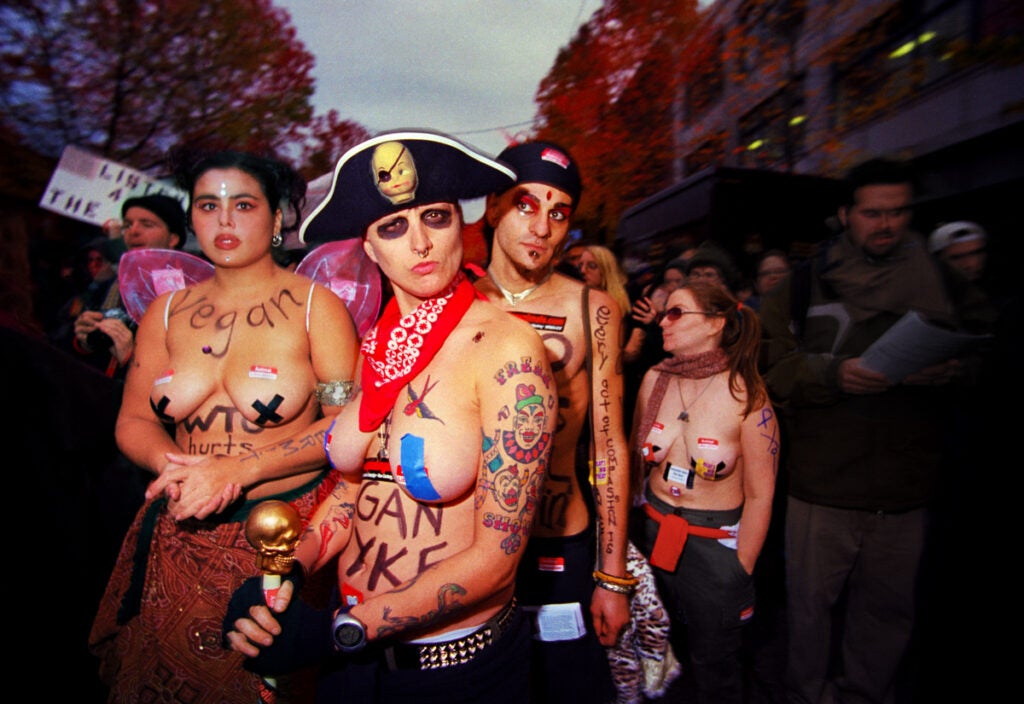 Tess at the One-Year Anniversary of the World Trade Organization Protests, Pine Street, Nov. 30, 2000
"At these protests the women that go topless never want you to take their photo. You get like one photo and they won't let you take anymore. I just love her attitude. She's so beautiful and yet a little bit off at the same time, which is a quality that I look for. I'm trying to respect the person and show how beautiful they are, but I'm also trying to respect the fact that they're not society's perfect beauty."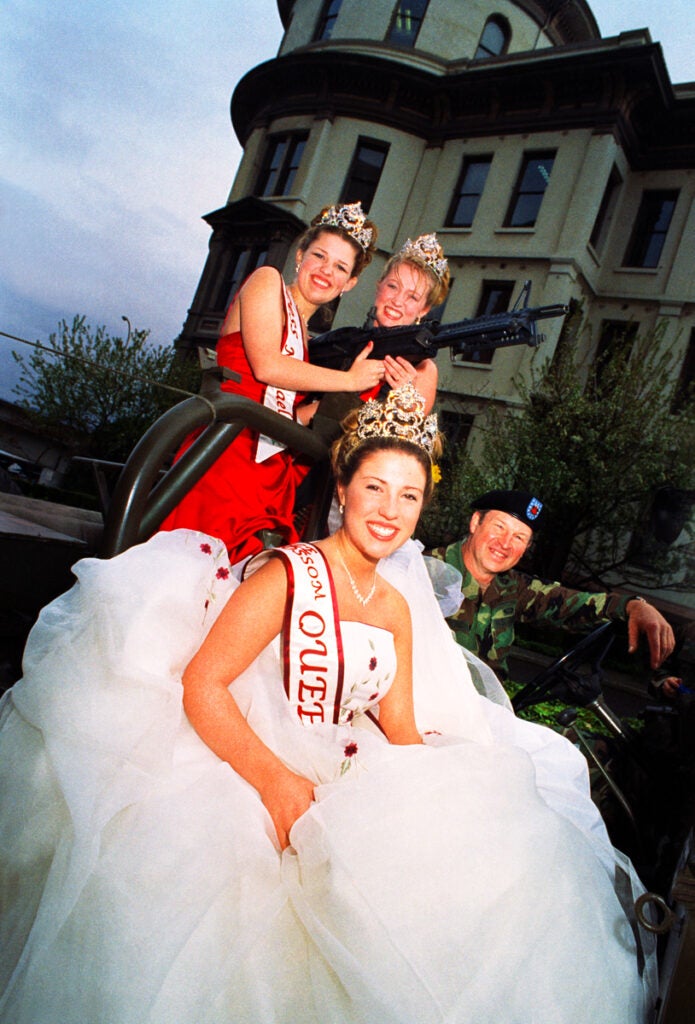 Apple Blossom Queen at the Daffodil Parade, Tacoma, Washington, April 12, 2003
"I love to photograph parades and public events, but I look for my type of people within those things. This was right after the war started. These three ladies are from Wenatchee. They were posing for their own photo with this National Guard guy. I saw them from down the street and started running because I knew they weren't going to be up there very long."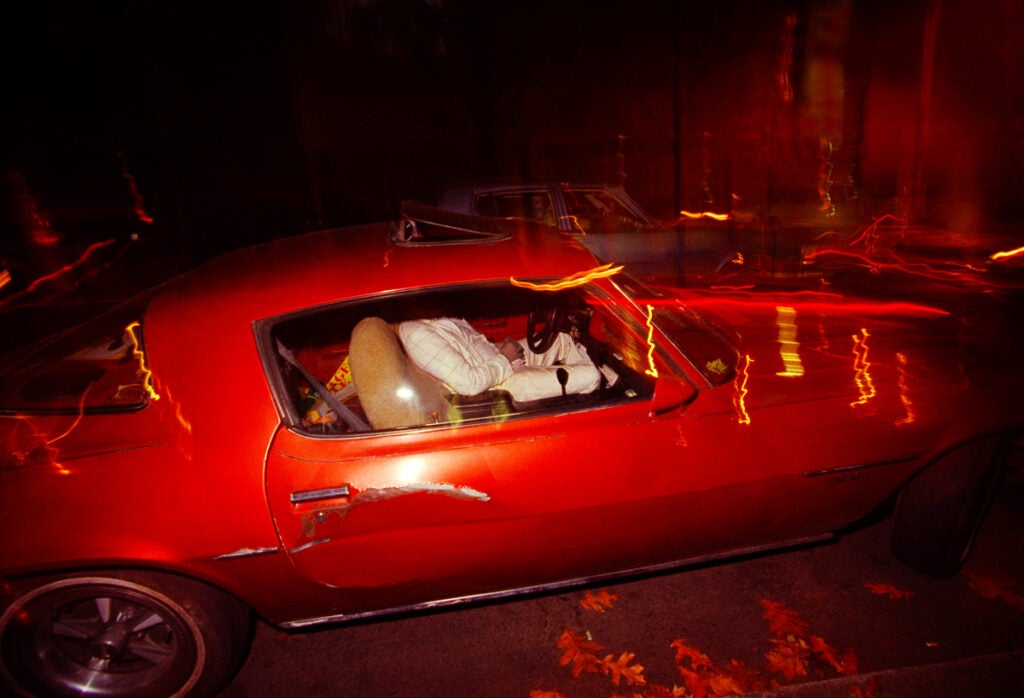 What Women See At Night, Oct. 31, 2001
"My work has always got a feminist undertone. This is Halloween on Broadway, which is a very popular party district. I was walking up the street in costume with a wig and a camera and this guy started honking his horn at me and he is masturbating. It's an experience that has happened to me so many times. It is very commonplace in Seattle. I love this photo because it creates a dialogue with people. It's a metaphor for women's safety and for women being able to own the space that we live in."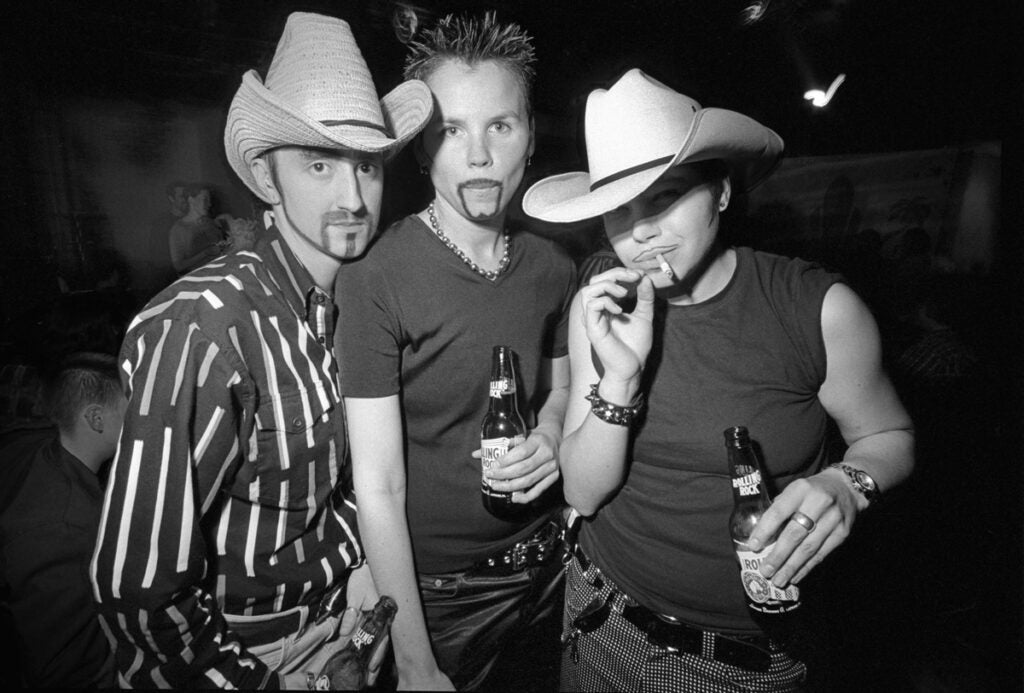 Three Drag Kings at Re-Bar, Howell Street, Oct. 2006
"At first glance you can't tell that they aren't men, but then there's something a little bit off about their body language. Men would never be standing quite that close, or angling their bodies that way. That's what I love about the picture. The visual tension between the dynamic of them looking like these really butch, possibly scary, men in cowboy hats and the angle of their arms—the way they are grouped together in this more personal way."
I have always subscribed to the idea that you photograph what you're involved in. What you're participating in, as opposed to going out and looking at other things. I've also always lived my life as an artist.
I grew up in Nebraska and I was influenced by Jack Kerouac and his adventures. I headed west as soon as I was able to leave home. I moved to California in 1979 and I lived in Hollywood and hung out with the early punk rockers like the Germs and X. To me, the Seattle scene was just an extension of the same thing. I moved up here in '81 and I think punk rock was a way to connect with people. It was a way to move to a new town and find somebody that had some kind of commonality.
Seattle had this magnetism for a while. It was really attracting all these awesome artists. I think Seattle has had a lot of really good influences on the world. These photographs are about the germination of those ideas.
When I started off they talked about the male gaze in art. I always thought why can't women have their own gaze? What's my point of view as the woman? I sort of always photographed around that. I feel like that's some of what this book is about. It's a conceptual feminist manifesto for the Wild West. It's commentary on the male gaze versus the female gaze. It's about promoting a culture of inclusion—calling people out who take on social outcasts. This project is basically 30 years in the making.
A lot of times I would shoot almost automatically and obsessively. That's part of why it took so long to sort through all these negatives. There was a lot of really interesting stuff that I either didn't remember shooting or looked different when I actually looked at it again. When I shoot things it's often in a highly charged emotional environment. Whatever is going on at the time can feel kind of overwhelming. That is one of the reasons I like to put my negatives away and look at them later when I can look at them just for the images that they are—not remember the exact details of what was going on and how I felt at the moment I took the picture.
Alice Wheeler released her first monograph, Outcasts and Innocents, through Minor Matters books in October.