Ad Agency Enlists Photojournalist David Guttenfelder for Campaign on Veteran Suicide
Conflict photographer raises awareness for the war at home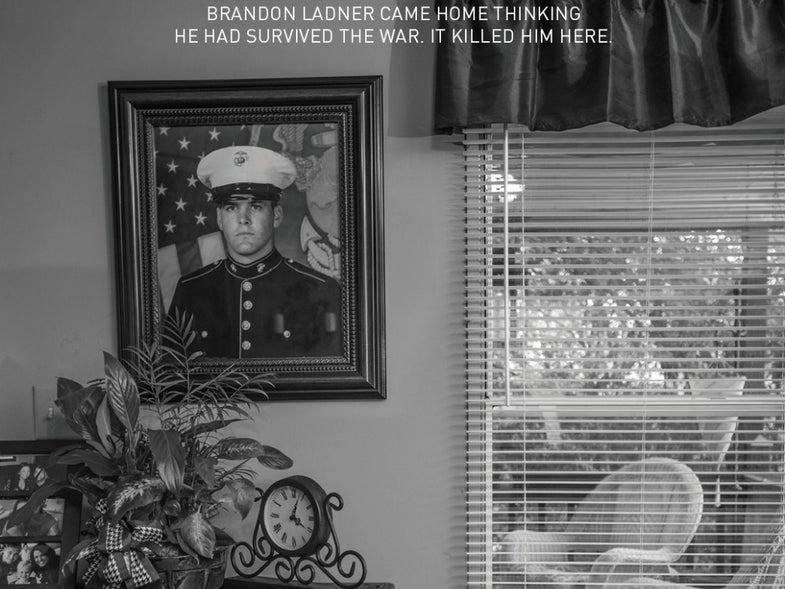 It's always interesting to see photojournalists enter the domain of commercial photography and to discover how their styles translate within that radically different context. It can be stunning and seemingly natural of a transition, as Ben Lowy demonstrated through his relatively new standalone website for advertising work. It can also be surprising, as in the case of Eugene Richards, whose up-beat, though gritty campaign for an instant coffee brand lives on his website alongside devastating portfolios like "Cocaine True, Cocaine Blue." And sometimes, it can be controversial, like when a landscape by a war photographer ends up getting sold as stock through his commercial agent to a major arms manufacturer.
In the case of David Guttenfelder's new black-and-white print campaign for the agency CP+B and the non-profit Mission 22, it just makes sense. Guttenfelder, who has spent much of the last 20 years covering conflict for the Associated Press and helped open the first western news bureau in North Korea, went freelance again recently and is back in the US shooting for National Geographic. Mission 22, which takes it's name from the shocking statistic that 22 veterans of war take their own lives every single day, aims to raise awareness for struggles brought back by those who return from the combat zone.
[See also: Craig Walker's Pulitzer Prize-Winning Portrait of PTSD]
There are now more army lives lost to suicide, often at their own homes, than on the battlefield. Guttenfelder went to those homes and shot a series of quiet domestic verticals which were overlaid with sobering text and remind of Ashley Gilbertson's series "Bedrooms of the Fallen." According to Adweek, they'll be running this month in Fortune, Money and Esquire, as well as on billboards in four cities. See more at mission22.com.