2014 and Beyond: Sara Cwynar
History predicts the future. Perhaps that's why, when selecting which photographers we'll consider seminal 25 years from now, we chose … Continued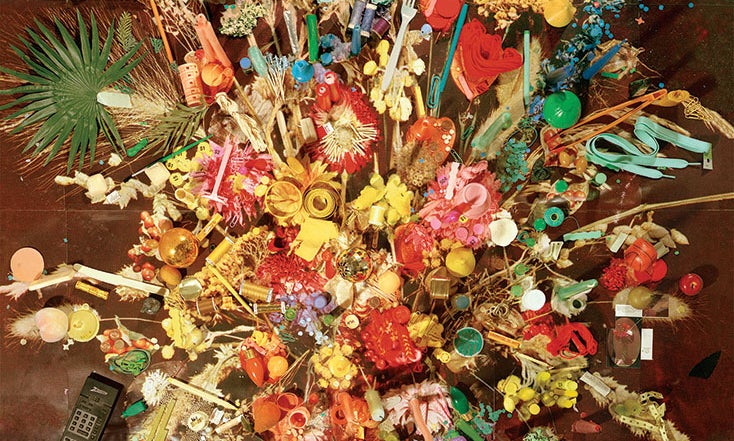 History predicts the future. Perhaps that's why, when selecting which photographers we'll consider seminal 25 years from now, we chose a group whose practices are grounded in the past. Who is the future of photography? For our 25th anniversary issue, we picked three artists we think we'll be celebrating in another quarter century.
Sara Cwynar's studio may resemble the habitat of a packrat, but her cache of old books, weird objects, and instructional manuals form the basis of conceptual-photo pieces that explore the meaning of everyday images and their potential. "I like the idea of taking dead material and reworking it in my studio," says Cwynar. The artist, 29, lives in New Haven, Connecticut, and used to work as a graphic designer with The New York Times Magazine. "I've always been interested in the way things morph over time and fade into some kind of obsolescence," she adds.
In a process of graphic reuse, Cwynar typically begins by flipping through old publications and looking for pictures that strike her. They usually run along the lines of just-good-enough studio photography and dated images from consumer catalogs. "Then I blow them up into laser prints and start manipulating," she says, explaining that the next step involves a wild collaging onto the image—maybe adding sticky notes, maybe breaking up the original picture into a grid. "Often, I'll use whatever's in my studio—the equivalent of common objects that you find in a junk drawer—and layer it on," she says. After the piece is built, she photographs the object with a large-format camera.
At the moment, she is experimenting with hot wax as a medium for transforming detritus into art. "I like when material takes on a life of its own," Cwynar says. "You can kind of direct where the wax goes, but it also goes wherever it wants. The end result might be a disaster, but I find that exciting."
See more of her work at saracwynar.com
Read more about the three photographers we think will become seminal another 25 years from now