The 10 Best New Photo Exhibits: Spring 2016
Inspiring photography exhibitions to see this spring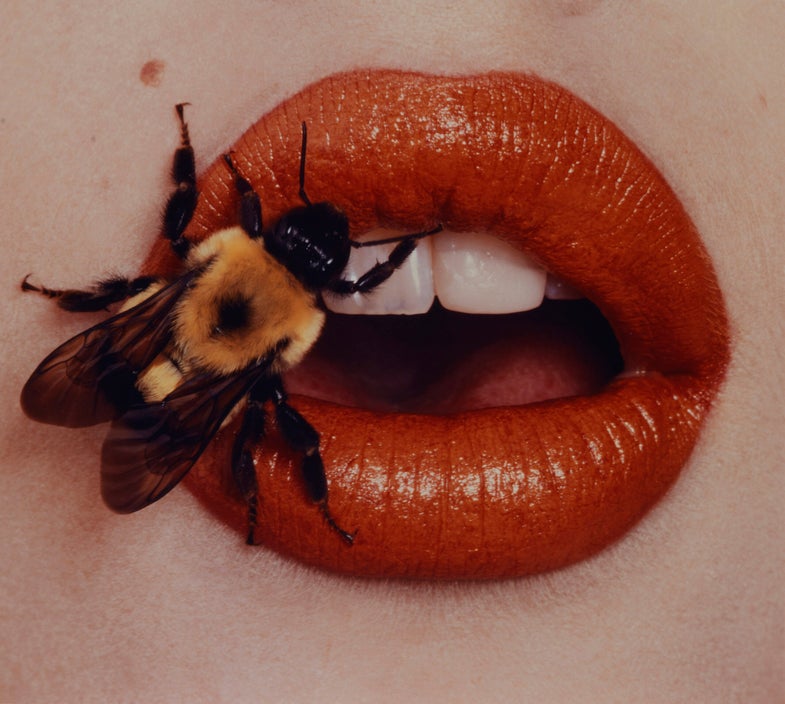 A legend in image making, Irving Penn was able to reveal what a camera can do as a tool for portraiture, still lifes, and fashion through his mastery of photographic technique and the printing process. This exhibition pays homage to Penn's legacy and his penchant for stark lines, dramatic tonal range, beautiful people and fabrics, and the ability to bring inanimate objects to life with the pop of a shutter. This is the first major retrospective of the artist's work in the last 20 years.
Silver print. Overall: 19 x 19 in. (48.3 x 48.3 cm). Smithsonian American Art Museum, Gift of The Irving Penn Foundation.
Irving Penn: Beyond Beauty | Dallas Museum of Art, Dallas, TX | April 15 through August 14
Chromogenic print. Overall: 21 1/2 x 24 in. (54.6 x 61.0 cm). Smithsonian American Art Museum, Promised gift of The Irving Penn Foundation.
Sarah Anne Johnson's photographic motif often employs a panoply of techniques for experimenting with the photographic print—scratching, painting, applying glitter, collaging—whereby the emotional and psychological aspects of her series are brought to life. For past series, she often juxtaposes photographs of mixed-media tableaux with documentary work. For "Field Trip," she revisits the debauchery, freedom, and revelry of the summer music festivals of her youth—this time as an observer who can project her memories and emotions onto the images through psychedelic paint and glitter.
Chromogenic print with acrylic paint. 45 x 59" image, 49 x 71 1/2" framed. Edition of one.
Sarah Anne Johnson | Julie Saul, New York, NY | Through April 16
Chromogenic print with oil paint, 28 x 42" image, 32 x 46" framed. Edition of three.
The 34 color photos presented in this exhibition, taken in Italy (where the artist was born), Austria, and France, and made between 1970 and 1989, evoke a timeless place in which a landscape can take on any context. In a 1989 statement, Ghirri said his images, "become our impossible landscape, without scale, without a geographic order to orient us; a tangle of monuments, lights, thoughts, objects, moments, analogies from our landscape of the mind, which we seek out, even unconsciously, every time we look out a window, into the openness of the outside world, as if they were the points of an imaginary compass that indicates a possible direction."
From the series Paesaggio Italiano 1986. Vintage c-print, 12 5/8 x 18 5/8 inches, 32 x 47 cm Sheet.
Luigi Ghirri: The Impossible Landscape | Matthew Marks Gallery, New York, NY | Through April 30
From the series Kodachrome 1971-73. Vintage c-print, 5 x 3 1/2 inches, 13 x 9 cm.
Looking at the roots of human existence, and the fruits of our toil with the land, Jackie Nickerson captured agrarian laborers in Malawi, Kenya, South Africa, Zambia and Zimbabwe—where 70 percent of the population on the African continent works in agriculture. The resulting series, in which Nickerson portrays her subjects partially obscured by their harvest or their tools, is a tribute to the pastoral and the bodies who help feed the world, but who largely go unrecognized. In "Terrain," the artist asks us to "think about these imprints left by the material processes of work as the evidence of our presence on the earth … how contemporary human beings, living in a western urban environment, can relate to the metaphysics of the labor which enables our lives."
In a joint effort with the J. Paul Getty Museum, LACMA presents a look into the iconic photographer's repertoire, and his focus on portraiture, nudes, and still life. The dual exhibitions highlight his experimentation with the medium, his technical expertise in the photographic craft, and the attention he gave to his subjects: himself; other artists (like Patti Smith); musicians; bodybuilders; and urban gay culture. Over 300 of his lush images will be on display, including correspondence and ephemera to shed light on the life of this once-controversial artist of the 1970s and '80s.
Gelatin silver print 35.8 x 35.5 cm (14 1/8 x 14 in.). Jointly acquired by the J. Paul Getty Trust and the Los Angeles County Museum of Art; partial gift of the Robert Mapplethorpe Foundation; partial purchase with funds provided by the J. Paul Getty Trust and the David Geffen Foundation.
Robert Mapplethorpe: The Perfect Medium | Los Angeles County Museum of Art (LACMA) and J. Paul Getty Museum, Los Angeles, CA | March 20 to July 31
Dye imbibition print 52.6 X 66.1 cm (20 11/16 X 26 in.). Jointly acquired by the J. Paul Getty Trust and the Los Angeles County Museum of Art; partial gift of the Robert Mapplethorpe Foundation; partial purchase with funds provided by the J. Paul Getty Trust and the David Geffen Foundation
It's rare to walk into a group exhibition and be equally attracted to all of the works therein. But this exhibition, which draws upon the tradition of California Conceptualism in photographic arts, as taught by Robert Heinecken, who founded the photography program at UCLA, and who influenced students such as JoAnn Callis and James Welling, is a pertinent and timely reflection of the development of the medium. Named after an image by Callis, the exhibition opens with her haunting work and moves through the photography of others who derived inspiration from the tradition of West Coast photographic experimentation, including Ed Ruscha, Lewis Baltz, Andy Warhol, Wolfgang Tillmans, Eileen Quinlan, Amy Adler, and Catherine Opie (who's the subject of a concurrent exhibition at the museum).
Chromogenic color print. 24 × 20 in. (61 × 50.8 cm). UCLA Grunwald Center of the Graphic Arts, Hammer Museum. Gift of the artist.
Still Life with Fish: Photography from the Collection | Hammer Museum, Los Angeles, CA | Through May 15
Chromogenic print. 51 × 41 in. (129.5 × 104.1 cm) (framed). Hammer Museum, Los Angeles. Gift of Ellen Kern.
Following their solo exhibition of "Z," an in-depth exploration of gender ambiguity at Pioneer Works in Brooklyn, Rowan Renee will mount a recent series of photographs which puts a microscope on the physical and psychological abuses from incest suffered at the hands of their father, a convicted pedophile who died in prison a little more than five years ago. The exhibition, which is a mixture of self-portraits shot on color film and a piece of writing stringing together academic theory and narrative stories passed down to Renee, is a powerful exercise in acknowledging the violence endured by their female body and reclaiming self through gender neutrality.
Provocative, sexy, stylized, graphic: Hiro images are anything but understated. But before the Japanese photographer used unusual color, composition, and Surrealism to his advantage in his fashion and still life work, photographing prolifically in the 1960s and 1970s for clients like Harper's Bazaar, he was an assistant to the inimitable photographer, Richard Avedon. Hiro's aesthetic is at once grabbing and seductive, embodying a mind ahead of its time, and the power of photography to appeal to the masses.
Hiro: Photographs | Museum of Fine Arts, Boston, MA | Through August 14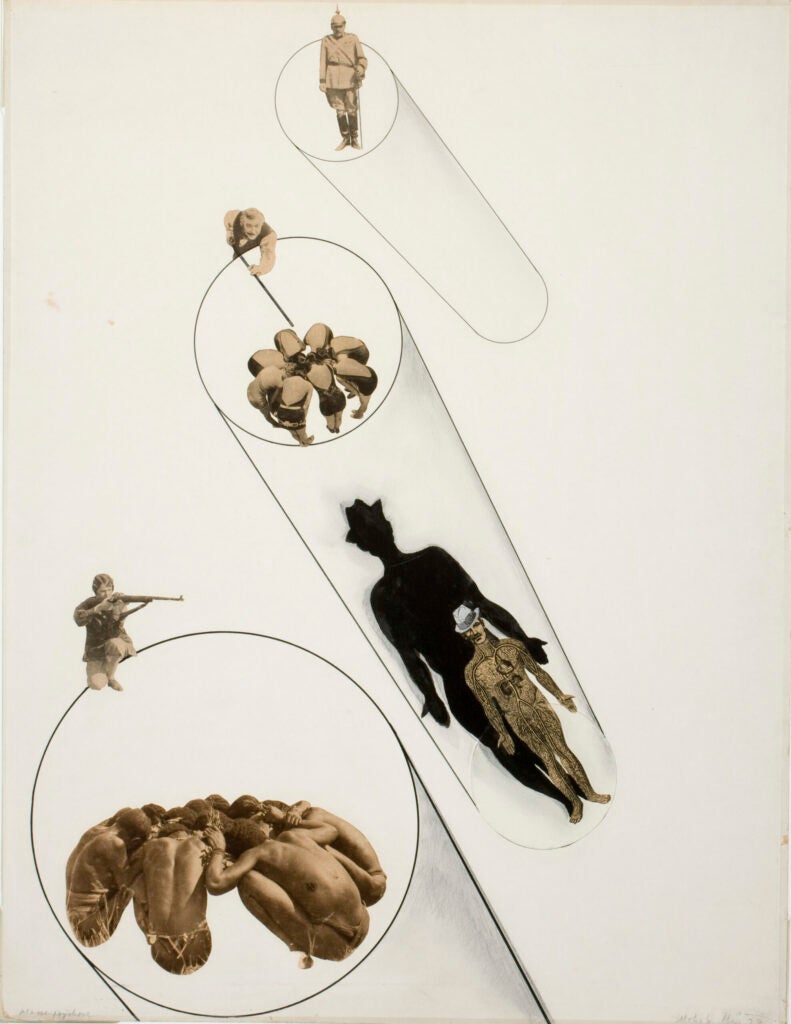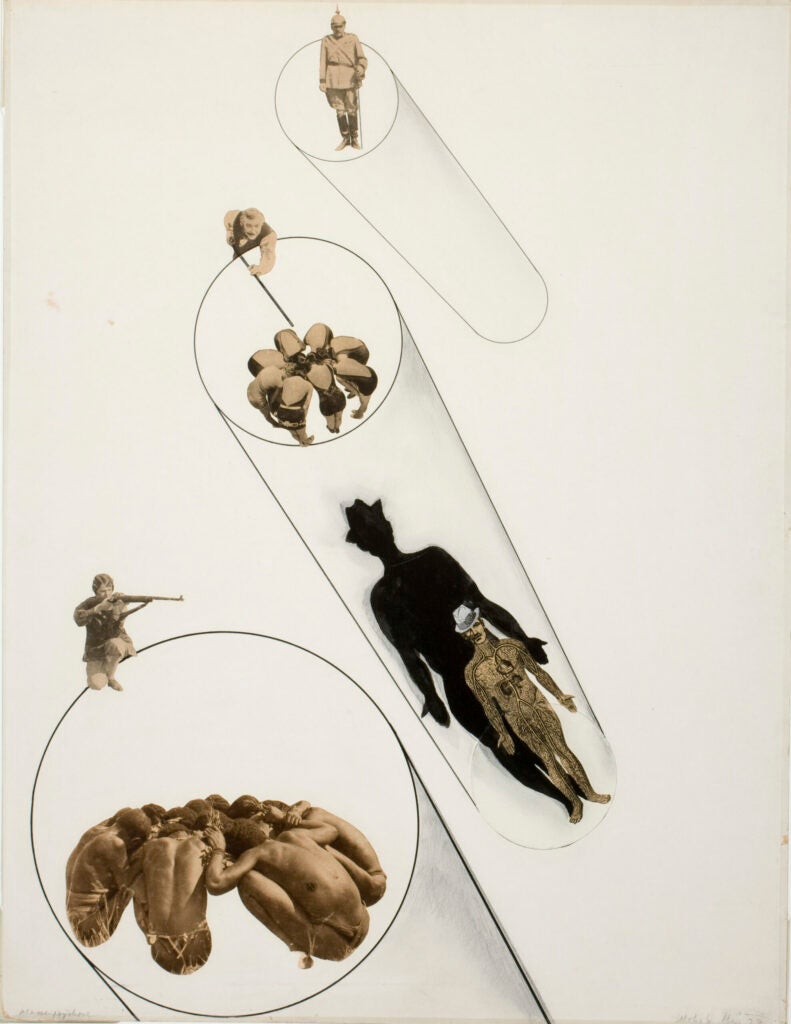 Massenpsychose, 1927
Massenpsychose (Mass Psychosis), 1927
This exhibition is a unique intellectual exploration into the power of persuasion embodied in the photographic medium. Less about looking at the image as an object, or the thing unto itself, this exhibition beckons the viewer to think about the history of the photograph, its relationship to writing with light, and its ability to influence politics and public opinion. This exhibition showcases over 80 works, from the 1840s to the present, by artists such as László Moholy-Nagy, Eugène Atget, Alex Webb, and Aaron Siskind, among others.
Collage, pencil, and ink. George Eastman Museum, Purchased with funds provided by Eastman Kodak Company.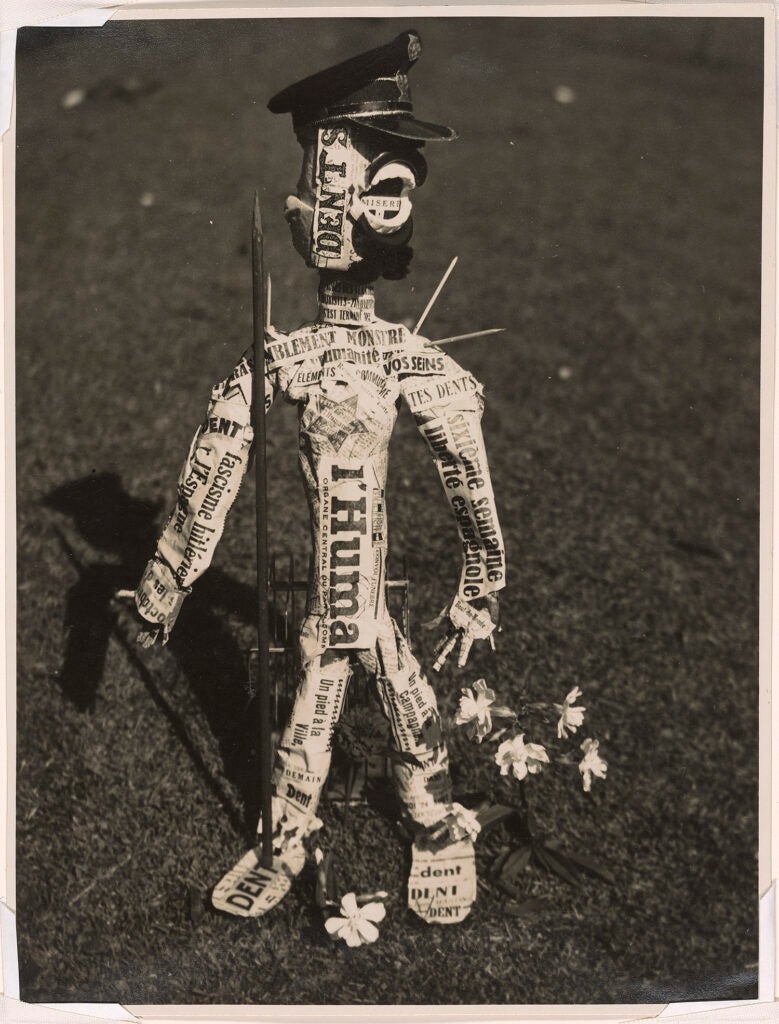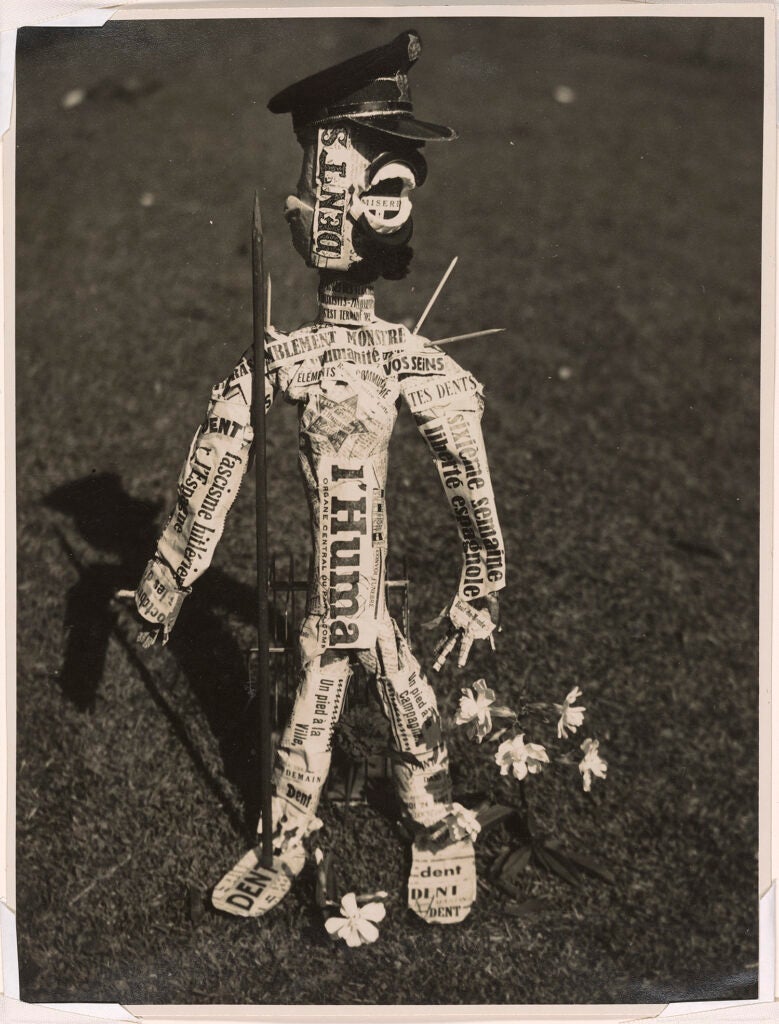 Cahun, Claude, 1894-1954. Poupee, Collection of Richard and Ronay Menschel
La Poupée (Puppet), 1936
Sight Reading: Photography and the Legible World | The Morgan Library and Museum, New York, NY | Through May 30
Gelatin silver print. Collection of Richard and Ronay Menschel.
Co-organized by the International Center of Photography, Steve McCurry: India, on view at the Rubin Museum, showcases the people, the spirituality, the landscape, and the weather patterns of India, through 30 years of photography by the photojournalist and art photographer known for his iconic Afghan Girl image in the June 1985 issue of National Geographic. Known for shooting with Kodachrome film (and having shot the last roll of this kind produced), the photographer has spent his career traveling the globe in search of interesting subjects to document. India is just one country that greatly caught McCurry's attention.
Archival Pigment Print. Display size: 40 x 26.66 inches.
Steve McCurry: India | The Rubin Museum of Art, New York, NY | Through April 4
Archival Pigment Print. Display size: 40 x 60 inches.
This spring, several vivacious photo exhibitions take the stage that remind the viewer that photography is truly writing (or painting) with light. We revisit artists who took the medium to new heights in their time, and those who carry the torch of photographic experimentation.