Affordable lighting gear for beginner photographers
Go from capturing light, to creating your own.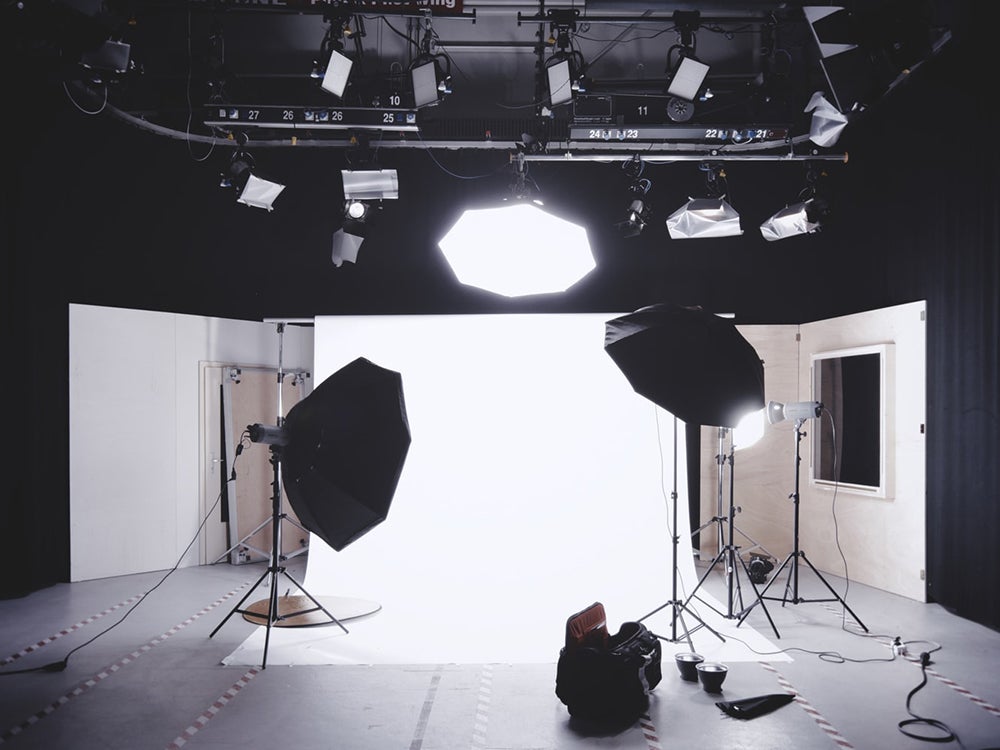 We may earn revenue from the products available on this page and participate in affiliate programs. Learn more ›
There's a lot of lighting gear out there, ranging from curiously cheap to extravagantly expensive, but don't let that scare you off. If you're ready to learn to light, there are plenty of affordable and user-friendly speedlights and monolights on the market. Whether you prioritize savings, or you want an affordable option that still has features like Through the Lens (TTL) metering and High Speed Sync (HSS), this round-up covers some of the most popular options for the beginners.
Neewer 43-inch 5-in-1 Reflector
Not a piece of lighting gear per se, the Neewer 43-inch 5-in-1 reflector is still an incredibly useful bit of kit. Pick one (or two) of these up to use as a diffuser, or use the white, gold and silver surfaces to create some fill for your one-light setups. Just about every photographer has one of these in their kit. You should, too.
Powerextra Professional DF-400 Speedlite Camera Flash
If you're looking for a bare-bones, fully-manual speedlight for Canon and Nikon cameras, you won't find anything more affordable than this. No frills at all. You get eight power levels, three flash modes, an optical sensor, and a PC sync port that will let you fire the flash off-camera using a separate trigger.
Yongnuo YN600EX-RT II
The Yongnuo YN600EX-RT II for Canon (pick up the YN968N for Nikon) is a feature-rich speedlight based on a Canon flash that costs more than four times as much. It features a guide number of 60m, 20-200mm zoom range, 29 levels of power adjustment from 1/1 to 1/128, a built-in 2.4GHz wireless radio with support for 15 channels and 5 groups, and support for both TTL and HSS. As if that's not enough, there's also a USB port for firmware updates, and the Nikon version comes with a built-in LED light on the flash head.
Godox V1
A great flash for the aspiring wedding photographer, the Godox V1 is based on Profoto's much more expensive A1, which they called "the world's smallest studio light." The Godox V1 boasts 76Ws of power with a flash duration of 1/300 – 1/20,000 of a second and 28-105mm zoom range. It features a built in 2.4GHz wireless radio with support for 32 channels and 4 groups, and boasts full support for TTL and HSS up to 1/8000s.
The Godox V1′s battery offers up to 480 full power flashes on a charge, and the circular lens features a magnetic rim that supports several useful modifiers, which can be purchased separately.
Neewer Q400N
If you're ready to step up to a more powerful monolight, and you don't mind taking full manual control, check out the ultra-affordable Neewer Q400N. This 400Ws strobe features a guide number of 65m and the ability to choose between 60 different power levels from 2.0 to 8.0. There's a built-in 2.4GHz wireless radio and the strobe comes with an on-camera trigger that supports multiple camera brands. There's also a built-in 150W modeling lamp, an LCD display, and plenty of physical controls on the back if you'd rather adjust settings from there.
For more power, step up to the 600Ws Neewer Q600N.
Godox AD200Pro
The Godox AD200Pro packs a lot of punch into a monolight the size of some large protein bars. This battery-powered 200Ws strobe is equipped with a 2.4GHz wireless radio and compatible with both TTL metering and HSS, allowing you to use the flash at shutter speeds up to 1/8000s. The power can be adjusted in 1/10th increments from 1/1 to 1/256, the battery is rated for 500 full-power flashes per charge, and the flash comes with two swappable heads—a bare bulb and a fresnel head.
In short, the AD200Pro offers way more power than a speedlight, without giving up any of the versatility.
Godox AD400Pro
The most expensive option on our list, the Godox AD400Pro is a battery-powered, 400Ws monolight with a guide number of 72m and support for both TTL and HSS up to 1/8000s. Power output can be adjusted from 1/1 all the way down to 1/256. The included rechargeable battery is rated for 390 full-power flashes per charge. There's also a built-in 2.4GHz wireless radio, 30W LED modeling lamp, and a side-mounted LCD and physical controls that make it easier to check and adjust the strobe while you work.