Adobe Creative Cloud Updates Bring New Photoshop Features And Faster Performance
The new Photoshop update changes some very familiar functions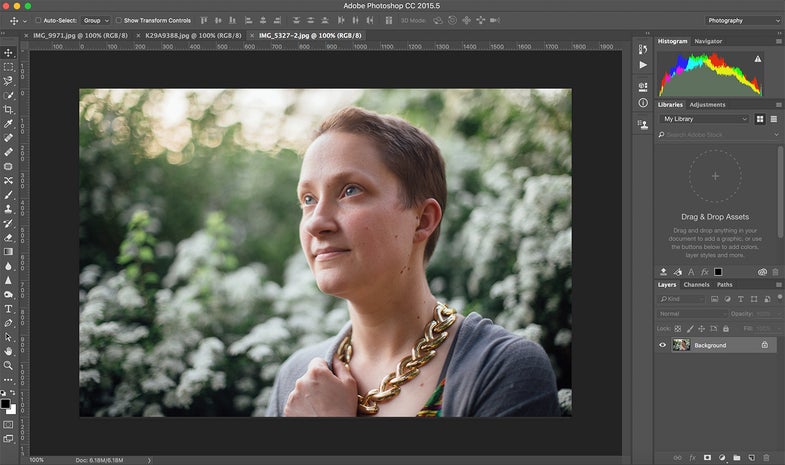 We may earn revenue from the products available on this page and participate in affiliate programs. Learn more ›

Now that we live in the age of Creative Cloud, Adobe updates aren't usually the massive versions they once were. Today, however, we're getting some fancy new Photoshop features as part of a Creative Cloud tune-up. Adobe has also made its intentions clear to try and compete in the stock photography market by opening up its Adobe Stock market place.
Content Aware Crop
We'll start with the feature stuff. First, we'll be getting Content Aware Crop, which is a feature that was actually previewed a few weeks ago. Basically, when you rotate an image or you want to actually expand the image beyond its borders, you're left with white spaces in the file. This uses a specially-tweaked algorithm that's different from normal Content Aware to fill in those gaps. Here's an example.


As you can see, it's not perfect, leaving a bit of a line on the right side, but that's fairly simple to clean up with the clone and heal brushes.
Content-Aware computing is also at the forefront of Adobe's speed enhancements, with a boost of up to 3x compared to the old version.

Face-Aware Liquify
If you have never used the Liquify tool in Photoshop, it basically lets you push around your photo as if it were made out of clay, so you can do things like warp objects or stretch them out in a dynamic way. Face-Aware Liquify takes that one step beyond. When you load a portrait into the software, it recognizes the elements of a face and lets you mess with them on an individual basis.

In this example, I've taken the adjustments to their absurd extremes to create a monster that's somehow even more horrifying than my normal appearance. If you use the features subtly, it actually seems like a decent way to make someone's eye appear a little more open or emphasize a smile just a little. From an authenticity standpoint, I'm not quite sure how I feel about it, but if you need to save a family photo with an awkward expression every once in a while, it could be very helpful.
New Export Dialog
If you save a lot of images for the internet, then you know how clunky Save For Web has been in the past, but now it has been relegated to legacy status to make way for an upgraded Export function. According to Adobe, the new export tech allows you to get better quality JPEG files that still require the same amount of storage space.
The shortcut for the new Export function is the same as it was for Save For Web, except with the "W" key instead of the "S". Logically, it makes sense ("W" for "web" and all), but my brain still associates Command + W with closing a file, so that's going to take a little getting used to.

Selection and Masking Space
In order to make selections and masking simpler and more efficient, Photoshop now has a designated space for this kind of work that features only the selection tools and presents them in a dedicated interface much like Liquify. Adobe seems to have put in a lot of work on this tech, improving the initial selections and improving the Refine Edge tool as well to put up some pretty impressive results.
Selection has never exactly been my strong suit when it comes to Photoshop, and I was getting better results than I'm used to in my initial tests. I also like the "Decontaminate Colors" function, which helps take away hints of background color that still remain in an image after it has been masked out. This feature is going to take some more extended testing on my part to see how much of an improvement it really is, but so far, I'm impressed. If nothing else, the change in interface is certainly an upgrade.
Adobe Stock
Chances are, many of you aren't buying a lot of stock photos from Adobe, but it is worth noting that the company is planning to open up its Stock platform down the road to let photographers actually sell their images on the Adobe platform. Adobe Stock has been steadily growing in importance for Adobe and it will be very interesting to see how much of an advantage it really is to have the platform built right into its suite of creative apps.
If you're a Creative Cloud subscriber, you'll be getting these new features with the next update of Photoshop. We'll be interested to hear what you think of the new features and the improvements.