I, Photographer: Boudoir Business
Portrait photographer Critsey Rowe discovers that sexy sells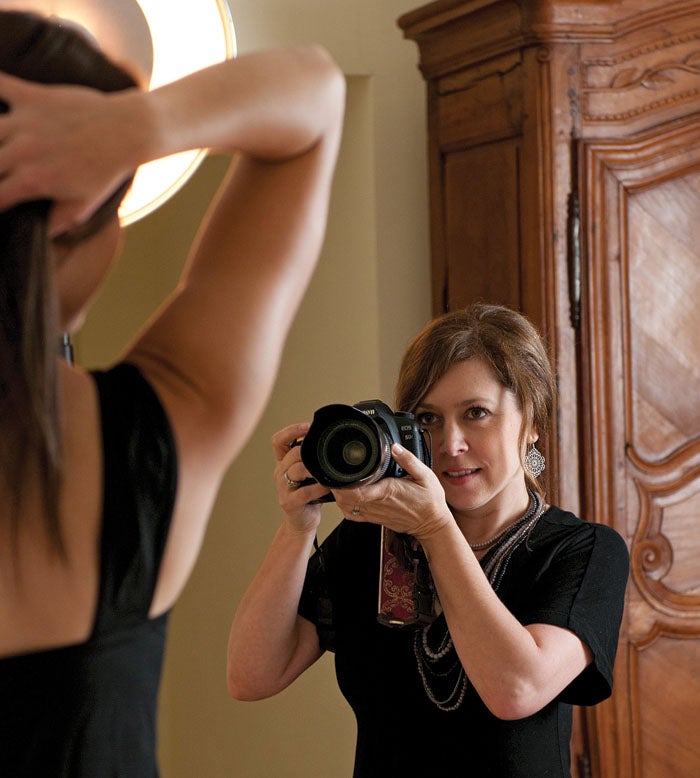 Just what is boudoir photography?
Sexy, tasteful, intimate fashion portraits taken of everyday women in their lingerie.
Who hires you?
About half are brides doing it as a wedding gift for their husbands; the other half are women doing it as an anniversary or birthday gift, or just for themselves. I get a lot of women in their 40s and 50s, as well as in their 20s. Typically the older women have worked hard to get their bodies the way they are, and are celebrating it.
What does a shoot entail?
I offer a hair and makeup stylist, which makes clients look more polished and feel more confident. The stylist works with me the whole time, doing touchups and changing hairstyles. I always shoot a lot of different looks, because women can be really picky and I want to give them a lot of options. I treat it like a fashion shoot: They change outfits a lot, usually five or six times, and go through lots of different poses. It goes about 3 hours.
What's the toughest part?
Making clients feel comfortable. Most don't know what to expect and are really nervous to pose in their underwear in front of someone. Guiding them and showing them a few of the first shots really builds their confidence, once they see how beautiful they look. By the time it's over, they don't want it to end.
Do they wear their own outfits?
I suggest items to bring. I tell them to be creative, to look at magazines for ideas. Not everything has to be lingerie—there are a lot of cool shots with regular clothes. If they're doing it for their guy, I suggest they bring things of his, anything from a football jersey to his favorite watch.
Where do you shoot?
On location, most of the time in a hotel room or somewhere the client feels comfortable. I had a client who wanted to shoot with vintage cars, so we rented out a garage, shot with a few different cars, and made a calendar for her fiancé. We try to find locations that match their tastes. I don't shoot in a studio—it's just not the style I go for.
What gear do you use?
I carry two Canon EOS 5D Mark II bodies—I always have a backup. I use 50mm f/1.2, 85mm f/1.2 and 28–70mm f/2.8 Canon lenses. For lighting I use AlienBees and off-camera flash, reflectors, and a video light that creates more dramatic lighting.
And retouching?
I retouch all the images. There is a lot more skin showing in boudoir then in a normal portrait, so I always retouch the skin to make them look their most beautiful. Because of variations with lighting, even people with perfect skin need it.
Any tips or tricks for flattering portraits?
Avoid on-camera flash: Available light or off-camera flash is more flattering. Shoot different angles, move around the subjects—walk all the way around as you're shooting.
What's the best part of boudoir?
I love to hear how much my clients love their photos. I love to capture someone's beauty and help her to see it.
Critsey Rowe calls Charlotte, NC home, but her work as a boudoir and wedding photographer takes her across the country. See her images d on her site, www.coutureboudoir.com.