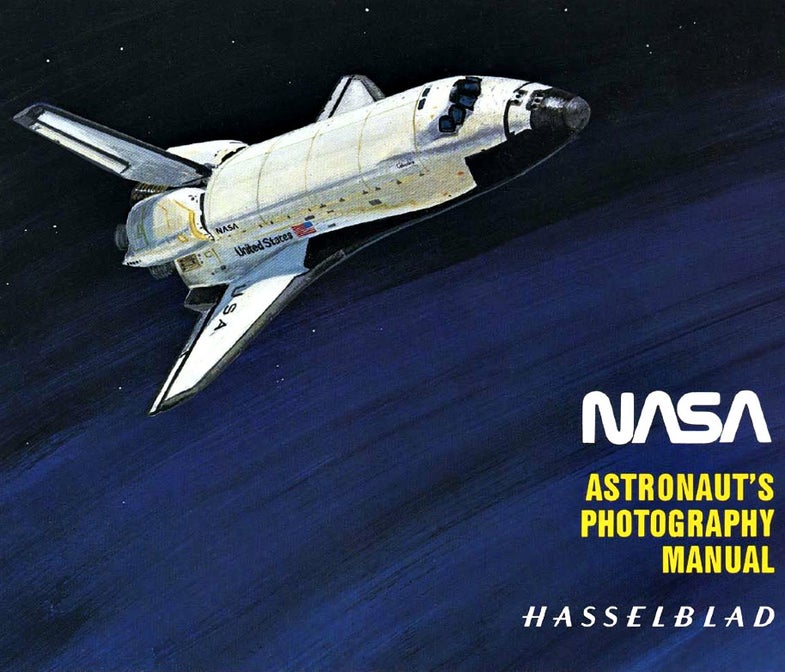 Like most small children, when asked what I wanted to be when I grew up, my response was always, "an astronaut." It was until I was probably eight, that I gave up on that dream (after a harrowing experience on the tilt-a-whirl), and instead changed my childhood aspirations to becoming a photographer. However, upon recently stumbling across the NASA/Hasselblad "Astronaut's Photography Manual," I now realize that I could have had the best of both worlds.
NASA and Hasselblad have had a long history together—Hasselblad famously teamed up with the space association for the first Apollo missions, and of course was the first camera to make it to the moon. And as our weekly Ebay Watch proves, they are still quite a few made-for-NASA 'Blads floating around out there, including several in very interesting colors.
The manual, which is circa 1984, was published by Hasselblad and is intended to not only instruct astronauts on the workings of the Hasselblad 500EL/M, NASA's go-to space cameras, but also on the basic principles of photography, including exposure, composition, and depth of field. It is filled with quirky and humorous illustrations (we pulled some of our very favorites and compiled them in the gallery above), in addition to some pretty awesome sample images.
Available for download directly from the Hasselbald's Website, the manual actually contains information that is still useful for today's photographer, whether in space or on the ground.
From: PetaPixel
Nasa Hasselblad Manual 1
Sample images used by NASA to illustrate the proper ways to compose an image.
Nasa Hasselblad Manual 2
"Clean the windows of the shuttle before you photograph through them."
Nasa Hasselblad Manual 3
These obscure diagrams are meant to explain the basics of composition.
Nasa Hasselblad Manual 4
A very helpful page breaks down the best techniques for finding a proper exposure.
Nasa Hasselblad Manual 5
Depth of field makes even more sense when your subject is floating in space.
Nasa Hasselblad Manual 6
Hasselblad's 500EL's made manually focusing fairly simple.
Nasa Hasselblad Manual 7
A couple of breathtaking sample images are used to display the differences in focal length.
Nasa Hasselblad Manual 8
"The meter is battery powered. There are no spares on-board."
Nasa Hasselblad Manual 9
NASA breaks down with incredible detail, the many different functions and parts of a Hasselblad lens.