I, photographer: Tunnel Shooter
Sue Bednarz documents big construction jobs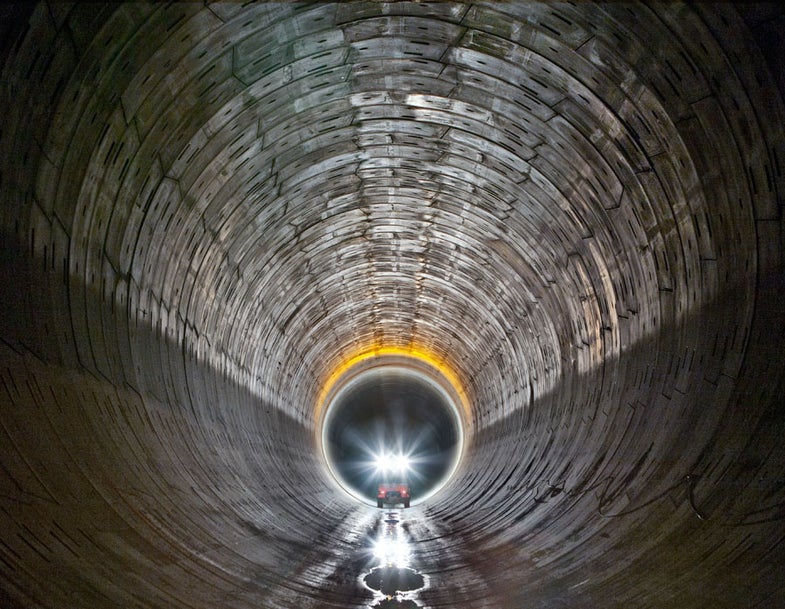 How did you start shooting construction sites?
I started taking photos of a tunnel project in Portland, OR, as part of our construction work. Originally, the photos were for internal use. Then the City of Portland hired me to document other construction. I have since photographed projects for my current employer, Jacobs Associates, and other clients. It varies, but I visit about 15 to 20 sites per year. Although Jacobs Associates values my photography skills, engineering geologist is my prime occupation.
What kind of access do you get on a tunnel project?
Generally, I have access to the entire site. The possible exceptions are the front of the tunnel-boring machine and where they are blasting. I climb tower cranes—where I walk out to the end of the boom to photograph straight down— ride up crane-lifted man baskets to hang over a site, and have shot from a small helicopter turned sideways to get a better vertical shot. I love heights. The best shots are where you're not supposed to be!
What kind of safety training do you need?
On every job site, there's hours of orientation for hand signals and emergency response, like in case oxygen levels drop. I usually have a guide accompany me and make sure nothing runs over me while I'm looking through the viewfinder. I have slipped while wading through shallow water and fallen in—camera equipment and all.
What is the biggest challenge for your photography?
Imagine trying to autofocus or meter a subject in pitch darkness along a tunnel that extends for miles. I switch to manual and shoot focused near infinity with an extremely wide-angle lens for maximum depth of field. Setting up strobe lights is dangerous because of the very tight spaces and an abundance of dripping and running water. Plus, flash might scare workers into thinking something's wrong.
What are the tools of your photography trade?
I have two Canons: an EOS-1Ds Mark II and a 1Ds Mark III. I've submerged them in tunnels, shot in driving rain, and dropped them on concrete. My lenses are Canon EF 16–35mm, 15mm fisheye, and 70–200 IS—all f/2.8. The fisheye is spectacular underground, especially in circular tunnels, and lets me photograph at f/2.8 with most of the image in focus. The 70–200mm lens compresses the construction lighting down a tunnel and you get stacked rings of colorful lights. No lens filters because they create too much flare underground.
For above-ground work, I use my 16–35mm and fisheye to capture the construction site and tall equipment. I also love my 17mm tilt-shift lens to shoot tall construction equipment without distortion. My graphite Gitzo tripod and Markins ballhead are critical. I use a remote shutter release to avoid my shadow and a hot-shoe-mounted bubble level to obtain a level photo. I wear the two cameras around my neck and have the rest of the equipment in a Think Tank Shape Shifter backpack—my tripod attaches to the outside.
What happens with the photos after the shoot?
Since my services are "work for hire," I don't own copyrights. Still, I have enjoyed seeing my photographs printed in books, magazines, and posters. The City of Portland even made one of my photos into an umbrella!
See more of her work at suebednarzphotography.com.