I, Photographer: Red Carpet Shooter Evan Agostini
Photographer to the stars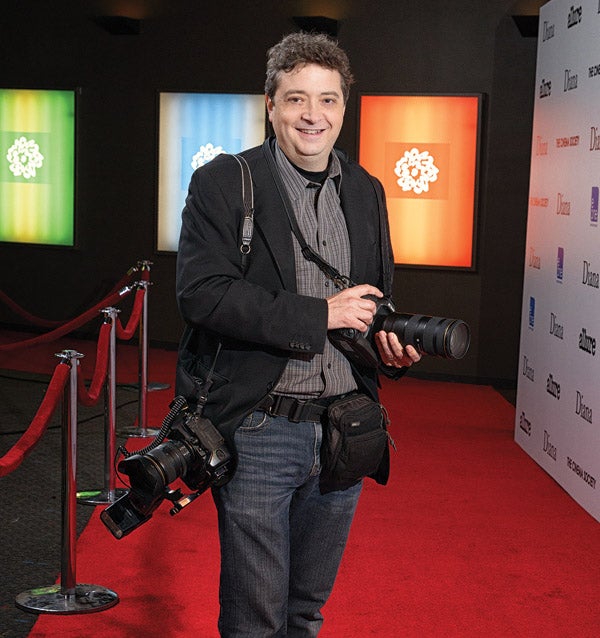 You often compete with other photographers in tight spaces. How do you get the best shot?
At Invision Agency, which serves all of the Associated Press' entertainment needs, I think in terms of the wire, and what I need to sell stock. A wire photo may tell more of a story and use more backdrop: a horizontal shot, natural light. For stuff that sells—stock—you want full-length fashion and headshots. Regardless, everyone wants eye contact—that's why all the photographers yell. If you know a little bit about a person, you can say something more than "Look left!" or "This camera, please!"
What else is challenging?
I try to catch moments where two people are looking at or whispering to each other. There's no secret to it—you just have to be observant and quick. Often, seeing the picture within the picture is important, too. Maybe you're doing a full-length shot of a couple and they smile at each other, except you're full-length. Zoom in to the three-quarter shot, and you can see their faces better. You catch the moment by cropping.
What gear do you typically bring for a red-carpet shoot?
I have a backpack, and I usually bring two Nikons (a D3S and a D4), two flashes, and three lenses. I usually use a lot of zooms for red carpet because you have more latitude—you can get a full-length and then maybe go in for a headshot. Two good red-carpet lenses are the Nikon 28–300mm f/3.5–5.6G VR and the 24–120mm f/4G VR. I also have a 70–200mm f/2.8G VR II, which I generally shoot with natural light on the D4. One camera will be for available light and one will have a flash. I can walk in anywhere and get something with that set-up.
Any favorite celebs who consistently play along?
Dustin Hoffman is not a huge seller, but he's always friendly and gives something funny or silly. Tom Hanks doesn't do anything different, but he's very nice and accommodating. Mariah Carey, Sarah Jessica Parker, and Jennifer Lopez are all very good. The people who are professional and know they have to do their job are ideal; they know that we're here to help whatever they're doing. Then there are people who pose reluctantly—usually the younger stars. They actually have a more jaded attitude about it.
How did you get started?
I was working at a photo news agency called Gamma-Liaison back in the '90s, editing photos, filing slides, and learning about the news business—what sold and what didn't. Eventually, I was put in charge of the editing department. An entertainment photographer we had got sick, so we needed someone to fill in, and I did. He was a good friend, and willed me one of his lenses when he died—it was very emotional. I kind of took his spot shooting entertainment full-time. That's how hard it was to get a spot in this business—someone had to die.
Entertain​ment photographer Evan Agostini works for the Associated Press' Invision Agency and is based in New York City.
Rihanna
NIKON D3
Lens: 70-200mm f/2.8
Focal Length: 175mm
Exposure: 1/250 sec; f/2.8; ISO 2000
Angelina Jolie
NIKON D700
Lens: 24-70mm f/2.8
Focal Length: 29mm
Exposure: 1/500 sec; f/2.8; ISO 2500
Glee Cast Golden Globes
NIKON D3S
Lens: 28-300mm f/3.5-5.6
Focal Length: 65mm
Exposure: 1/250 sec; f/8; ISO 400
Scarlett Johansson
NIKON D3
Lens: 70-200mm f2.8
Focal Length: 200mm
Exposure: 1/400 sec; f/4; ISO1000
Gomez and Bieber
NIKON D3S
Lens: 70-200mm f/2.8
Focal Length: 90mm
Exposure: 1/160 sec; f/8; ISO 800
Brad Pitt
CANON EOS-1D Mark II N
Lens: 70-200mm f/2.8
Exposure: 1/200 sec; f/2.8; ISO 1000
Mel Gibson
NIKON D3
Lens: 28-70mm f/2.8
Focal Length: 45mm
Exposure: 1/160 sec; f/9; ISO 320
Depp and Richards
NIKON D3
Lens: 24-70mm f/2.8
Focal Length: 27mm
Exposure: 1/100 sec; f/8; ISO 400
Sting and Madonna
NIKON D3
Lens 24-70mm f/2.8
Focal Length: 32mm
Exposure: 1/250 sec; f/7.1; ISO 400
Taylor Swift
NIKON D700
Lens: 70-200mm f/2.8
Focal Length: 82mm
Exposure: 1/320 sec; f/3.2; ISO3200
Rihanna
NIKON D700
Lens: 300mm f/2.8
Focal Length: 300mm
Exposure: 1/640 sec; f/3.2; ISO 2000
Aniston
NIKON D3
Lens: 70-200mm f/2.8
Focal Length: 200mm
Exposure: 1/400 sec; f/2.8; ISO 2000
Hoffman
CANON EOS-1D Mark II N
Lens: 28-300mm f/3.5-5.6
Focal Length: 60mm
Exposure: 1/400 sec; f/8; ISO 200
Lady Gaga
NIKON D3S
Lens: 24-120mm f/4
Focal Length: 38mm
Exposure: 1/200 sec; f/5.6 ISO 500
Bieber
NIKON D3S
Lens: 200-400mm f/4
Focal Length: 360mm
Exposure: 1/500 sec; f/4; ISO 2000
Portman
NIKON D4
Lens: 80-400mm f/4.5-5.6
Focal Length: 210mm
Exposure: 1/500; f/5.6; ISO 3200
Ringo
NIKON D700
Lens: 24-70mm f/2.8
Focal Length: 24mm
Exposure: 1/400 sec; f/2.8; ISO 2500
Katy Perry
NIKON D3S
Lens: 28-300mm f/3.5-5.6
Madonna
NIKON D3S
Lens: 28-300 f/3.5-5.6
Focal Length: 50mm
Exposure: 1/160 sec; f/6.3; ISO 800
Paul McCartney
NIKON D3S
Lens: 80-400mm f/4.5-5.6
Focal Length: 320mm
Exposure: 1/500 sec; f/5.6; ISO 1600