500px Launches Photographer Directory
The portfolio site steps into the gig economy arena to connect shooters and clients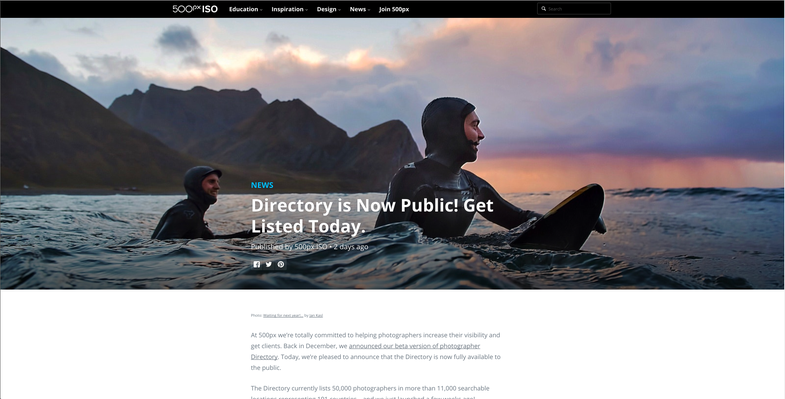 Whether you're a member of the 500px photo-sharing site, or if like me, you just think it sounds like a image-size specification, their latest news should make your ears perk up if you're a pro or semi-pro shooter. The site, which is well known among certain circles of photographers for hosting sharable photo-portfolios, is launching an expansive directory of current and future users with the aim of connecting potential clients with professional photographers. 500px boast directory membership numbers as high as 49,000 with users hailing from 11,000 indexed locations in 191 countries.
As a member of the directory, 500px users can receive shoot assignments from would-be clients directly (among whom the site counts Google, AirBnb and Lonely Planet) or from the site's own team of scouts. Directory members are also eligible to have their images included in Adobe's Stock Premium collection of stock photos, thanks to their recent partnership with the software giant.
Interested photographers can sign up with a simple form that asks them to specify their talents, gear and interests. For instance, one can select whether or not they're interested in still photography, video or both, as well as their specialities in shooting architecture, weddings, sports or fashion. Be sure to have your gear handy though, the site requires that you list at least one camera (you can add more) but gives the option of reporting additional equipment like 4K and 360°-capable devices.
The Directory is very much intended to bring 500px into the expanding realm of the gig economy and photographers can set their own rates, list what times during the day and which days during the week they're free to do some extra shooting. Joining the directory is free, but come April, the site plans to start charging extra for services that promote users who shell out for member privileges. Some of the site's features already cost extra money—their current membership upgrade fees range from $2 to $14 a month, and after April various levels of membership will help you garner additional exposure on their pro directory.
Like other websites and apps intended to connect creative digital professionals with those seeking their services, such as Vidmob, there are benefits and pitfalls to massive networks like 500px's new directory. Photographers have long relied on professional networks that they've built through previous gigs and word-of-mouth from clients, and the possibility of expanding their opportunities is a promising one, especially for younger shooters still building a portfolio or for far-flung photographers living in rural areas.
However, with greater options comes greater competition, and in similar platforms this model has pitted digital professionals against each other in a race for ever-lower hourly rates. To boot, clients using services like 500px's directory are likely to never interact personally with the person shooting and editing their work and it is just this sort of face-to-face interaction that helps build lasting relationships between clients and photographers. Some photographers might find it difficult in massive online networks like this one, to consistently lock in repeat clients. But, while I wouldn't count on it to keep you in the latest camera gear, the directory could potentially provide some great experience for photographers just getting off the ground and might help longtime shooters break into new markets they haven't tapped yet.