Lens Test: Canon EF 35mm f/2 IS USM
Canon upgrades this wide angle prime with IS, quieter AF, and more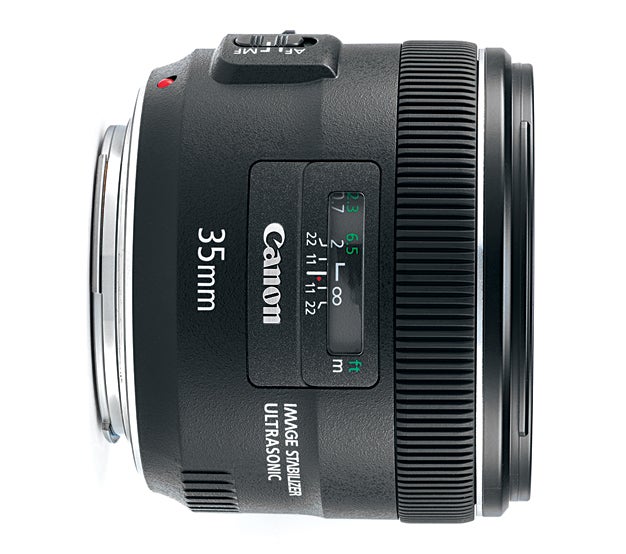 We may earn revenue from the products available on this page and participate in affiliate programs. Learn more ›
For several years now, Canon engineers have been reworking its original, high-speed, full-frame, wide-angle prime lenses for pros, bringing them up to current standards in optical quality, materials, capabilities, and features. Now the company has turned to the 35mm f/2 that was originally released in the fall of 1990, loading it with updates. Now there's full-time manual focus, a near-silent USM focusing motor, and Canon's current Image Stabilizer that automatically detects panning and stifles IS on the axis parallel to the pan's direction.
Other pluses: solid construc­tion, a molded glass aspheric element, and an internally focus­ing design. The only thing missing is a lens shade.
In the hand, this $849 (street) lens is significantly lighter and more compact than other recently tested pro-oriented 35mm full-framers from Canon, Nikon, Rokinon, and Sigma—all of which are bulkier due to their f/1.4 maximum apertures. In fact, this 35mm f/2 handles much like a 50mm normal. It's attractively finished, with fast and quiet autofocus, and a supremely well-damped manual focus turn. At 150 degrees, its turning radius is just about perfect; long enough for fine focusing, but not so long that you miss shots or suffer finger cramp.
On the Popular Photography Test Lab's optical bench, the lens turned in Excellent-range SQF numbers, suggesting superior sharpness and contrast. At our benchmark enlargement size of 11×14 and at maximum aperture, it's significantly sharper than Canon's deluxe $1,479 35mm f/1.4 (93.1% versus 86.9%).
In our tests of distortion control using DxO Analyzer 5.0, its 0.19% barreling falls mid-pack—better than the Nikon and Rokinon, but not the equal of Sigma's 0.12%. Light falloff didn't leave the frame edges until f/5.6, putting it at the bottom of the pro-level 35mm group. Competitors ranged from f/2.5 (Nikon) to f/4 (Rokinon).
But at 1:3.88, its magnifying power was best in class, compared with high-speed 35mm primes like the Nikon (1:4.6), Rokinon (1:4.9) or Sigma (1:4.6). As there are no other stabilized high-speed 35mm primes, there is no comparison to be made here, though the average of an extra 2.5 stops of sharpness our testers achieved with IS engaged fell far short of Canon's claimed 4 stops.
For wedding, travel, and street photography, this compact and stabilized optic would make an excellent go-to lens. Compare it to Sigma's $899 35mm f/1.4, though, and you see that Canon shooters are faced with a dilemma: an f/1.4 without stabilization or an f/2 with. Hm. Your call.
SPECIFICATIONS
35MM (34.99mm tested), f/2 (f/2.08 tested), 10 elements in 8 groups; focus ring turns 150 degrees
Diagonal View Angle: 63 degrees
Weight: 0.78 lbs
Filter Size: 67mm
Mounts: Canon AF
Street Price: $849
Website: canonusa.com
TEST RESULTS
Distortion: 0.19% (Slight) barrel
Light Falloff: Gone by f/5.6
Close-focusing Distance: 9.18 inches
Max. Magnification Ratio: 1:3.88
Image Stabilization: 2.5 stops