2017's most awe-inspiring—and devastating—wildlife photos
These are 2017's big winners.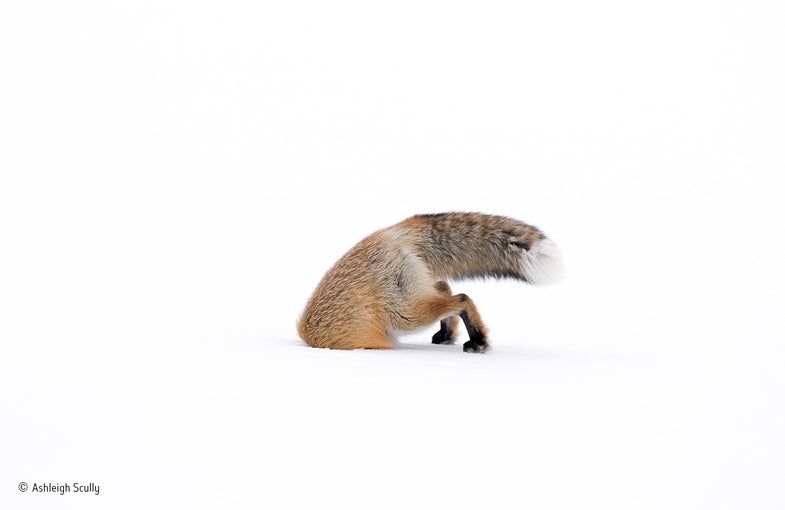 The good life
Grand title winner 2017, Young Wildlife Photographer of the Year (Also winner of the 15-17 years old category). Nelson, a teenager from the Netherlands, captured this image of Caco—a lowlands gorilla—in Odzala National Park in the Republic of Congo. Caco is enjoying a ball-shaped breadfruit in the picture.
Every year since 1961, animal-loving camera enthusiasts have sought the title of Wildlife Photographer of the Year. These are 2017's winners, running the gamut from a devastating scene of rhino poaching to a sweet snapshot of a playful fox.
The grand prize winner Brent Stirton was awarded £10,000 (over $13,000) for his haunting photo of rhino poaching in South Africa. People in London can see these images, and 84 others selected by the judges, on display at the Natural History Museum from now until May 28, 2018.
If you're a photographer who sees these pictures and thinks, yeah, I can do that, you're in luck. Entries for next year open on Monday, October 23. But expect some ferocious competition. This year there were 50,000 entries from 92 countries. Here are some of the very best:

Memorial to a species
Grand title winner 2017 (Also winner of The Wildlife Photojournalist Award: Story category)
Photojournalist Brent Stirton captured this image while working on a project documenting rhino poaching. The black rhino was shot for its horns, now removed, in the Hluhluwe Imfolozi Game Reserve in South Africa.
"Brent's image highlights the urgent need for humanity to protect our planet and the species we share it with," Natural History Museum Director Sir Michael Dixon says. "The black rhino offers a sombre and challenging counterpart to the story of 'Hope' our blue whale [skeleton unveiled earlier this year]. Like the critically endangered black rhinoceros, blue whales were once hunted to the brink of extinction, but humanity acted on a global scale to protect them. This shocking picture of an animal butchered for its horns is a call to action for us all."

Giant gathering
Winner 2017, Behaviour: Mammals
Sperm whales gather in large numbers off the coast of Sri Lanka. This may be a sign that sperm whale populations are recovering in the aftermath of being hunted nearly to extinction. To get this shot, Wu had to dodge blizzards of whale skin flakes, oily secretions, and clouds of dung.

Crab surprise
Winner 2017, Behavior: Invertebrates
Justin Gilligan was documenting a kelp transplant experiment near Tasmania when the ocean floor started moving. A huge rush of spider crabs—covering an area the size of a football field—strolled by, with one unlucky crab ending up the dinner of a hungry Maori octopus.

The grip of the gulls
Winner 2017, 10 years and under
What were you doing at age five and a half? Probably not taking an award-winning photograph like Italian Ekaterina Bee, who snapped this picture while feeding bread to seagulls on a boat off the coast of Norway.

Palm-oil survivors
Winner 2017, Wildlife Photojournalist: Single image
On Boreno, elephants must contend with human encroachments like this palm oil plantation. These plantations are a major source of deforestation, putting elephants like these in peril.

Contemplation
Winner 2017, Animal Portraits
Despite the serene countenance, photographer Peter Delaney captured this image of Totti the chimpanzee on a bad day. Totti had been trying to attract a mate for over an hour with no luck. As Delany remembered in a press release, "He lay back, hands behind his head, and rested for a moment, as if dreaming of what could have been."

Polar pas de deux
Winner 2017, Black and white
While on a ship in Svalbard, photographer Eilo Elvinger spotted these polar bears, a mother and cub, attracted to a spill from the ship's kitchen on the snowy ground.

Stuck in
Winner 2017, 11-14 years old
Ashleigh Scully saw this female red fox diving for its dinner in Yellowstone National Park, hoping to catch a tasty mouthful of vole underneath the blanket of snow. Unfortunately, she was unsuccessful, and had to try again later.

Tapestry of life
Winner 2017, Plants and fungi
Alpine vegetation in Norway's Lofoten Islands glows on an autumn day.

The ancient ritual
Winner 2017, Behavior: Amphibians and Reptiles
A female leatherback turtle lays her eggs in the sand in the Sandy Point National Wildlife Refuge on St Croix, in the U.S. Virgin Islands. Leatherbacks are the largest sea turtles in the world today.

The ice monster
Winner 2017, Earth's Environments
No wildlife here. This composite photo shows divers swimming around a segment of an Antarctic ice shelf. It took 147 individual images to capture this eerie scene.

The incubator bird
Winner 2017, Behaviour: Birds
Australian brush turkeys don't sit on their eggs to keep them warm. Instead, the males build a massive nest filled with warm, decaying leaves and soil. They keeps the temperature around a toasty 92 degrees Fahrenheit, adding or removing insulation as necessary.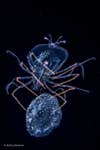 The jellyfish jockey
Winner 2017, Underwater
Near Tahiti, a lobster larvae (top) hitches a ride on a mauve stinger jellyfish (bottom), steering it around the sea—and using its mode of transportation as a convenient source of snacks.

Nikon D5 + 17–35mm f2.8 lens at 24mm; 10 sec at f8; ISO 1600; Nikon flash at 1/64th power + tungsten gel; Nikon remote release.Giant gatheringTony Wu, USAWinner 2017, Behaviour: Mammals Doze
Winner 2017, Animals in Their Environment
There's more than one predator in this picture of a termite mound in Brazil. An anteater tries to get to the tasty termites inside, while the larvae of click beetles try to lure termites out with their bioluminescent glow.