SPONSORED: Olympus OM-D: Power and Portability
The Anywhere Classroom Series is a virtual photography class where you can get the instruction you need to maximize your picture-taking potential from anywhere! It's a uniquely accessible, free, and user friendly series where acclaimed Olympus Visionaries share their tips and techniques for achieving the iconic images that have earned them international renown. This ongoing series lets you tap into the distinctive shooting methods and styles of each Visionary while demonstrating the unique benef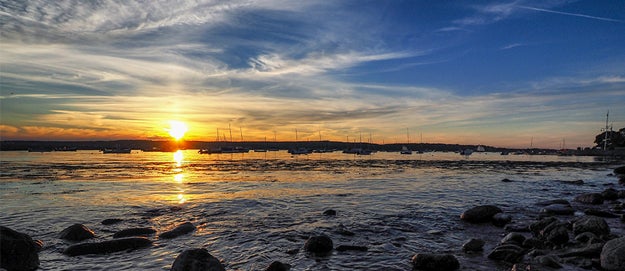 We may earn revenue from the products available on this page and participate in affiliate programs. Learn more ›
Anywhere Classroom Season Two features Olympus Trailblazer, Alex McClure as he takes viewers through different aspects of the OM-DE-M10 and the E-M1 around Cape Ann, Massachusetts. Combining portability, interchangeable lenses and cross-system compatibility with the power and advanced controls of a DSLR, the OM-D line is ideal for McClure to capture stories and create beautiful imagery to share with viewers.
Later on in Season Two, McClure demonstrates how to maximize your high-performance, ultra-responsive E-M1 and E-10 cameras and their built in time-lapse control function that can do 999 frames within the camera. Also, using the "movie mode" capability will provide the photographer with a movie file, which is easily uploaded to any computer, as soon as the camera is finished shooting the sequence.
Furthermore, when using the time-lapse control, the E-M1 and E-10 cameras allow for flexible frame rates based on your subject preference. When photographing the Earth, water, people, or any movement over a period of time, an OM-D camera will deliver dynamic imagery put together by photographs. Despite their small size and light weight, Olympus OM-D cameras provide stunningly sharp images because they feature super-fast 16-MP sensors and powerful TruePic™ image processors, which capture subtle details that support scene recognition and burst shooting.
Also, with a broad array of optically superior M.Zuiko lenses that are designed specifically for digital photography, Olympus makes it easy to build a surprisingly affordable Micro 4/3 system. Whether you're looking for a robust yet portable alternative to your DSLR or planning to go full Micro Four Thirds, the award-winning OM-D cameras from Olympus are the right place to start.
Viewers can follow up and engage in the conversation surrounding the Anywhere Classroom on all of Olympus' @GetOlympus social platforms through the hashtag #anywhereclassroom.