Canon and VII Gallery – Overview [Sponsored Post]
Looking to get inspired? Do you want to know what goes through the minds of top photojournalists when they're looking to capture the perfect shot?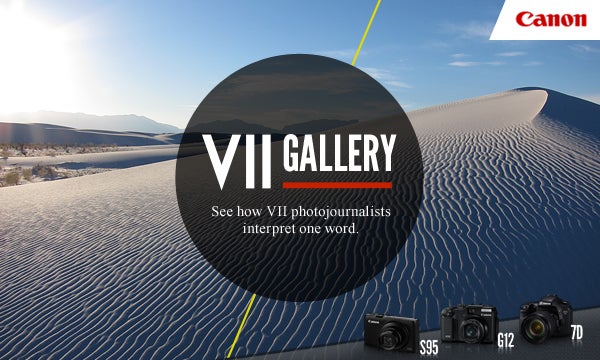 The renowned photojournalists from the VII Photo Agency, who travel with the intention of documenting newsworthy events around the world, were challenged by Canon to visualize the world around them through their interpretation of a few abstract words, like "Chance" and "Speechless". The photojournalists shot their projects using some of the best cameras on the market today, utilizing the 70+ years of camera technology and innovation behind Canon products like the advanced point-and-shoot PowerShot S95 and PowerShot G12 cameras and the EOS 7D SLR.
The project produced some very innovative and awe-inspiring photography. Whether in the deserts of Nevada or neighborhood streets in the Czech Republic, the VII Gallery offers photos from around the world with interpretations ranging from literal to metaphorical.
Canon is also extending the opportunity to you, the aspiring photographer, to submit your own photographic interpretation of "Chance", "Speechless", and the other words that will follow. So take a few minutes to think about what those words mean to you, then grab your camera and start shooting. Your work could be featured in the online Gallery, hanging alongside the VII Photo Agency photos for the whole world to see.
Whether you're in a big city or a small rural county, novice or a seasoned professional, don't miss this exciting opportunity to check out these amazing photos and take on a real photography assignment yourself.
Browse the photography and additional video content at the Canon VII Gallery and get inspired. Visit: usa.canon.com/viigallery