Sigma's Flagship SD1 DSLR Coming in June for $9,700
When it hits shelves next month, the SD1 will be meant to compete with digital medium format cameras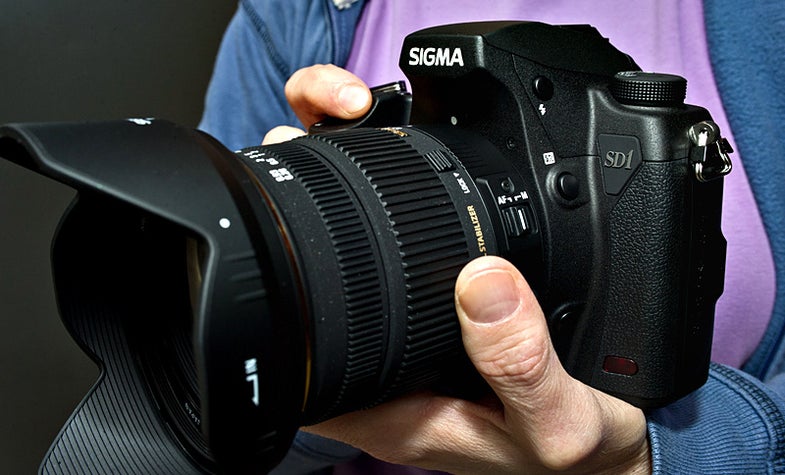 We may earn revenue from the products available on this page and participate in affiliate programs. Learn more ›
No, that's not a typo. The same flagship DSLR we saw from Sigma back at Photokina last year is coming next month for just a shade under $10,000. No wonder they wouldn't let us touch it.
This latest development seems appropriately surprising, at least in the context of the SD1's already complicated life. The press material says its three-layered Foveon X3 sensor checks in at 46-megapixels (three individual layers, each with 15.3-megapixels each), but that number has already caused some controversy, even before anyone has actually held the thing. Both of the SD1's predecessors, the SD14 and SD15 stirred up arguments about whether they could match their 14-megapixel equivalent claims. The SD1 more than triples that.
The rest of the specs are equally as confusing in light of the new price tag. ISO maxes out at a paltry 6400, which is two stops more than the 1600 cap on its predecessor, the SD15, but equal to or even less than most other DSLRs on the market. The AF system uses 11 points when most other pro DSLRs have well over 40. The 3-inch screen only manages 460,000 pixels, while even mid-level DSLRs now top a million.
But perhaps the claim the SD1 is going to have to work the hardest to live up to is that it's an "alternative to very expensive medium-format cameras and digital backs." Pentax's excellent 645D offers a true digital medium format experience for the exact same price. In this context, the non-megapixel specs make a little more sense. The 645D also has 11 AF points and its ISO tops out at just 1600. But that big sensor in the Pentax still represents a serious hill for the SD1 to climb.
Further separating it from the rest of the DSLR market is the fact that the sensor effectively prevents video capture, or even live view mode.
Ultimately, Sigma has set the bar incredibly high for the SD1. And while the claimed megapixel numbers have been a serious point of contention in the past, they have also provided an undeniably unique option when it comes to image aesthetics. We'll only know if the SD1 lives up to its megapixel promise once it runs through our gauntlet of lab tests. Frankly, we couldn't be more excited to see the results for ourselves.