Lens Test: Canon EF-S 18–55mm f/3.5–5.6 IS STM
Canon's Stabilized kit zoom adds a stepping motor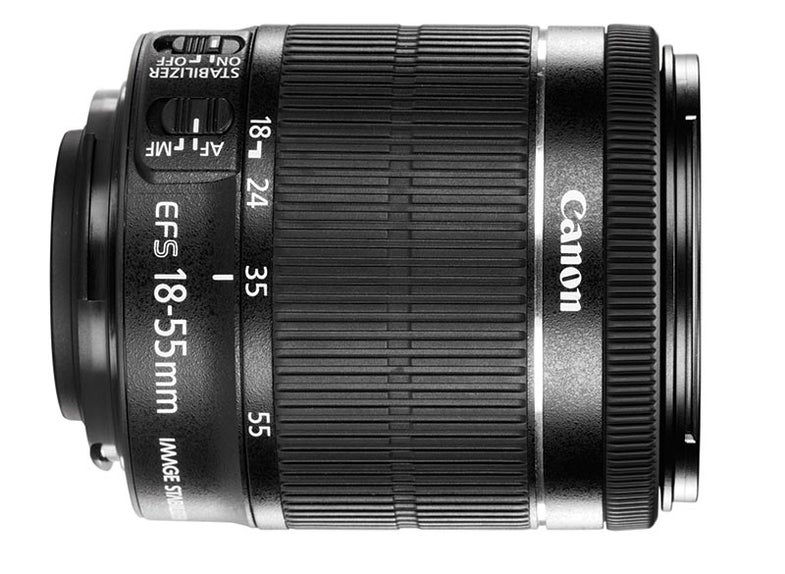 We may earn revenue from the products available on this page and participate in affiliate programs. Learn more ›
The third version of Canon's image-stabilized 18–55mm APS-C-format kit zoom, the new EF-S 18–55mm f/3.5–5.6 IS STM ($249, street) is the first with an STM focusing motor that complements the Movie Servo mode in newer Canon DSLRs. This 29–88mm full-frame equivalent also boasts an aspheric element for controlling chromatic aberration.
Weighing in at about half a pound, the lens is very light, but about 1/4-inch longer than the last Canon 18–55mm IS kit zoom we tested back in 2008. This is enough to cast a shadow when used at 18mm with the built-in flash on our Canon EOS Rebel T4i in field testing; the earlier IS kit zoom produced no shadow at any focal length.
The turning actions for the new lens's zoom and manual-focus rings are noticeably underdamped, and the MF ring has no stop at either end of the focusing range, which, unfortunately, means more turning than necessary. The front barrel does not rotate, always nice for lens-mounted accessories, and you don't need to switch out of autofocus when you want to focus manually. There is no subject distance scale—sorry, low-light shooters!
Its autofocus action on the T4i was fast, quiet, and accurate. As Canon promises, video capture and live-view AF was remarkably smooth and quiet with the STM motor, and with generally less hunting than non-STM lenses require in these modes. The video and live-view focusing speeds, though, were noticeably slower than those for still capture—a trait many video shooters would consider a plus, since rapid shifts of focus in motion pictures can feel jarring.
On our optical test bench, we had no big surprises: Excellent-range sharpness and contrast across the board. (Compared with Canon's previous kit lens, however, sharpness dropped at the long end.) Distortion control, measured by our DxO Analyzer 5.0 tests, is average for the class.
If you're a Canon APS-C shooter into video and live view (and your DSLR has Movie Servo mode), here's the bottom line: If the wide-to-standard zoom you own lacks the STM motor, go buy this lens.
SPECIFICATIONS
18–55mm (18.44–56.88mm tested), f/3.5–5.6 (3.37–6.20 tested), 13 elements in 11 groups. Focus ring turns 90 degrees. Zoom ring turns 80 degrees. Focal length marked at 18-, 24-, 35-, and 55mm.
Diagonal view angle: 74–27 degrees
Weight: 0.51 lbs
Filter size: 58mm
Mounts: Canon AF
Street price: $249
Website: usa.canon.com
TEST RESULTS
Distortion: At 18mm, 0.55% (Visible) barrel; at 35mm, 0.07% (Imperceptible) barrel; at 55mm, 0.03% (Imperceptible) pincushion
Light falloff: At 18mm, gone by f/5; at 35mm, none; at 55mm, none
Close-focusing distance: 9.54 inches
Maximum magnification ratio: At 18mm, 1:7.70; at 35mm, 1:4.11; at 55mm, 1:2.55
Image stabilization: 2 stops