Taylor Swift's Management Responds to Photographer Jason Sheldon's Open Letter
And a second, newer contract emerges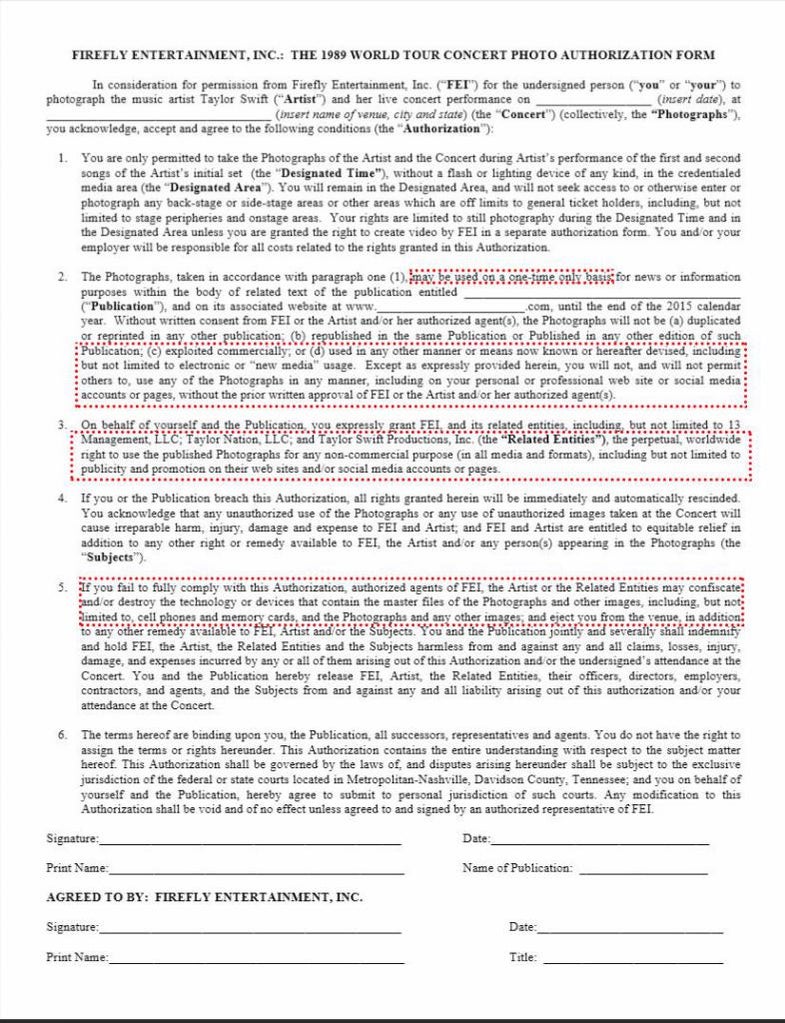 A Taylor Swift representative from the U.K has responded to photographer Jason Sheldon after he called the pop-star a hypocrite for an image-licensing policy she had in place in 2011. Over the weekend Swift achieved a rather unprecedented victory after penning an open letter to Apple when they announced they weren't planning to pay musicians royalties during the three-month trial period of Apple Music. Sheldon called Swift out—claiming that the contracts her management company forced photographers to sign were an unfair rights grab.
Sadly, the response from Swift's UK representative is about as close to a non-response that you can get. The unnamed Swift rep claims in an email sent to Business Insider that Sheldon has misrepresented the contract and that it is standard for the industry. "Another distinct misrepresentation is the claim that the copyright of the photographs will be with anyone other than the photographer—this agreement does not transfer copyright away from the photographer. Every artist has the right to and should protect the use of their name and likeness," the rep wrote.
But Sheldon never claimed that the management company was trying to take his copyright. He took issue with the company having "the perpetual, worldwide right to use (and to authorize others to us) any or all of the photographs for any non-commercial purpose, including but not limited to publicity and promotion."
And although predatory contracts like these ones are becoming more frequent—they are by no means industry standard and as another photographer pointed out are often produced last minute and so there isn't time to "renegotiate."
In the midst of all of this open-letter writing a more-recent version of Swift's contract has been released. This second contract states that it is specifically for the 1989 World Tour and in addition to stipulations like one-time use, perpetual worldwide usage rights it actually gives the management company authorization to "confiscate and/or destroy the technology or devices that contain the master files of the Photographs and other images" if a photographer fails to comply.

Sheldon took to his blog for a second time to respond to the management company's non-response:
In the spirit of Internet flame throwing—or rather, open-letter writing, I guess it is your move Swifty.