Best selfie stick: You've got a clear vision, so let's get you a clear picture
The best selfie stick helps turn any setting into art.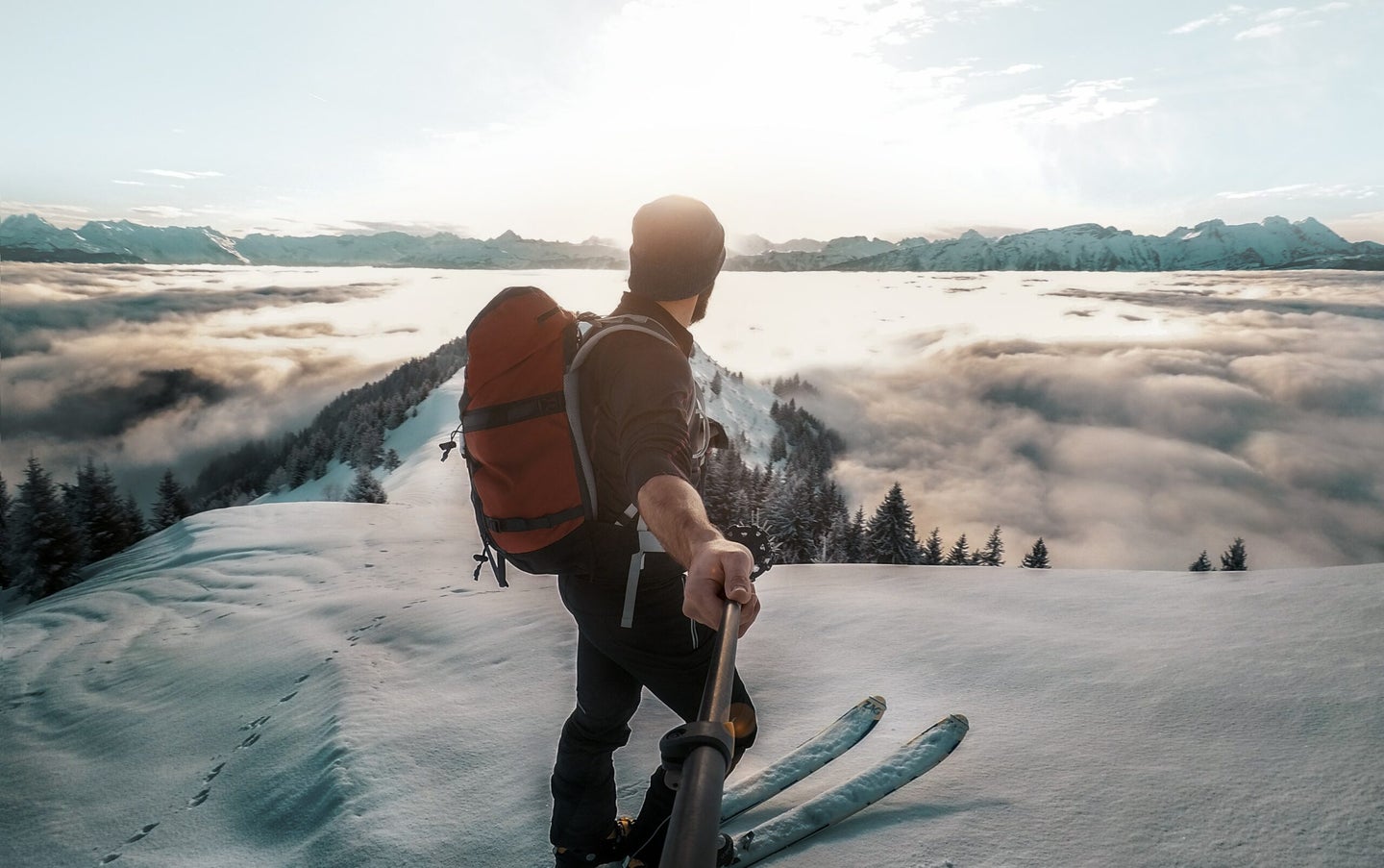 You may feel embarrassed buying a selfie stick because you think it's a silly Millennial prop. But a well-made selfie stick is a game-changer for taking photos and videos from all the necessary angles. You only have two hands and the best selfie stick adds a strong, dependable photography assistant to your camera bag. They're sold everywhere, from high-end camera stores to thrift shops. Some are flashy, some are simple. It's easy to get overwhelmed with options and features, but weed out the dollar-store junk and you will find an essential accessory for your camera phone, GoPro, and even lighter DSLR camera.
The best selfie stick is much more than a popsicle stick and tape
You need a great #selfie stick. No, you need the best #selfie stick. Once the symbol of uncool, street-crowding tourists, the #selfie stick has evolved into one of the most important and handy instruments in your social media toolbox (or camera bag). OK, enough with the hashtags. The best selfie stick is not a joke. Call it a photo stick, if it makes you feel better. But whatever you call it, you will call on it, because the best selfie stick is packed with features way beyond those of dorky phone accessories.
For instance, a Bluetooth selfie stick can become your entire portable camera studio, giving you the controls and comfort to make vlogs, shoot extreme sports videos, engage in impressive Zoom meetings, and, yes, take selfies, too. But quality matters. Buying a flimsy model at the grocery store or yard sale will result in frustration and dropped cameras. You need something robust enough to handle your gear and nimble enough to use it anywhere and everywhere you need to go. And you want something that doesn't look like it came from the gift shop at the bus station. You should look for comfort, useability, and durability.
How you use the camera matters. Someone recording rants or burger reviews from inside a parked SUV won't need the same durability and rigidity as a skydiver with a 360-degree camera. Luckily, there are options that cover the basic needs of most photographers and videographers without piling on the complexity. And for those who love a feature-rich investment, there are plenty camera sticks designed just for you, too. Here are our suggestions for how to (photo) stick the landing when selecting your phone accessories.
Don't get the short end of the selfie stick
The longer the arm, the more people and/or place you can pack into the shot. Most selfie sticks have a reach less than 100 centimeters (about 3 feet). That's great for most uses, but there are selfie sticks that nearly double that distance, giving you and your subjects room to breathe.
The extra size comes with a few drawbacks, namely sore arms. As high school physics class taught us, the farther the object from the pivot point, the greater the force needed to balance the object. Even a lightweight smartphone begins to feel like a bowling ball once your mount extends beyond the 3-foot mark. Lightweight GoPro cameras work nicely on a long-distance accessory, but these selfie sticks are not ideal for heavy camera bodies. And when fully extended, the stick can begin to shake and wiggle. Long selfie sticks are best for those with steady hands or high-functioning stabilizers.
Once you get the balance right, however, the long reach can add a greater sense of scale, more headroom, and offer a cinematic look. For photographers who shoot with wide-angle lenses, the added length can come in handy. Plus, a long stick can be used to see hard-to-reach places in your home. Be sure the model offers simple controls because when you go long distances, a camera stick must be quick and easy. And for those who need more than 6 feet of extra arm length, there are selfie drones that give you all the space you need.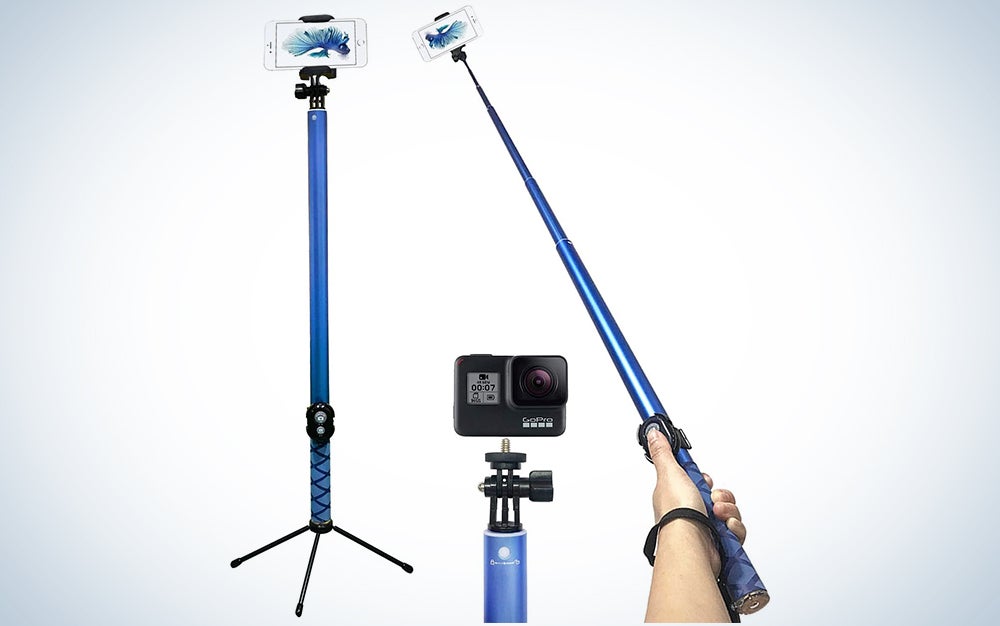 Go Long, Very Long
A selfie stick that goes the distance. Amazon
Check Price
If size matters, the BMZX Super Length Lightweight selfie stick gives you the best social distance. When fully extended, this skinny beast reaches 118 inches. The BMZX is an easy-to-control Bluetooth selfie stick that supports GoPros, iPhones, and Android devices (and, like those devices, the Bluetooth stick, and/or accessories, will need to be charged before you go on location). The aviation aluminum pole screws tight and the grip feels good in your hand. Great for surveying hard-to-reach spaces like crawl spaces or roofs, it can be used for much more than group shots at the pumpkin patch.
Do you also want a camera tripod?
The best selfie stick can also be a convenient smartphone tripod. Some so-called selfie sticks are multipurpose stands and can be a great space-saver for those looking for an all-in-one stability solution. When shopping for a camera stick/tripod, look for one that is easy to set up and won't require a lot of screws and clips to go from one setup to the next.
Either as a handheld camera stick or standalone tripod, strength and steadiness are a must. Make sure the legs and grip are non-slip. Some of the two-in-one stands lack all the benefits of a standard tripod, namely adjustability. So if you plan to shoot on a variety of surfaces, like stones or rugged terrain, you may not be able to get the ideal adjustments with a simple stick/tripod combo. But a standard tripod is also bulky and heavy, so these pocket tripod/camera sticks can be an efficient addition to your everyday carry.
Finally, a good wireless remote for the stick gives you the ability to be director and star. Features will vary, but a simple "Record" and "Stop" can be a huge timesaver in the field. You can find camera sticks/tripods that come with a small controllable fill light, making the rush for sunlight a little less stressful. If you want something quick, easy, and lightweight, a multipurpose camera stick offers all the support you need.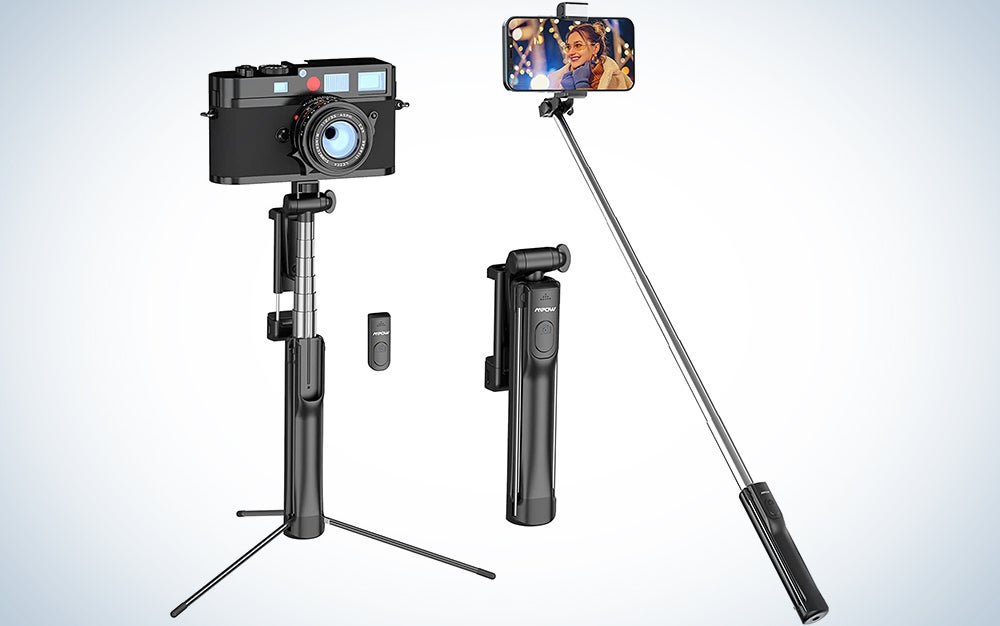 Stands And Delivers
A selfie stick that turns into a smartphone tripod gives you creative options in any location. Amazon
Check Price
This Mpow selfie stick does it all. Combining a selfie stick, smartphone tripod, and fill light into one accessory makes the life of an influencer easier. Setup is simple for all current iPhones, Android devices, and GoPros, plus it can support small point-and-shoot camera bodies. The wireless, rechargeable remote can snap up to 50,000 selfies on one charge. And the light can be adjusted to three brightness levels to give your content just the right look. Not bad for one 8-ounce camera tool.
Is the camera stick a stabilizing influence?
Unless you want your videos to look like a cheap found-footage horror movie, you need the image to be as smooth as possible. Avoid shaky-cam nausea with a gimbal: a stabilizing mechanism that keeps your phone or camera steady. But watch your budget, as gimbal gear can quickly shoot past the $100 price point.
Chances are, you won't need professional-grade, prescription-strength stability. If you want a simple accessory to keep your livestreams and videos nice and smooth, look for a design with an inexpensive gimbal mount.
Keep in mind that cheaper gimbal devices often mean less freedom of movement, pivoting on two axes instead of three. But even cheaper gimbal/stick combos come with motion-tracking features that do a pretty good job of keeping you in frame.
The downside to gimbal selfie sticks is length. You tradeoff distance for mechanics. For most people, the shorter length isn't a problem and there is enough space to get great shots. Look for a gimbal mount that has at least a bit of extra arm length (anything longer than 20 centimeters) and you should be good to go.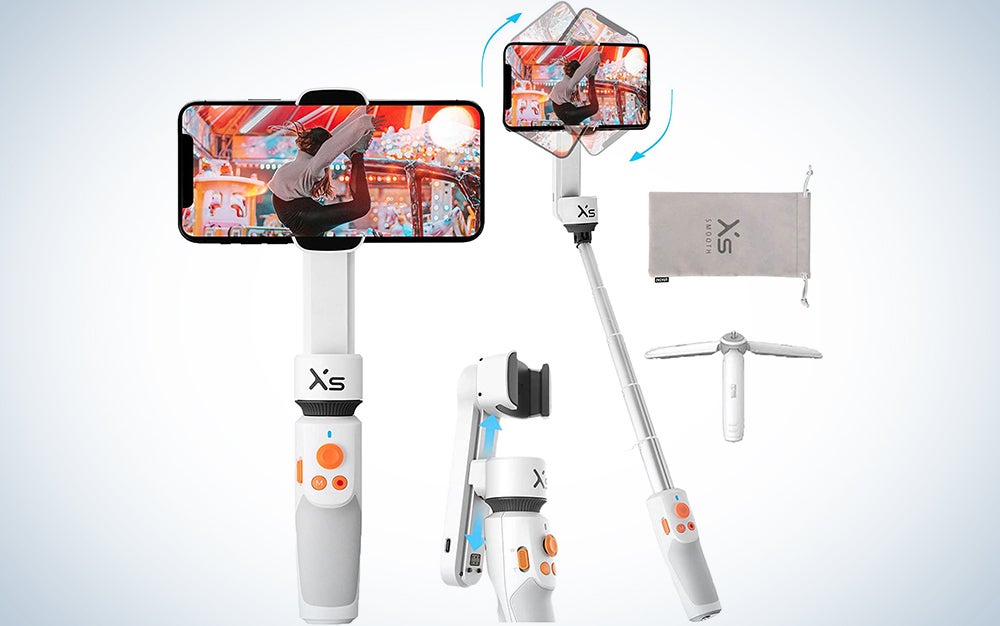 A Ready, Steady Stick
An easy, low-cost gimbal mount with just enough length for a selfie stick. Amazon
Check Price
The Zhiyun Smooth XS Gimbal is more gimbal stabilizer than selfie stick, with only 26 centimeters of length. But that's enough to compose dynamic photos and videos. Plus, the stabilization is worth the lack of length. A steady medium close-up shot is more impressive than a wobbly wide shot. The controls are simple and Bluetooth keeps you connected to your Instagram and TikTok apps. You can even use gesture controls. While it won't prevent earthquake rattles from shaking the image, it has enough stability to make it worth the extra cost compared to standard design.
Is the selfie stick trying to get a starring role?
The best selfie stick can disappear, but it's not magic; it's science. Advances in wide-angle and 360-degree photography have resulted in the need for invisible selfie sticks. While smart 360-degree cameras and apps can mask or hide most sticks, a specialized minimal mount attached to a slim pole vanishes easier. It's a great tool and illusion for action cameras.
For capturing mountain bikers, skateboarders, rock climbers, or any other impressive sport, an invisible selfie stick keeps the audience focused on the action and not the distracting black spot at the bottom of the screen. There will be add-ons necessary for specific sports, such as a bracket for the back of a motorbike. So when shopping for an invisible model, you want something as basic, universal, and barebones as possible.
Check the specifications to ensure the stick works with your specific camera and watch sample videos to see if the stick is truly invisible. The angle of the stick will determine if it can disappear. To get the right shot, a little practice is always necessary.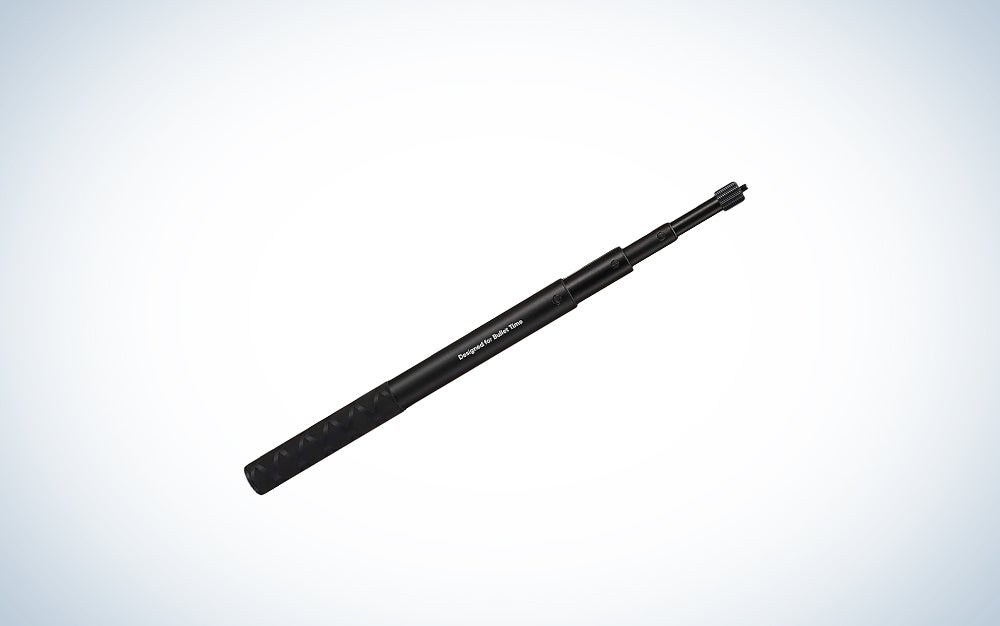 Sleek And Simple
This invisible selfie stick lets your wide-angle view take the spotlight. Amazon
Check Price
This invisible selfie stick isn't much more than a simple rod with a tiny mount at the end, and in that's a good thing. For action shots and 360-degree video, you do not want something clunky or complicated. The Insta360 stick has one job: be skinny. And it gets the job done. The top and bottom screws are standard ¼ inch, but check your camera first to make sure this stick is compatible. This one is strong and durable, and a great cost-effective tool for extreme sports enthusiasts.
(Selfie) stick it to high prices with this budget pick
Plenty of camera gear is worth a hefty price tag, but a selfie stick isn't one of those items. Higher price points usually mean more niche functions and features (i.e. If you're not scuba diving, you won't need to pay for a selfie stick designed for underwater exploration). However, avoid buying a camera stick at a bodega or flea market. Sure, they may only cost a buck, but the discount selfie sticks will snap in half before you snap one pic. Or, worse, it'll drop your precious iPhone off the cliff.
Look for a budget-priced model that is compatible with your phone or camera and has easy-to-use controls. Be wary of universal clips that claim to fit everything from an iPhone 4 to a 37-inch flatscreen TV. If your phone was made in the last three years, so should be your selfie stick. Aluminum is always better than plastic, and take note of the extended size to ensure it isn't a 5-inch ripoff.
You should also look for Bluetooth functionality with a rechargeable battery. It won't boost the price much and makes your video production easier.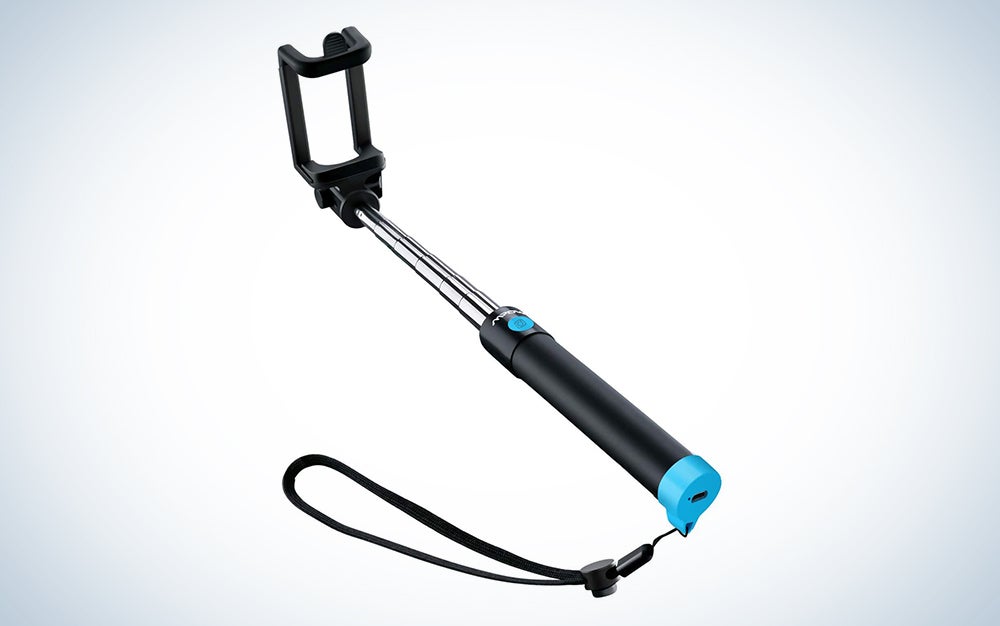 Basic, But Good
A quality stick for a rock-bottom price. Amazon
Check Price
Ten dollars is the cheapest you'd want to spend on one of these. Anything lower, and you should worry about quality. The 30-inch Mpow selfie stick is a simple, straightforward selfie stick that safely fits most modern smartphones. It includes Bluetooth connectivity and takes pictures with a simple button press. And the grip feels solid. If you want to expand your camera phone accessories for the first time, this Mpow selfie stick gives you exactly what you need for less than the price of a pizza.
FAQs
Q: Can selfie sticks damage your phone?
Short answer: Yes, selfie sticks and drones may damage your phone. The mounts and attachments can scratch the exterior of your phone. And if not attached correctly, the phone will slip and fall. However, trying to hold the phone or camera with just your arm can be just as, if not more cumbersome. You could drop it while holding your phone in your hands. Ultimately, use whatever method you feel comfortable with and, when in doubt, have a sure-handed friend be your biological camera stand. 
Q: How do I connect my selfie stick to my phone?
The best selfie stick is much more than a metal rod. It has built-in Bluetooth features. It makes taking pictures easy for those of us without arms the length of an NBA player. First, pair your phone with the Bluetooth selfie stick. This is usually done by pressing the stick's button until your smartphone "finds" it in the Bluetooth menu. For most phones and sticks, that's all you need. Once paired, the button on the stick will control the camera on the phone. For sticks with more features, you may need to install a specific app to use all the bells and whistles. Do not throw away the box, as there may be a website or QR code on the packaging that directs you to everything you need. 
Q:
In what countries are selfie sticks banned?
South Korea has banned the accessory for security concerns. Using one can result in a year in prison. Countrywide bans are rare, but selfie sticks are prohibited in certain tourist areas, such as the entire city of Versailles, France; at the running of the bulls in Pamplona, Spain; and in Rome's Colosseum. Here in the states, Disney theme parks have banned selfie sticks since 2015, and don't try to bring them into stadiums or arenas. Before you extend a camera stick, check the area's rules and regulations. Selfie sticks are not as forbidden as drugs or firearms, but they are prohibited more than you may think.   
The final work on the best selfie sticks
Selfie sticks may never get the respect they deserve, but true photo fans know quality camera sticks are more than silly phone accessories. They actually help the user take better photos and videos. GoPros and smartphones sometimes need a helping hand to truly capture a moment, and even a simple, collapsible selfie stick could help turn a so-so video into a viral hit.