Best gifts for photographers: Catch their eye (for details)
Know a shutterbug with a birthday coming up? Here's a snapshot of the best gifts for photographers of all types.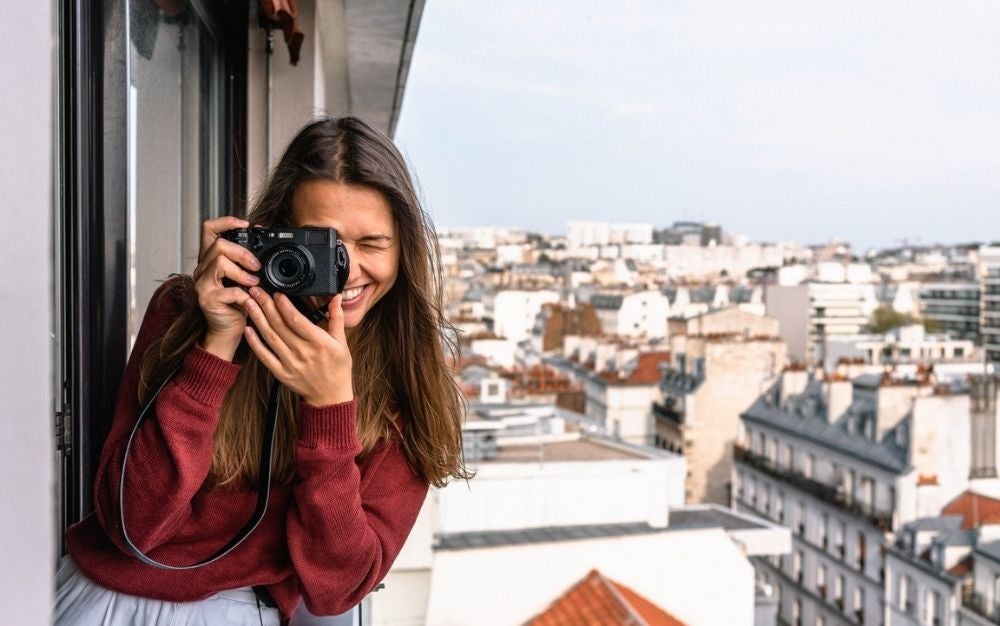 We may earn revenue from the products available on this page and participate in affiliate programs. Learn more ›
Buying the best gifts for photographers can be challenging, so we've put together a list of cool yet functional photography gifts to guide you. While these birthday gift ideas are appropriate for all photographers, we've organized them to help target your choice. As we all know, photo gear can be incredibly expensive. With that in mind, we've included a mix of stocking-stuffer affordable, more substantial but reasonable investments, and plenty of options in between. If you're in the market for the best gifts for photographers, this guide will help you tailor a birthday gift to your photographer's specific interest(s) to help ensure more personalized gifts.
Your guide to choosing personalized gifts for photographers
Photographers have different interests and styles, so we're concentrating on personalized gifts that focus on specific genres. But most of the best gifts for photographers will appeal to a wide range of people, so be sure to keep an open mind. 
Related: Searching for the mother of all gifts? Look no further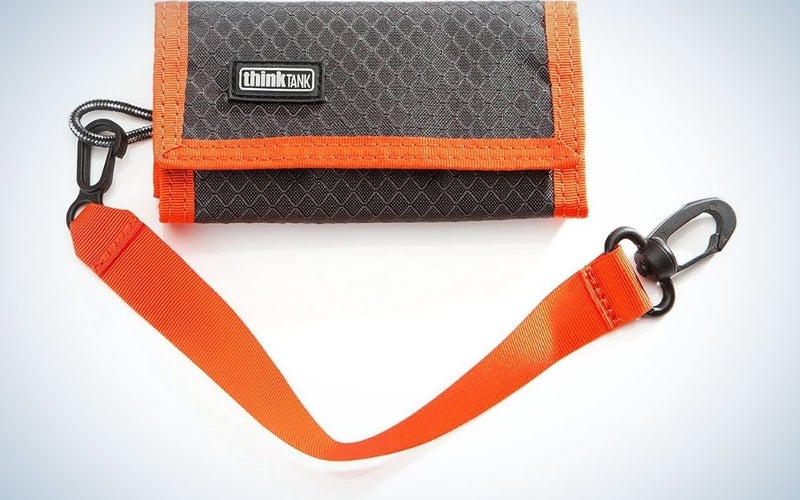 It's often the little things that count and that's especially true for a photographer's memory cards. Lose one and there goes those bucket-list vacation photos or client images. The danger of misplacing a card increases exponentially for the photographer who shoots a lot and swaps out multiple cards. Fortunately, there's an inexpensive and effective solution: the Think Tank Photo SD Pixel Pocket Rocket Case. This little accessory holds 9 SD cards (the kind that most digital cameras use) and keeps them secure. The case folds up to a compact 4.5 x 2.5 x 0.5 inches, fits easily into a pocket or camera bag, and can be secured with its built-in lanyard. The case also has a built-in business card holder for convenient networking (and identification if the cardholder gets lost). A way to make this gifts for photographers even more special is by slipping in some new SD cards, like these high-capacity SanDisk 128GB SDXC cards, to fill the empty slots. (Check first, of course, to make sure the lucky photographer's camera takes SD cards rather than other media.)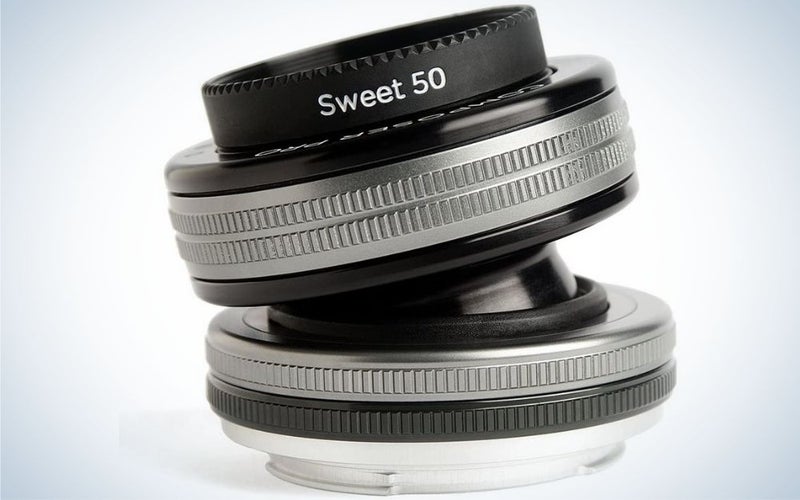 Photography is all about perspective and the cool Lensbaby Composer Pro II with Sweet 50 Optic transforms the ordinary into the extraordinary. Pair the base (the Composer Pro) with the swappable 50mm Optic and select the sweet spot of focus with the lens. The rest of the image will go all soft and blurry, creating a distinct effect. It may take a little practice to get the angle to work, but there are no rights or wrongs with this lens. And this type of creative capture isn't just for still images: Check out the HBO series The Undoing to see how the cinematographers created some moody scenes when filming. We've linked to the version for Canon EF, but the lens is available for a variety of mounts—you just need to search for the model that matches the camera on which it will be used.
Best gift for photographers who travel: Pelican Case 1510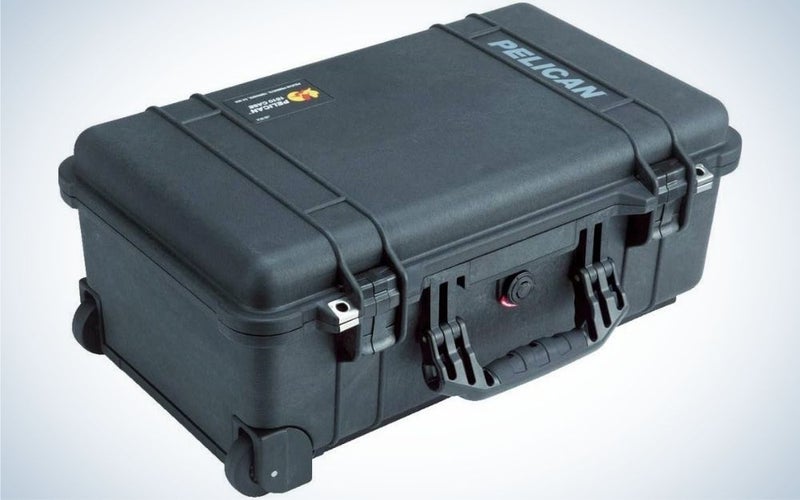 Traveling with delicate and expensive photo gear can be nerve-wracking. But one type of quick photography gifts makes journeys worry-free. A Pelican case makes a great birthday gift for photographers who travel—whether they're flying off to an exotic locale or headed to a dive boat for some underwater picture taking. The case is watertight, crushproof, and dustproof, and the Pelican model 1510 is designed to meet carry-on size requirements for most airlines. Just check carry-on specs before flying, especially if you'll be on a puddle-jumper connecting flight. If photo gear has to be checked, padlock the case shut and let it go; it's tough enough to withstand even the roughest baggage handlers. This Pelican 1510 comes with customizable foam, but, for convenience, you may want to step up to the 1510 model with moveable dividers, which are much easier to configure around individual camera kits.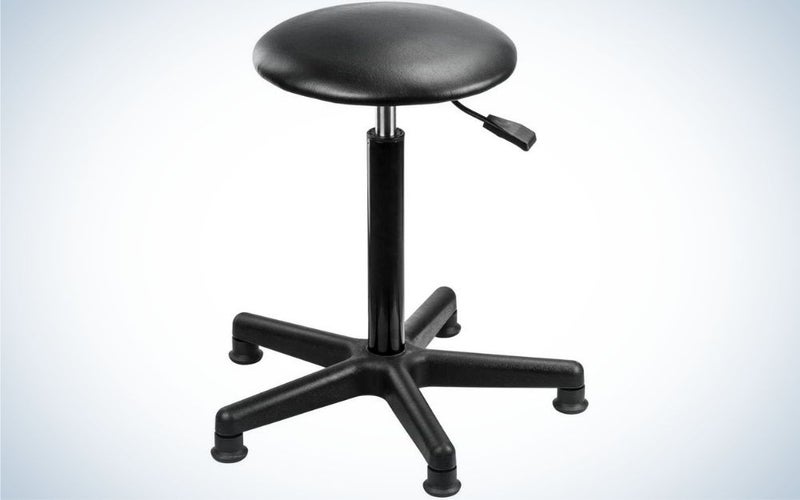 Keeping a client comfortable during a portrait session is one of the keys to eliciting relaxed and natural expressions. One of the many great photography gifts for portrait photographers is the Flashpoint Posing Stool. The position of the seat is easily adjusted from 20-30 inches thanks to its pneumatic lever, so it can accommodate subjects of varying heights. Stabilized by five pedestal feet, the latter also provides a place for subjects to rest their feet. The stool is well-padded for extra comfort and it's clad in all black for a neutral addition to the shot. It's great for fashion photos, too. Assembly is easy and this gift for photographers can double as an extra seat at home or in the studio when needed. There are no wheels on the pedestal feet, so it has to be picked up to move it from one spot to another, but the lack of wheels helps prevent anyone from spinning out of control across the floor during a shoot.
Best gift for on-location photographers: Selens Reflector Kit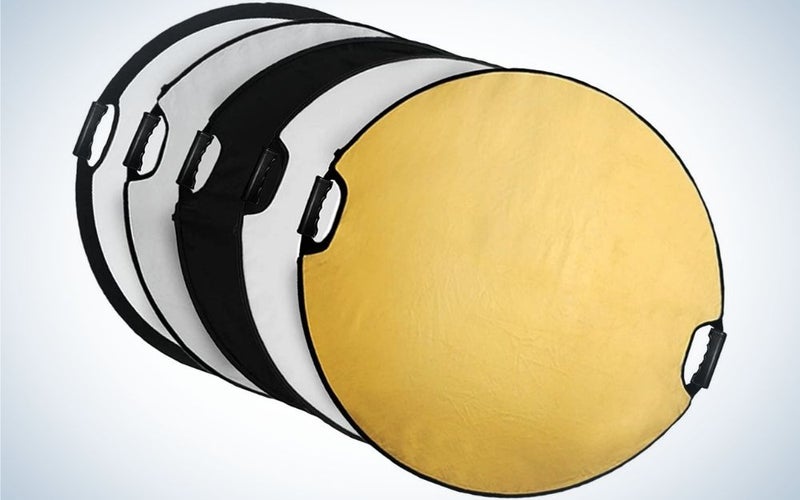 A must-have component of any commercial photo kit, this set of reflectors is a great gift for any photographer that needs to fill in their subject, especially to showcase natural light. Sold as a 5-in-1 kit with gold, silver, white, black and translucent reflectors, these portable 43-inch reflectors are used to add warm or cool looks to photos, reflect sunlight to add brightness, block overly bright light, or diffuse illumination during a shoot. Designed with a single grip, each lightweight reflector is easily handheld by the photographer or an assistant. They're collapsible, too, and fit neatly into the included carry bag for portability and storage.
There's nothing as rewarding to see—and hold—as a photographic print. And fine art photographers, many of whom display and sell their work, are the most likely to output images on one of the many photographic papers that bring digital images to life. Epson's SureColor P700 Photo Printer is pricier than many of the best photography gifts we've listed here, but is well worth the investment. Output from this pro-level printer is gorgeous—whether the image is in color or black and white. Designed for ease of use with a 4.3-inch customizable touchscreen, its wireless connectivity makes printing from mobile devices a breeze. Better yet, this top-notch printer can accommodate both roll and sheet paper. Add a sample pack of Epson's Signature Worthy Paper to test out the printer's quality on a variety of media that's perfect for the fine-art photographer.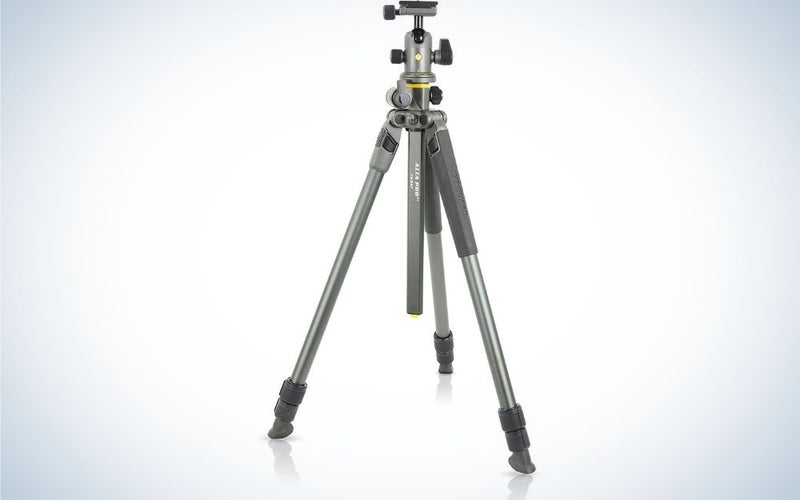 Landscape photographers need a stable base for their camera and lens and the Vanguard Alta Pro 2+ Aluminum Tripod not only provides that stability, but it also offers a lot of flexibility. For one, its legs can be positioned at four different angles to compensate for uneven terrain, which is especially important when searching for the perfect landscape shot. It's also one of the tallest tripods on the market—extendable to a maximum height of 68.2 inches—so tall photographers don't have to hunch over to see through the camera's viewfinder. An adjustable center column means the camera can be positioned very low to the ground, just in case there's a macro shot that presents itself on an outing. A good value for the dollar, this tripod comes with a ball head to attach the camera to the tripod and a quick release plate for removing the camera and lens in one fell swoop. With a 15.5-pound maximum weight capacity, this tripod can handle most camera/lens combinations.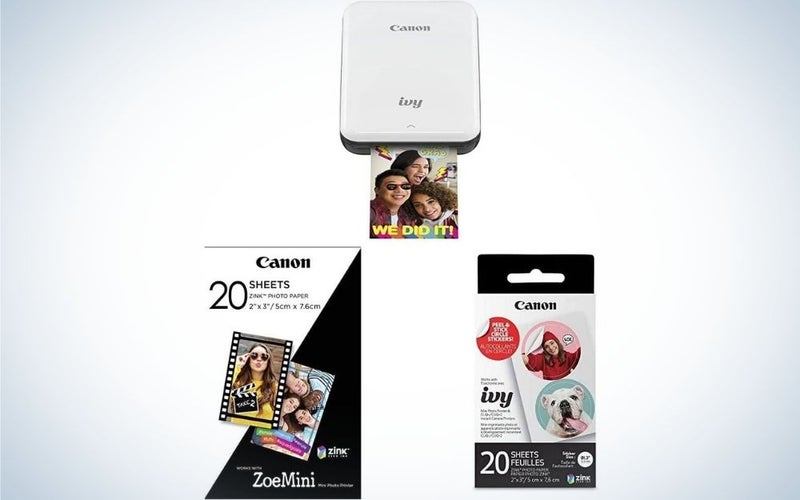 Smartphone photos tend to stay on mobile devices and social media sites. But it's past time to take them out of the digital world and into mini-prints to share with family and friends. One of the reasons the Canon Ivy Mobile Mini Photo Printer makes a great photography gift is that it provides on-the-go printing, which is a fun way to celebrate birthdays and other events by taking photos and handing them outright on the spot. Using Bluetooth, images can be printed from mobile devices and from social media with the free Canon app. No cartridges or ink are needed, since the colors are embedded in the 2" x 3" Zink paper and revealed after passing through the printer. Different color printers are available and some options include sample papers and stickers to get you started.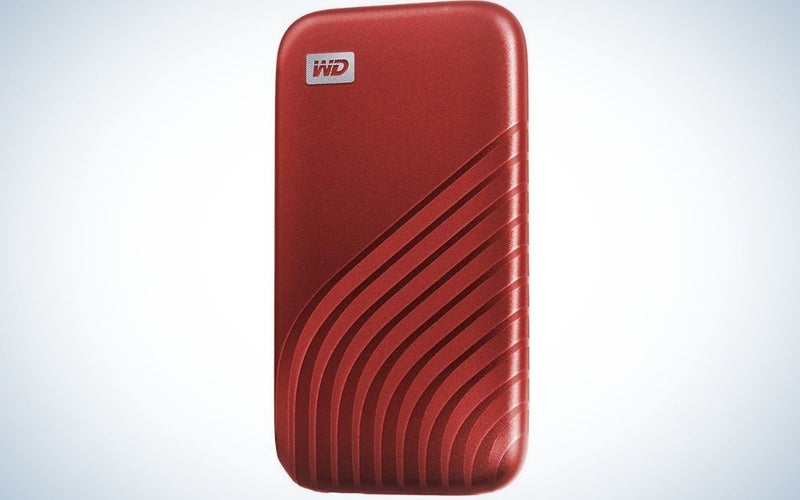 Portable and speedy—both important attributes of an external drive—the Western Digital My Passport External SSD is a great gift for any photographer. Its small size is especially appealing to photographers who need to store images while in the field or on the go, but don't want to be weighed down by larger drives. Solid-state drives, which don't have moving parts like standard hard drives, are more rugged. In fact, Western Digital claims that its drive is shock-resistant if dropped from up to 6.5 feet. More importantly, it's fast, with read/write speeds of up to 1050MB/s and 1000MB/s, respectively. Compatible with USB-C, as well as USB-A and USB 3.2 Gen 2, the drive will connect with both new and older computers. Depending on your budget, choose from 500GB, 1TB, 2TB, and 4TB capacities (we prefer 1TB, which is a good compromise between having plenty of room and not putting all one's "eggs" in a single basket). Style-conscious photographers will appreciate being able to select their favorite color—as long as that's gray, gold, red, silver, or blue. Want to enhance this photography gift? Pick up a hard carrying case for just a few extra dollars.
Best bargain gift for all photographers: LensPen NLP-1
No amount of caution can prevent cameras and lenses from getting dirty. And we're not talking mud-splashed dirty (although that might happen); no, we're talking about smudges, dust, dirt and sand particles, and other assorted unwanted elements that seem to find their way onto cameras and lenses. But a simple gadget—a LensPen—will come to the rescue. This little device consists of a retractable brush on one end and a special carbon tip on the other. The former is perfect for gently removing dust spots, while the latter wipes away fingerprint marks. And the carbon tip also works well to clean up nose and finger smudges on the camera's LCD. For super clean freaks, expand this perfect present with a two-pack of Zeiss Jumbo Reusable Microfiber Lens Cloths. Each one measures 12" x 16" and is large enough to cover more surface area than the LensPen. Frankly, we won't go on a shoot with both the LensPen and the microfiber cloth. The latter is great for eyeglasses, mobile devices, and monitor screens as well, so it's a no-brainer add-on.
Final thoughts for choosing the best gifts for photographers.
Matching birthday gift ideas to a photographer's interest will, of course, make the present more personalized. But most of the gift suggestions in this guide are appropriate for a wide range of photographers, so don't feel restricted by the categories we used. Most photographers have at least a little bit of gear nerd in their DNA, so it's unlikely you can go wrong with one of these best gifts for photographers in your life.
---
Pop Photo wants to help you find the most useful and expert shopping recommendations, so you can get the best gift ideas. Searching for more unique gifts? Here are some more gift guides: How to shop for photographers, Best birthday gifts for professional photographers, and the Best gifts for Mom.