Never give a photographer a camera for a gift
Photographers can be notoriously difficult to shop for, let our guide help you this holiday season.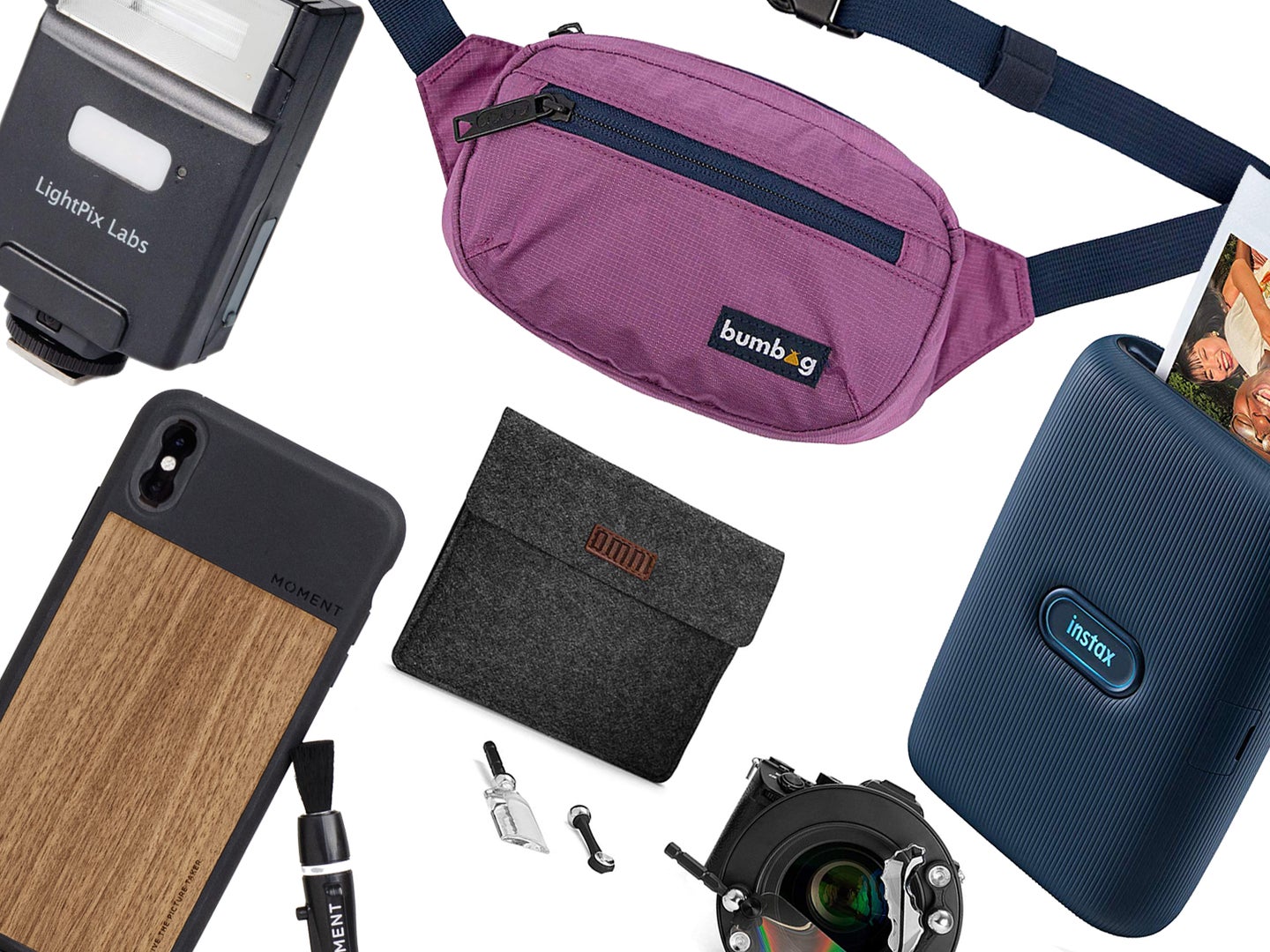 Photographers tend to be picky about their go-to gear, which can make them difficult to shop for in the holiday season. Most camera equipment is also expensive and if your loved one has been shooting for a long time, chances are they are highly specific about what works for them. And believe me, anyone that owns a camera already has far too many lens shaped mugs taking up space on their desk and in their cabinets. We're here to help. We've handpicked some of our favorite photo accessories that will appeal to almost any kind of photographer—regardless of the camera brands they choose or the subjects they shoot.
Moment Smartphone Lenses and Case
The best camera is the one that you have with you, and these days—even for professional photographers—that means shooting with a smartphone. Although the lenses on today's smartphone shooters are smarter than ever, attaching high-quality glass can really expand its capabilities. The lenses and cases from Moment are some of our favorites. Moment's lenses employ metal bodies and cinema-quality glass. They come in a variety of styles: wide-angle, telephoto, anamorphic, fisheye and macro. You will need a companion Moment Case to use the accessory lenses, but the cases have a low-key style and are compatible Apple, Google, Samsung, and OnePlus phones. Moment offers a few different bundle options featuring lens, case, and a lens pen to keep your smartphone photos looking their best.
Instax Mini Link
The best way to show off a spectacular smartphone photo is with an Instax print. The Fujifilm Instax Mini Link is a handheld printer that connects to your phone via Bluetooth and can spit out Instax Mini prints in about 12 seconds and print approximately 100 prints per charge. And although this Instax printer is primarily made for smartphone shooters, photographers using Fujifilm's X Series or GFX System cameras will be able to print as well. Party Print mode on the Instax Mini Link allows up to five smartphones to connect to the printers app and print images into a collage. Try it at your New Year's eve party.
Zagg Invisible Shield Glass Elite Visiongaurd Screen Protector
Smartphone screens are vulnerable and, because we're always touching them, often quite disgusting. This screen protector from Zagg will help keep your pocket-sized camera safe from screen cracks, bacteria. In addition to its cleanliness benefits, it preserves the colors of your screen and keeps smudges to a minimum. It even includes a handy kit to get the screen protector squarely on your screen without picking up dust and hair along the way. I've been rocking this screen protector on the front of my iPhone since late summer and have yet to collect any dings or scratches on it.
Bumbag Hipsack
There are all kinds of technical hip and sling bags on the market for photographers at the moment, but sometimes it's best to keep things simple. The Original Bum Bag creates simple, but stylish fanny packs, shoulder bags, and backpacks designed with skaters in mind—but their simple hip sack is the perfect place for a photographer to stash some extra camera batteries, a small flash, or even a compact lens. The Bumbag is less bulky than a hip bag designed specifically for photographers, doesn't require a belt, and comes in a variety of colors and patterns.
Lensbaby Omni Filter System
The Omni Creative Filter System from Lensbaby gives photographers a hands-free way to shoot through crystals and textured gels for creative in-camera effects. Using a clever system of rings and magnets, photographers can simply screw the lightweight Omni filter to the front of their lens. The crystal wands then attach via magnets. The design gives photographers the ability to add colorful flares, reflections and light stretches to their images while still having both of their hands to operate the camera. The starter kit comes with Stretch Glass, a Crystal Seahorse, and a Rainbow Film. The system is available in a variety of sizes depending on the camera that you are shooting with and Lensbaby is offering a number of expansion packs of creative crystals and textures that work with the system.
FlashQ Q20II
An external speedlight is one of the most powerful tools a photographer can add to their kit. This pocket-sized flash from LightPix is compatible with any camera with a hotshoe and has a detachable 2.4GHZ radio transmitter in the base that can control up to eight LightPix flashes. The Manual Flash Control light has an output from 1/64 power to 1/1. It doubles as a video light with seven output levels and can be used as an Optical Slave. The flash head can tilt upwards by 90 degrees and there is a built in filter holder to slide in colored gels included with the kit. The flash and the transmitter recharges via USB—as long as their are rechargeable Ni-MH batteries inside the body.
Shootfilm Co Enamel Pin
Mike Padua's Shoot Film Co. specializes in creating unique pins, patches, shirts and other accessories for photographers so they can show off their love of shooting film. We're big fans of his enamel pins and any of them would look perfect pinned to your favorite photographers camera bag or strap. You can choose from rock 'n' roll inspired designs (like the ACDC inspired "FILM" pin and the Black Flag "Black and White" pin), classic camera designs, and our personal favorite, a camera paired with a delicious frothy beer. Many of the designs are available on stickers, t-shirts, and coffee mugs as well.