SpaceX is sending a billionaire to space and he's bringing a photographer
The first space tourist, Yusaka Maezawa, will bring his favorite living artists along for the ride.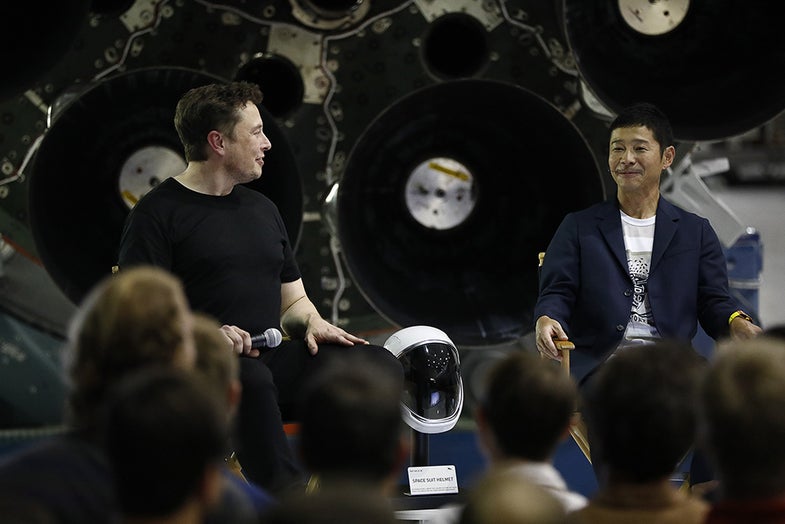 Last night Elon Musk announced that Yusaka Maezawa, a Japanese billionaire, will be the first passenger onboard SpaceX's inaugural mission to orbit the moon and the first non-American to make the journey. But he isn't going alone.
The Japanese entrepreneur, who started a business called Zozotown, is an avid art collector and said last night that he is planning to bring some of his favorite living artists along for the ride—although he noted that the late Jean-Michel Basquiat would have been his first pick.
He is using the trip as a way to curate a project which he is calling Dear Moon. The artists, including a photographer, will be expected to contribute something based on the week that they spend in space.
"I choose to go to the Moon, with artists. If Pablo Picasso had been able to see the moon up-close, what kind of paintings would he have drawn? If John Lennon could have seen the curvature of the Earth, what kind of songs would he have written? If they had gone to space, how would the world have looked today?" Maezawa writes on the website for Dear Moon. "Together with Earth's top artists, I will be heading to the moon… just a little earlier than everyone else."
Learn more about Dear Moon in the video above. We don't know who any of the artists will be quite yet, but are definitely curious what photographer will be chosen to go on this journey.