Traveling Photographer: Texas
The Gulf Coast teems with birds and boats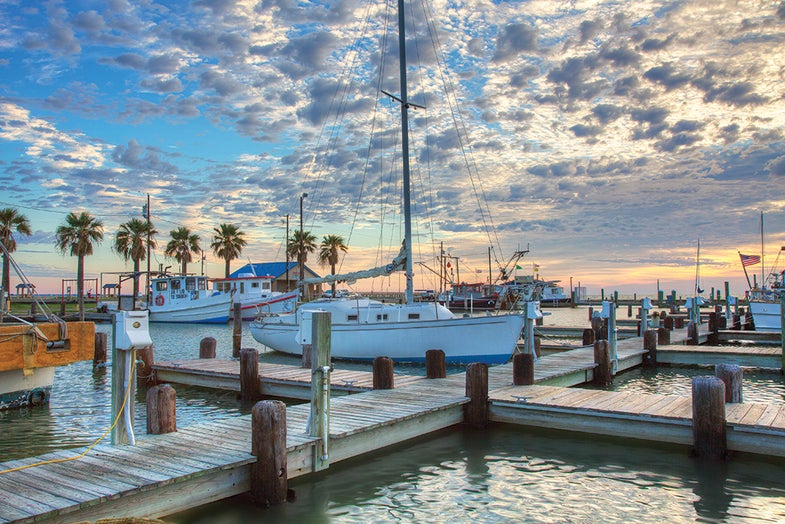 "I have lived in Houston since 1982 and quickly fell in love with the rugged, untamed nature of the area's Gulf coast," says travel photographer Fikry Botros. "It is a paradise for bird and wildlife photographers."
One of his favorite haunts along the 600-mile coastline: Galveston Island, about an hour south of Houston. Botros suggests strolling along its picturesque fishing piers. "Pelicans enjoy what fishermen dole out, and it provides a great opportunity to photograph them at very close distances," he says. The piers also make a nice foreground for sunsets. The island's Stewart Beach offers more than 500 bird species, both native and migratory.
The Galveston–Port Bolivar ferry will take you (and your car) to Bolivar Peninsula and its three Audubon sanctuaries. "Once on the peninsula, I drive on the beach, heading east, and make frequent stops to photograph pelicans, herons, and egrets," he says. The Gilchrist Rollover Pass, connecting the Gulf of Mexico and Galveston Bay, is a favorite fishing spot that attracts a lot of wild birds, he adds.
Back on the mainland, Botros suggests driving south to the Brazoria National Wildlife Refuge (east of Angleton), a 44,413-acre wildlife reserve that's home to more than 400 species of birds and 130 species of butterflies and dragonflies. "Take the 7.5-mile Big Slough Auto Tour," says Botros.
For scenic views, Rockport Harbor shown above is one of Austin-based photographer Rob Greebon's favorite stops. "I love shooting the boats along the docks on early mornings when the weather is calm and the clouds are sprinkled across the sky," he says.
You can explore the Gulf Coast of Texas by starting in Galveston and heading south or in Brownsville and heading north. Here are interesting stops, organized from north to south.
● PADRE ISLAND NATIONAL SEASHORE
North Padre Island. Talk about beach-combing heaven: This is the longest stretch of undeveloped barrier island in the world. In addition to seascapes, you will find more than 380 species of birds. Most beaches are open to vehicles—but you'll need four-wheel drive.
● SOUTH TEXAS BOTANICAL GARDEN AND NATURE CENTER
8545 South Staples St., Corpus Christi. A 180-acre nature preserve that includes a rose garden, a wetlands boardwalk trail, and a hummingbird garden. Bobcats are a common sight, too. Indoor attractions include a greenhouse with 2,000 orchids and a screened-in butterfly house.
2205 Highway 141 West, Kingsville. Larger than Rhode Island, the ranch is home to 35,000 cattle and more than 200 quarter horses, with a picturesque staff of modern-day cowboys managing them. Specialty tours include nature, wildlife, spring wildflower, and birding excursions.
●LAGUNA ATASCOSA NATIONAL WILDLIFE REFUGE
22688 Buena Vista Blvd., Los Fresnos. Resident critters include osprey, sandhill cranes, snow geese, deer, nilgai antelope, bobcat, coyote, javelina, Texas tortoise, American alligator—and more than 130 species of butterfly. Watch out for the rattlesnakes! Visitor Center: 956-748-3607