13 genius items for your next big road trip
Gear for the long haul.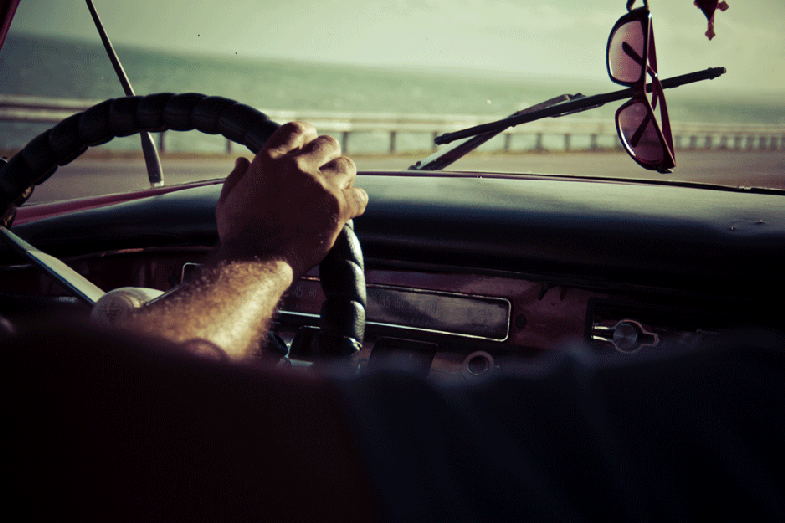 Road trips so often are more fun to plan than they are to experience. Sleeping on the side of the road in the middle of nowhere always sounds kind of romantic until you have to do it. Eating Taco Bell and fruit snacks all the way through Tennessee sounds whimsical and fun until you're stuck with pieces of garbage for 100 miles.
But despite the sometimes unpleasant realities, going on a road trip is a very special, very memorable type of vacation. And they can be incredibly fun. With the right gear, it's possible to cut out the most annoying parts, leaving you with nothing but the good stuff: belting your way through the entire Hamilton soundtrack, stopping at quirky roadside attractions, and solidifying friendships for life.
Below, choice items that will help in an emergency, keep your car (somewhat) tidy, and provide little extra juice for your devices.
Keep backseat drivers—or your children—occupied with their own entertainment station. This polyester backseat organizer holds tablets and other devices, an comes with mesh storage pockets that keep the car organized. There is a bigger, polyester pocket for bulkier items, too. The back of the organizer is waterproof, so any leaking bottles (or whatever) can't stain the back of the car seat. $19.
Be prepared for the worst with this 42-piece AAA road assistance kit. The kit comes with emergency supplies like a flashlight, aponcho, an eight-gauge booster cable, and a 19-piece first aid kit. $21.
The uHome camera lens mug is modeled off of a Canon Lens Model EF 24-105mm. That might not mean anything to people that aren't photographers, but, hey, it looks cool. The cup holds nearly half a liter of liquid and has a stainless steel interior. $12.
Don't let the rain—or Niagara Falls or whatever—ruin the device holding all those photos you took at the world's largest rubber band ball. This waterproof camera case is UV-resistant, dust-proof, and allows for zoom control while in the case. It uses a roll and velcro zipper system to keep seepage levels at zero. $14.
I've been on my fair share of lengthy road trips. If you are alternating driving duty with a friend and want to catch some Zzzs after your shift is done, make sure you have a place to rest your head and way to keep the sun out of your eyes. The GOSLEEP is a two-in-one memory foam travel pillow and eye mask that will keep your head from bobbing around. $40.
For the traveling minstrel—or any other person that can't live without a guitar for a few weeks—the Martin Steel String Backpacker won't take up too much real estate in your car, and actually sounds pretty great. The 15-fret guitar weighs a little over two pounds, with a solid spruce top. The guitar comes with a travel bag. Because of the shape, a strap is recommended—if not totally necessary—to keep it in a comfortable playing position. $219.
Road life is a dirty life. You never know what you are touching as you go in and out of rest stop bathrooms. To be on the safe side, grab a couple travel-size bottles of hand sanitizer. This set comes with four bottles that attach to your keychain or bag. $15.
This is particularly necessary for the forgetful types. If you leave your lights on overnight and kill you battery, don't let it destroy the timing of your perfectly planned route. Be able to jump your car on the spot without having to wait for a friendly stranger to give you a hand or for AAA to arrive. This 400-amp jump starter—which can jump your car up to 20 times on a full charge—will have you back on the road in no time. It has a 12,000 mAh battery, two USB ports for charging your devices, and comes with a bright LED flashlight. $76.
If you like reading in the car, don't bother the driver with the passenger side light. It is bright and distracting. And they will hate you. This lamp-shaped light diffuser uses the flash from your phone to create a soft reading light. It is made of silicone and slips around your phone. $12.
Just because you are living out of your suitcase doesn't mean you can't look good. This 420-watt iron has a 1.4-ounce water tank and multiple temperature settings. It comes with a travel bag and weighs less than a pound. $23.
This BESTEK power inverter is about the size of your smartphone, plugs into your cigarette lighter, and gives you two 110V AC outlets and two USB ports for charging. The metal housing protects it from getting damaged and it has a built-in fan to keep it from overheating. $27.
This 20000mAh power bank from AUKEY will charge your iPhone over four times. It's also got two USB ports so both driver and passenger can keep their devices fully charged. $30.
I've never regretted buying a small pack of tissues. In this 12-pack of Kleenex, the packets cost just a little over a dollar a pop. $14.