Ricoh Theta SC Is A Mid-Range 360-Degree Panoramic Camera With An Emphasis On Style
It has less storage than the Flagship Theta S, but the same imaging power.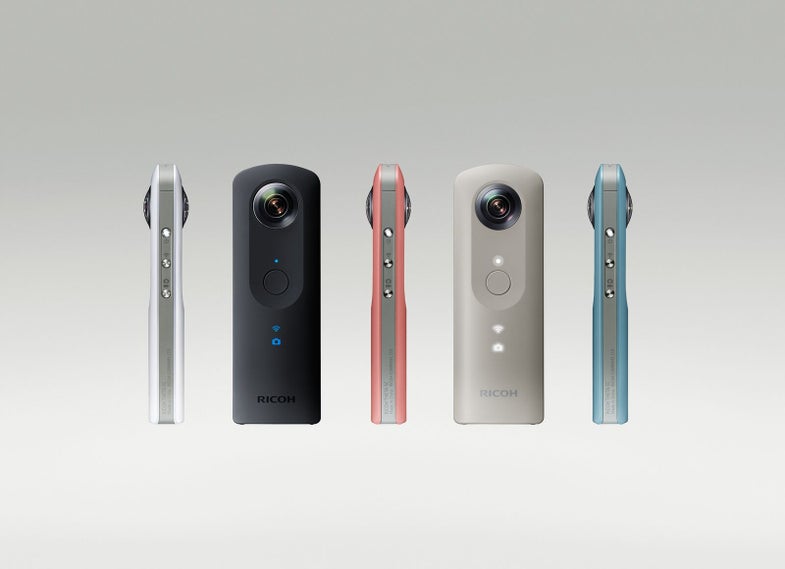 The Theta S sits atop Ricoh's line of 360-degree, panoramic virtual reality cameras, but now the Theta SC has arrived to offer a more streamlined and stylish option. According to Ricoh, the Theta SC provides the same image quality performance as the flagship Theta S, but in a smaller package that's available in a variety of different colors.
The Theta SC is capable of capturing 14-megapixel stills as well as HD video for up to five minutes in a spherical format that's compatible with popular VR presentation platforms like Facebook, Google+, Youtube, and Google Maps. It uses the familiar dual-lens design we've come to expect from the Theta lineup. It has 8 GB of built-in storage.
The Theta S app is getting an update in concert with the new camera release, and while the press material is light on specifics, it suggests the update is primarily concerned with streamlining the overall workflow between capture and sharing.
The Theta SC brings a retail price of $299, which puts it right between the $349 Theta S and the entry-level Theta M15, which costs $249. In many ways, it seems worth the extra $50 to get the Theta S, if only because of the 25-minute video recording time, but the lower price and the stylish exterior will certainly appeal to a wider range of buyers once the holiday season rolls around.