Unique Father's Day Gifts for Photographers
Mother's Day gift ideas that will make mom smile.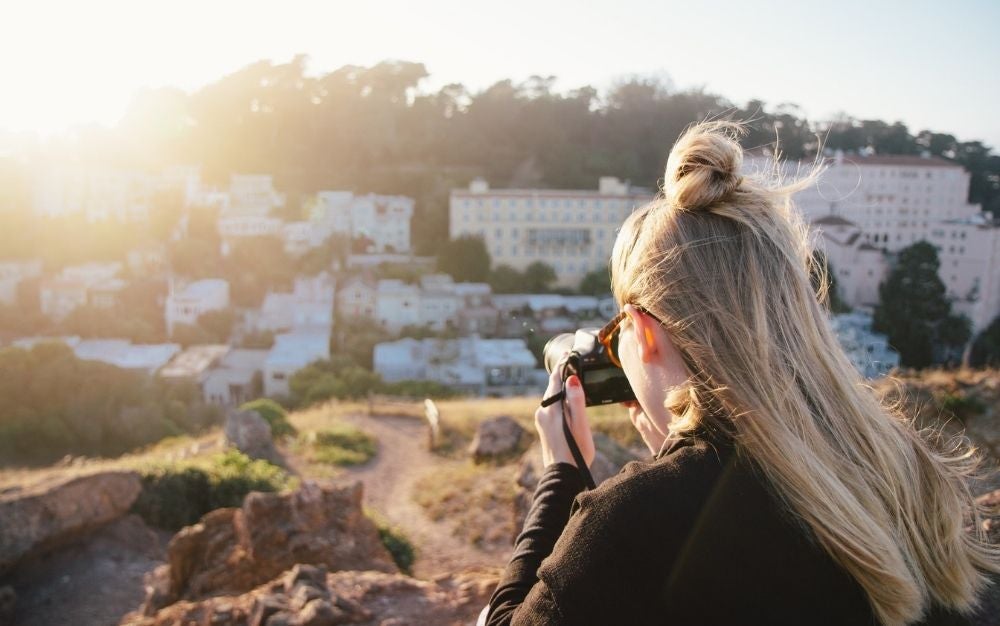 Father's Day is only a few days away, but there is still plenty of time to get your photography loving dad a unique gift that will bring a smile to his face. If the special man in your life always has a camera in hand chances are he will love any of the gifts for photographers in this guide, regardless of if you are shopping for your dad, your grandfather, or your husband.
When shopping for Father's Day gifts for photographers consider what he loves to shoot and what equipment he might be lacking. If Dad is complaining about shoulder pain a new camera bag or strap might be the perfect thing. If Dad's primary camera is on the older side a new digital camera will likely warm his heart. If your photography-loving dad is the kind of person who always seems to buy what he needs himself, a thoughtful photography book would be a welcome gift. These are ten father's day gifts for photographers for every budget that we think Dad will love.
Father's Day Gifts for Dad: Compact Camera for Video and Stills: Sony ZV-1
Designed with vloggers in mind, the Sony ZV-1 is a perfectly capable camera for the dad who loves capturing quality video and stills of his family. It has a vari-angle LCD screen, a directional three-capsule mic with windscreen, shoots 4K video and Full HD up to 120 fps. The autofocus is incredibly fast, making it a great tool for capturing memories on the fly, and it's so compact that Dad will always have it on hand.
A comfortable, well built camera backpack is one of the most important accessories that a photographer can have. It will save your shoulders and keep your gear safe between shoots. The PRVKE camera backpack is built of water-resistant tarpaulin, has a side camera access so Dad can grab her camera without having to remove the pack, and a separate sleeve for his laptop or tablet. The bag has a roll-top access making it a versatile choice for carrying a lot or a little gear.
This compact Instax printer connects to a smartphone via the Mini Link app and makes credit-card sized Instax prints of any of the photos that might be sitting in Dad's camera roll. This Instax printer features settings like "Fun Mode" and "Party Mode" that make printing photos more of a collaborative activity. You can also make collage prints and split images over multiple Instax prints. It's charged by USB and can print up to 100 Instax frames on a full charge.
Film photography never went out of style as far as we are concerned, and this disposable camera is packed with one of our favorite black and white Ilford film stocks. HP5 is known for being very lenient when it comes to exposures, making it a great film for beginners and for putting inside a plastic disposable camera. The camera has a built-in flash and a shutter speed of 1/100 sec. It produces sharp pictures from 3 feet to infinity. It's packed with 27 frames for Dad to express his creativity.
Gifts for Photographers, Mirrorless Camera Bundle: Fujifilm X-T4
This camera is great at shooting stills or video, features in-body stabilization, a weather-sealed body and a fully articulating touchscreen display. It's great for a wide variety of subjects: portraiture, nature photography, and lifestyle. It's also a lot more lightweight than a traditional DSLR. This particular option is great because it comes bundled with a 16-80mm f/4 lens, which means Dad can start shooting as soon as he unwraps this Father's Day gift. This is a great option for beginner photographers or seasoned shooters who are looking to upgrade from an aging camera setup.
Peak Design's Everyday Sling bag has a comfortable padded shoulder strap and a 1-handed quick-pull tab that makes adjusting easy. The bag features customizable flexfold dividers that make it easy for mom to carry a wide variety of camera gear inside while still keeping things extremely organized. Carry straps on the outside of the bag mean that mom can attach items like a tripod too. The bag is made of weatherproof recycle nylon canvas and ultrazip external zippers. This sling bag will keep mom's camera gear secure no matter where the day takes her.
From the 1920s-1950s female photographers around the world embraced the camera and created powerful images that would forever influence the art form. The book was published in advance of a 2021 exhibition that will be on view at the National Gallery of Art and the Met and features images from 120 photographers who worked as fine artists, photojournalists, portraitists, and more. The images are accompanied by in-depth essays that explore how women picking up a camera and documenting the world around them resulted in profound shifts in the way we think about photography. If your dad is a history buff, there is a lot to love inside this expansive collection. Bonus points if you buy him tickets to see the show in person.
Lume Cube makes some of the best LED lighting rigs on the market and this new ring light doesn't disappoint. The light has a 3200-5600K adjustable light temperature range which makes it great for providing even lighting in a portrait session, creating video content, or even shooting selfies. It's portable and lightweight, and it's compatible with smartphones or DSLR cameras. It's powered by a NP-F750 lithium-ion batteries and can last up to 70 minutes fully charged, but comes with an AC power adapter in case Dad needs extra juice.
This 10-inch frame will let Dad show off his pictures and videos with minimal effort. The frame is Wi-Fi enabled, features 8GB of internal memory, and is compatible with USB sticks and SDHC and SDXC memory cards. It's equipped with a motion sensor that automatically activates the screen when you enter the room. Dad can email pictures to the frame or email pictures from the frame for easy sharing with loved ones. For an extra surprise load this frame up with some of his favorite pictures before you gift it to him on Father's Day.
A beautiful leather strap is something that any style of photographer is sure to cherish for years to come. It's made even better when it can be personalized. These straps come in a variety of colors and can be customized in one-three locations with a few words or symbols that are sure to remind your dad of those he loves the most. The strap works with any style of camera, is adjustable between 22 inches and 50 inches, and it's all under $30—making this a great thoughtful gift for photographers for the giver on a budget.
Last thoughts about Father's Day gifts for photographers
Ultimately a great Father's Day gift is one that comes from the heart and will show the men in your life how much you appreciate the things that they do every day of the year. You don't have to spend a ton to make your photo-loving dad smile this year, but if you can afford a splurge we're sure that he would appreciate a big-ticket item like a new camera too. 
Pop Photo wants to help you find the most useful and expert shopping recommendations for the best gift ideas. Searching for more unique gifts? Check out more gift guides here: Gift Ideas for Outdoor Photographers, Photography Gifts for Mom, Photographer Gift Guide.