| | | | | | |
| --- | --- | --- | --- | --- | --- |
| Best Chromebook laptop | | Dell Chromebook 11 | | Check Price | With a speedy Intel Celeron processor, quick browser loading, and 10-hour battery life, this lightweight pick is fit for both work and play. |
| Best Chromebook tablet | | Asus Chromebook Tablet CT100 | | Check Price | This tablet offers a stunning 2048 x 1536 resolution, with a 9.6-inch touchscreen and a Hexa-core processor for high-speed processing. |
| Best Google Chromebook | | Google Pixelbook Go | | Check Price | Equipped with a 4K touchscreen display, 1080p webcam, 64 GB of storage, and stereo-quality front-firing speakers, this Chromebook has everything you need to excel. |
We may earn revenue from the products available on this page and participate in affiliate programs.
Updated Apr 9, 2022 7:35 PM
June 2021 marks exactly a decade since the introduction of the Chromebook. In 2011, Acer and Samsung began selling devices that offered little more than an internet browser. Today's Chromebooks are certainly advanced, but it'd be an overstatement to say they've come a long way. Frankly, that's part of the point. Even the best Chromebooks are designed to be streamlined. Run by Google's Chrome OS, Chromebooks are laptops and tablets (many are 2-in-1 devices) that rely heavily on internet connectivity and browser-based software. As a result, they tend to be lighter, faster, and less expensive than traditional laptops. While Android apps are now available on them, and many models offer 32GB of storage (with upgrades to 64GB available), even the best are still preferably optimized when connected to the internet—where you can save your work files to the cloud, rather than the hard drive.
So, determining whether or not to buy one really comes down to knowing how you operate. If you rely heavily on software or need to work offline while saving big projects to your hard drive, you're probably best sticking to Apple and Microsoft operating systems. But if you're the kind of computer user who mostly spends time on your laptop connected, surfing the web, a Chromebook could be a great purchase, giving you a sleek, speedy, and portable device for a great price.
What to consider when shopping for the best Chromebook
Even though Chromebooks all feature the same operating system, all are not equipped with the same features. Styles, screens and storage can vary greatly among Chromebook laptops and other devices. Whether you're interested in the best Google Chromebook or have your eye on an HP or ASUS Chromebook, here's what you need to consider when shopping for the best laptop for your needs.
1. What style of Chromebook do you want?
The first step in finding the best Chromebook is deciding on a style. Do you want a tablet? A more traditional laptop? Or do you want the versatility of the best 2-in-1 Chromebook? Tablets tend to be more portable, but they aren't great for typing. True laptops are sturdier and often have more storage. 2-in-1 devices provide a middle ground by either folding completely into a Chromebook tablet or clicking into an attachable keyboard.
2. Are you prone to dropping things?
Most Chromebooks weigh less than 3 pounds, but that doesn't mean they are flimsy. Chromebook devices are combat-ready, with MIL-STD-810G gradings. That means they can drop from 4 feet, be stored at freezing or at 145 degrees Fahrenheit overnight, survive at the summit of Mount Rainier, and handle the shock of a bullet. The best devices can also feature leakproof keyboards and scratch-resistant screens, which is extremely helpful if you or your kids are known to drop or drip on occasion.
3. Does the processor make a difference?
All Chromebooks run on Chrome OS, but there are a variety of processors available. The processor considered the brain of the device, determines how quickly and smoothly your device operates. You should pay extra attention to your Chromebook's CPU if you like to multitask since part of a processor's job is to run several functions at once. The speed of a processor can be expressed in millions of instructions per second (MIPS), while the number of "cores" often indicates how well the processor can multitask. Intel Core processors are common in many models.
4. How much storage and memory do you need?
Like your brain, computers have long-term and short-term memories. The short-term random access memory, or RAM, allows you to run more complex programs, or multiple programs at once, while the long-term memory, or storage space, is what allows you to keep data on your device. Many Chromebooks have 4GB or 8GB of short-term memory with 32GB of storage. Those capacities allow you to run a few functions simultaneously and store the apps you need. Of course, they are really designed with the cloud in mind, and many devices include one-year subscriptions for 100GB of Google One cloud storage.
5. Do you need the battery to last all day?
Because Chromebooks don't run as many programs, they tend to offer long battery life. You can easily find devices that can be used for 10 hours on a single charge, and some models can regain power quickly—going from dead to aptly awake in approximately 30 minutes.
6. Is the picture perfect?
If you plan to use your Chromebook to watch movies, you need something with the clearest picture available. That means 4K resolution, which you can definitely find in some of the best Chromebooks on the market. Screens also come in various sizes, from 9-inch tablets to 16-inch laptops, so you can determine your preferences on the sliding scale of portability and viewability.
The best Chromebooks
From the best 2-in-1 Chromebooks to cheaper models, here are some great Chrome OS-equipped devices on the market.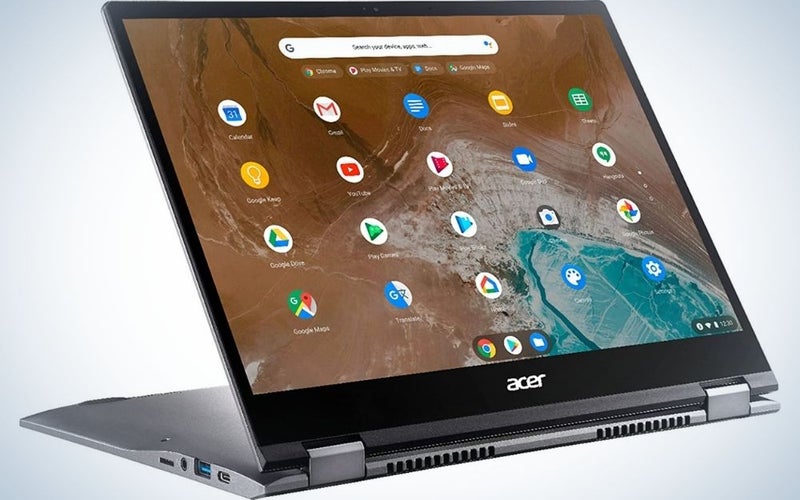 The Acer Spin 713 can handle 10-hour days. That's how long its battery lasts. Plus, this best 2-in-1 Chromebook can get to work right away, waking up in less than a second. The device runs on a 10th Gen Intel Core i7 processor, has 128GB of storage and 8GB of memory, and with MIL-STD-810G military-grade durability, it's ready for active duty. The touchscreen option has a 3:2 screen that lets you see documents and spreadsheets with less scrolling, and it's a versatile 2-in-1 option that offers 360 degrees of convertibility.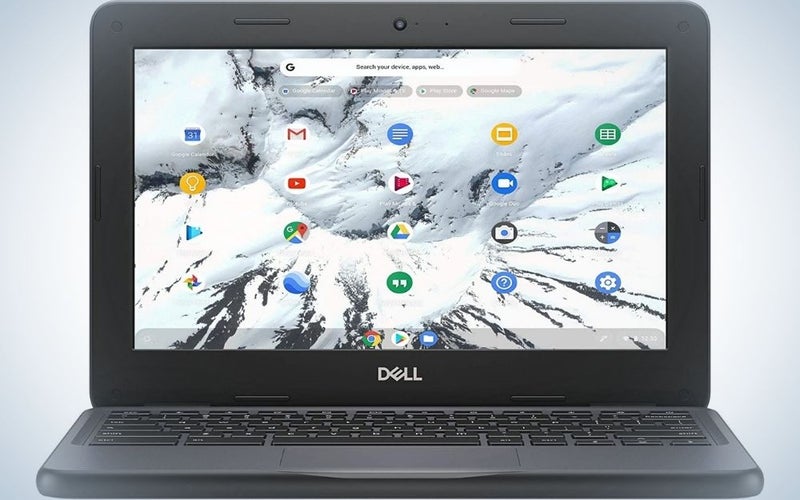 It's been a year for innovative approaches to classroom learning, and the Dell Chromebook 11 laptop includes unique features designed to help students and teachers. Chief among those features are interactive LED lights on the back of the computer. Those lights can be used to signal when students have questions, can be incorporated into answering verbal polls, or can alert teachers when students are surfing the internet rather than paying attention. The laptop's performance in the classroom is buoyed by its speedy Intel Celeron processor that can support multiple activities at once, quick browser loading, and 10 hours of battery life. The Chromebook is also designed so it won't get beaten up at school. MIL-STD tested, the device has a shock-absorbing rubberized LCD and base trim, a scratch-resistant 11.6-inch touchscreen, and a fully sealed, leakproof keyboard. It's worth noting that other Chromebook laptops, such as the HP 2-in-1 Touchscreen Chromebook, also get rave reviews, but since other choices were technically 2-in-1 Chromebooks, we opted to present a true laptop.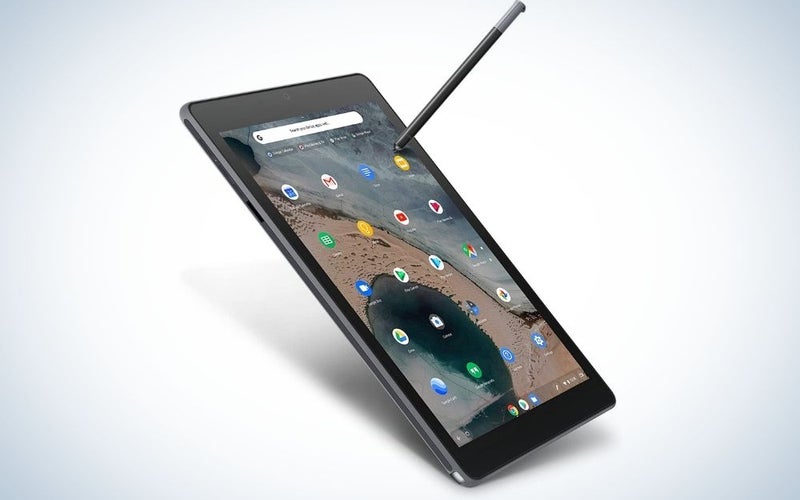 From the natural writing that the EMR pen allows to the beautiful 2048 x 1536 resolution display, Asus delivers a fully-equipped device worthy of being dubbed the best tablet option. The 9.6-inch touchscreen model runs on the Chromebook-specific OP1 Hexa-core processor and works seamlessly and securely, whether you're editing a video or a podcast. Google touches include an onboard Google Assistant, a one-year Google One subscription with 100GB of storage, and Google Expeditions AR—an augmented reality program allowing you to drop virtual dinosaurs or famous paintings into the real scene in front of you. On the durability side, the Chromebook tablet has 9.5 hours of battery life and meets MIL-STD-810 standards, so it's safe, even if it falls 76 centimeters (approximately 2.5 feet) or spends a day at freezing temperatures. Yet it's light and easy to hold, weighing just over a pound and backed with a micro-dimple finish.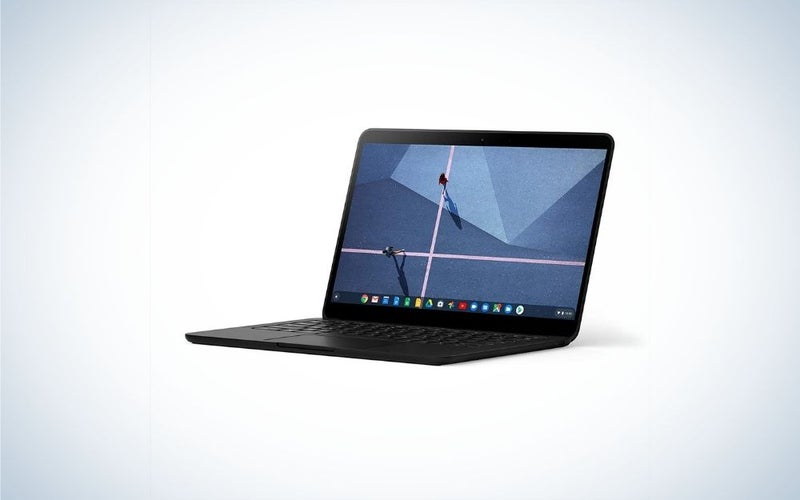 Take the Google Pixelbook Go out of the box, and one of the first things you're likely to notice is the bumpy bottom that makes it easy to hold. Pick it up and you'll feel how light the laptop is—weighing in at just over 2 pounds and 13mm thin. Then open it up. Look, only one hand required! All of that makes the Pixelbook Go live up to the portability promised in its name. It's also packed with features, including a 13.3-inch 4K touchscreen display, 1080p webcam, and front-firing speakers that deliver stereo-quality sound. In addition, it comes with 8GB of RAM and 64GB of storage. Part of the advantage of buying one built by Google is to make absolutely sure you're up to date on Google's latest offerings, and the Pixelbook Go, with an auto-updated Chrome OS, provides exactly that. This best Google Chromebook also runs quickly with its 8th Gen Intel Core processor, and it can come to life in seconds. Meanwhile, its battery life is plenty sufficient, lasting up to 12 hours and recharging two hours of battery use in just 20 minutes.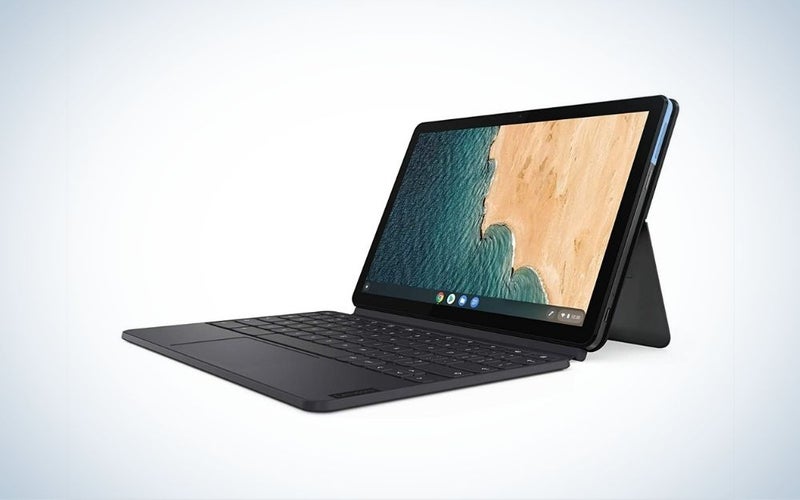 With the Lenovo Chromebook Duet, you'll be singing a happy tune. For half the cost of other 2-in-1 options, you get a 10.1-inch, 1920 x 1200 IPS touchscreen display, a detachable keyboard, Bluetooth 4.2 connectivity, 10 hours of battery life, a stylus pen, and a year of 100GB of storage with Google One. More than 800 Amazon reviewers give it an average of 4.5 stars, easily making the Lenovo one of the best cheap Chromebooks you can buy. Its MediaTek processor is not as fast as other processors, and it takes 10 seconds to boot and only has 4GB of memory. Still, the price tag, not to mention the two Dolby Audio speakers, makes this best cheap model music to a lot of shoppers' ears.
FAQs
Q: What are the pros and cons of a Chromebook?
There are many pros and cons of a Chromebook. On the pro side, they tend to be less expensive, lighter, and have longer battery lives than other laptops. They are also less susceptible to viruses and offer fast and easy interfaces in Google Workspace programs. On the con side, they offer only limited compatibility with Microsoft 365 programs and they present a challenge if you want to work and save your changes offline. 
Q: Can you watch Netflix on a Chromebook?
Yes, you can watch Netflix on a Chromebook. Download the Netflix app in the Google Play store, log in, and start watching. Models such as the Google Pixelbook Go feature 4K screens, so the video quality will be as brilliant as it is on your television.
Q: Can a Chromebook replace a laptop?
A Chromebook can replace a laptop, depending on how you use your laptop. They rely heavily on browser-based software and Google Workspace integration. That means they tend to be light and quick, perfect if you primarily use your laptop to surf the web, answer email, and take care of some work here and there. But if you expect your laptop to be your workhouse and lean on Microsoft 365 programs, you may feel limited by a Chromebook. 
Related: Burnt out from work? Take a break and up your game with one of the best monitors.
The final word on shopping for the best Chromebook
The fact of the matter is Chromebooks are simply not right for all buyers. But if you're looking for a device that's lightning-quick and light as a quill, a Chromebook could suit your needs—so long as you're OK with giving it a lighter workload. Finding the right option for you is about matching the style, function, and other features that meet your personal preferences.