SPONSORED: The Revolutionary New Tamron SP 150-600mm Di VC USD Ultra-Zoom
Expands Your Reach With Spectacular Imaging Performance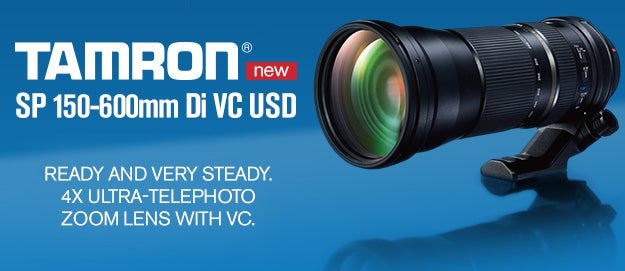 Yes, it's the real deal—an awesome new ultra-telephoto zoom that's a genuine breakthrough in optical design. It goes well beyond established limits to provide an unprecedented 4X, 150-600mm range that's longer than previous super-telephoto zooms. And it does so without compromises, delivering exceptional SP-level image quality across the field at all apertures and focal lengths thanks to an innovative, state-of-the-art optical formula incorporating three LD (Low Dispersion) elements that deliver enhanced correction and critical sharpness at extreme telephoto settings, plus an efficient combination of advanced eBand and BBAR coating that virtually eliminates ghosting and flare.
Captured using a Tamron 150-600mm zoom, 1/800 sec and f/8, at 350mm (560mm equivalent), ISO 640. Distance from subject: 75 yards.
The Tamron SP 150-600mm Di VC USD works with full-frame and APS-C-format digital SLRs, providing an amazing 233-930mm-equivalent range with the latter—ideal for capturing sports, nature, wildlife, birds, and distant scenes in exquisite detail. And as you'd expect, this outstanding new lens incorporates the full complement of Tamron's high-tech features: 1. The exclusive Tamron VC (Vibration Compensation) low-friction image stabilization system that uses a three-coil system to minimize blur due to camera shake, providing up to a 4-stop advantage in handheld shooting. 2. A high torque USD (Ultrasonic Silent Drive) that provides swift, accurate AF, very low noise, plus manual focus at any time. 3. A 9-bladed circular diaphragm that enables users to create beautiful background blur effects (bokeh) for enhanced creative expression. 4. An upgraded removable tripod mount offering enhanced stability, portability, durability, and ease of use. 5. An elegant new cosmetic design and finish with distinctive linear pattern grips on the zoom and focus rings and a stylish new tungsten silver brand ring, for a fashion-forward look sure to delight discerning high-end DSLR shooters.
Captured using a Tamron 150-600mm zoom, 1/800 sec and f/8, at 600mm (960mm equivalent, ISO 640. Distance from subject: 100-125 yards.
What's it like to shoot with this incredible new lens? For a hands-on perspective, we asked Kevin Gilligan, a Tamron Image Master and acclaimed West Coast pro specializing in extreme-action sports and travel photography whose images have appeared in magazines and newspapers across the USA.
Captured using a Tamron 150-600mm zoom, 1/800 sec and f/8 at 273 mm (437mm equivalent), ISO 640. Distance from subject: 50 yards.
"Since my Canon EOS 7D has a crop factor of 1.6, I couldn't wait to get my hands on the new Tamron 150-600mm which gives me an incredible equivalent range of 240-960mm. It's perfect for following fast-moving sports like surfing and soccer where the action moves toward you, and its long 4X super-telephoto range and fast-framing flexibility are a huge advantage. It's surprisingly light and extremely well balanced, and I've shot amazingly crisp soccer images handheld at the longest focal lengths thanks to the VC system. I shot these dynamic surfing images at distances up to 100 yards, so I used a tripod, and found the new redesigned tripod collar to be a real plus. But clearly the most outstanding feature of this lens is its phenomenal image quality over the entire zoom range. For sharpness and color accuracy it's unsurpassed, its AF action is extremely rapid and decisive, and it's slick and beautiful to boot. In terms of its overall performance the Tamron 150-600mm is comparable to the finest premium lenses on the market and it represents an outstanding value."
Captured using a Tamron 150-600mm zoom, 1/800 and f/8 at 150 mm (240mm equivalent), ISO 640. Distance to lifeguard tower: 150 yards.