Interview: Connie Zhou On Being The First Photographer Inside Google's Massive Data Centers
What does it take to make warehouses full of electronics into art?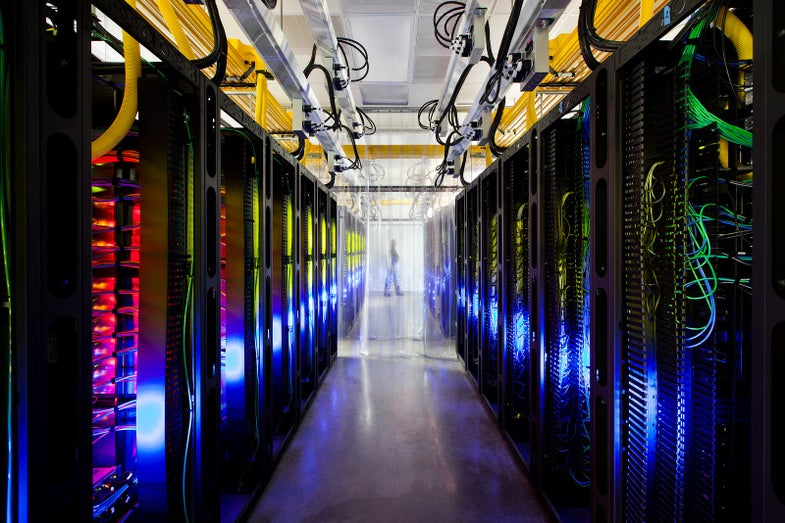 Architectural photographer Connie Zhou is used to big assignments in more ways than one. Her latest work has made her the first photographer officially allowed into Google's massive data centers. The resulting images turn warehouses full of electronic equipment into beautiful graphic photographs. We talked to Connie about what it was like to work on such a massive project.
Can you tell us a little bit of your photographic background?
I grew up in New York City and went to La Guardia, a performing arts high school. I got into photography there when I was a junior. I grew up with my dad who went to FIT — he was a graphic designer — so art was always around me. I majored in photography at Parsons. From there I started shooting architecture for small architectural companies. My big break was being published in New York Magazine while I was still in school for an article about Lincoln Center.
**What is it that drew you to the architectural space? **
I think it's about how graphic everything is. It interested me how I could make these buildings and structures look graphically pleasing through my photographs. It has always appealed to me more than other genres like portraiture or fashion.
How did the Google project come about? Had you worked with them before?
I had never worked with them before. One day earlier this year, I got an email from one of my Google contacts. They explained the job to me, so I threw in a bid and a month later they called and said I got the job. Then we started working on the project. Really straight forward.
Other people who have visited these facilities have been in awe of just how big they really are. Did you find that to be the case?
It's very overwhelming. The first site I went to was the one in Georgia. It was enormous and they have just about everything you could ever want in a work environment.
Did the scope of the settings make it a difficult shoot?
Not really. I'm used to photographing very large objects and grand environments. It wasn't very complex for me to photograph the interiors or the exteriors because I'm so used to it. It was overwhelming and exciting, but it wasn't very difficult.
At the first facility in Georgia, my escort and I had to ride an ATV around the site because it was just so big and we had all this equipment. It was fun. They have motor scooters, too. They have all kinds of fun stuff.
It was kind of refreshing to see that Google hired a real photographer to document the facilities in addition to the Street View approach we're used to seeing from them.
I think the goal was to hire someone with a fresh eye who had never been to any of these sites before, who could help people see what they're really like.
Did they give you time to scout the locations before starting work?
I had to just show up and sort of do it [laughs]. I spent a week at each site and my first day there would just be scouting this enormous site. Then I'd spend the rest of the time shooting.
What kind of gear do you typically bring for a shoot like this? Do you use a tilt-shift lens?
Most people believe I should use a tilt-shift lens, but I use a 16-35mm lens and I correct in post. It's not very traditional, but I think it works for me. I used to shoot 4×5 and it was just too much for me. It's too heavy.
Were you using mostly available light for the shots or did you have to do much lighting?
Mostly I was using available light, especially for the exteriors. I would wake up at 4 AM and watch the sunrise and stay until 10 PM when it's dark. For the interiors, I mostly used available light, but if I need to balance some areas or if it was really dark, I'd use some Profoto strobes.
Many of the interior shots have an interesting glow about them. How did you manage to make the rooms look so dramatic?
Most of these server rooms are very well lit. When I was shooting, I actually had to get them to turn off all the lights on the floor and then peek around to see what was glowing. Then I'd take the picture and let the light bleed through onto my sensor.

Council Bluffs Network Room
"Inside Google's campus network room, routers and switches allow data centers to talk to each other. The fiber optic networks connecting their sites can run at speeds that are more than 200,000 times faster than a typical home Internet connection. The fiber cables run along the yellow cable trays near the ceiling."

Above the Floor in Council Bluffs
"Hovering above the floor in Council Bluffs, Iowa, the scale of Google's data center there begins to take shape. Huge steel beams both support the structure and help distribute power."

The Dalles Server Room
"Denise Harwood diagnoses an overheated CPU. For more than a decade, Google has built some of the world's most efficient servers."

Saint Ghislain Sunset
A sunset over Saint Ghislain, Belgium illuminates Google's water storage tanks and cooling towers."

Saint Ghislain Drives
"As part of Google's commitment to keeping users' data safe, they destroy all failed drives, on site."


Frozen Finland (Hamina)
"A beautiful landscape forms during winter in Finland, as the gulf ices over and creates a picturesque view."

Hamina Aerial View
"Hamina is one of three data centers Google maintains in Europe. Previously it was the home of the Stora Enso paper mill."

Behind Servers with Green Glow
"A rare look behind the server aisle. Here hundreds of fans funnel hot air from the server racks into a cooling unit to be recirculated. The green lights are the server status LEDs reflecting from the front of Google's servers."

Douglas County Color-Coded Pipes
"Thousands of feet of pipe line the inside of Google's data centers. They paint them bright colors not only because it's fun, but also to designate which one is which. The bright pink pipe in this photo transfers water from the row of chillers (the green units on the left) to a outside cooling tower"