Visa pour l'Image at 20
This year's anniversary celebration was an emotional reminder, and revival, of our favorite things in photojournalism.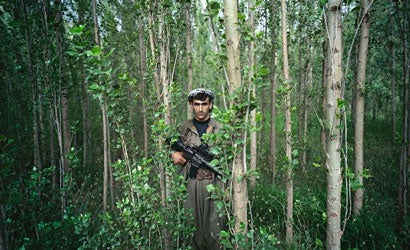 I returned from Perpignan, France, recently, where I spent a week covering the 20th anniversary of the Visa pour l'Image festival with American Photo editor at large Jean-Jacques Naudet. While there we saw every exhibition, attended every press conference, and talked with as many photojournalism professionals as we could. Of course we wanted to bring our readers comprehensive coverage on our State of the Art blog, but also, once I was reminded of all the amazing documentary images we never see, I felt a compulsive need to see as many as I could.
I don't have to tell anyone it's a rough time for photojournalism: newspapers and magazines have slashed staff photographer positions and cut budgets and pages for freelancers; the value of each image has dropped significantly as competition for coverage has exploded; and online publishing, although full of potential, is currently paying small dividends and making it easier than ever to use images without payment or even attribution. Some of the most visible casualties of the industry's un-glory days have been the big photo agencies, which have closed their doors or gotten rolled into bigger conglomerations at an alarming rate. In Perpignan I spoke with two agency heads: JP Pappis, a long-time Sigma guy who launched his own agency, Polaris, in 2002; and Christian Caujolle, the legendary semi-retired (he calls it "reorganized") founder of Agence VU. Both of them lamented the state of photojournalism: Pappis saying he is working twice as hard today for the same results as yesterday, and Caujolle nostalgic for a time when the art of the images was appreciated as much as their monetary value. In such a climate, a gathering like Visa becomes even more important, they both said. "It's extremely important because it's the only place where you have all the ingredients of the photojournalism world: photographers, agencies, magazines, exhibitions, slide shows," said Pappis. "It keeps hope alive." Indeed, I heard several people characterize Visa as facilitating more deals in one week than happen the rest of the year.
But Visa is about refilling emotional coffers as much as financial ones. You can call it flocking together or licking wounds if you want, but I really didn't hear too many people feeling sorry for themselves. More people were reminding each other (and themselves) that despite the hard times, photojournalists and the people that love them still think they have the greatest jobs in the world. "They can't stop something that we love so much we'll do it for free," as multimedia guru Brian Storm put it so well. My favorite question of the week was, "What has gotten better in photojournalism over the past two decades?" After the initial groans and pouting "nothing" responses, here's what I heard: 1) Visa, like the rest of the industry, continues to get more international and better connected every year; 2) the quality of the work continues to climb; 3) tons of new students are studying photojournalism, which creates its own crisis, but at least means the next generation sees the importance of the art. Now if the current generation can manage to heed pleas like Friday's (read it, seriously, you'll be glad you did) from Stanley Greene to respect the art, the photographers, and the people in the frame, we might be looking at a future that is not so grim after all. (Another good reason to read the comments from Greene and other top conflict photographers: With the September 11 anniversary in our minds, it's a great way to remember the photographers who brought us the images that defined the conflicts it precipitated, and many more before.)
When I interviewed Visa's grand master, Jean-Francois Leroy, the last day I asked him that same question: What has improved in 20 years of photojournalism? He skirted sweeping observations and instead focused on what he's most proud of this year at Visa: He convinced 15 magazines to give 15 legendary working photojournalists interesting, long-term photo assignments. The number of images shown at Perpignan that have or ever will be published publicly seems to dwindle year-to-year, so getting 15 projects published, not just exhibited, was indeed a triumph. Considering the passion and resilience evident everywhere in Perpignan, I have hope that in another 20 years every image at Visa will be (and will have been) widely viewed by the public.