Ten Years of PHotoEspaña
Spain's premier photography festival announces big plans for its decade anniversary.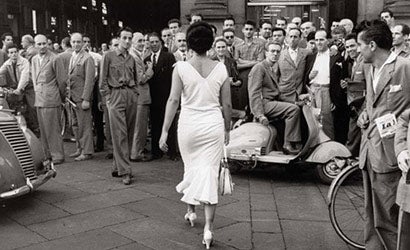 Madrid's PHotoEspaña turns ten this year, and the lineup proves that Spain knows how to throw a birthday party. The photography festival's 2007 schedule, which starts May 30, is studded with exhibitions promising "largest ever" and "never-before seen" and "for the first time since."
Headliners Bruce Davidson, Lynn Davis, and Sylvia Plachy will be exhibiting in Spain for the first time. Plachy's Out of the Corner of Her Eye show will include more than 100 photographs from her books Unguided Tour, Red Light, and Self Portrait with Cows Going Home. Davis's series Icebergs, which marked the beginning of her celebrated landscape work, and Persia Antigua, will be on view, as well as Bruce Davidson's mystical study of Manhattan's plush green heart, Central Park.
In an exhibit produced especially for PHE07, master photographer Sebastião Salgado will portray Africa through 50 large-scale photographs in an exhibit titled Work, Migration and Nature. Another big-name PHE07 co-production, Andres Serrano's Salt on the Wound, will survey the photographer's career and some of his most controversial series — Nomads, Ku Klux Klan, Budapest, and The Morgue –including images on display for the first time.
Other "firsts" include the largest Spanish exhibition of frequently censored Chinese multimedia artist Zhang Huan, chosen from his last seven years of work and accompanied by a previously unseen documentary, as well as an impressively comprehensive Man Ray exhibition with more than 300 works and pieces on display for the first time since the surrealist photographer's death in 1976.
The tenth anniversary of Spain's forefront photo festival is a perfect chance to showcase some of the country's native photographic talent — with exhibits such as Ricky Dávila's survey of Iberian culture, VideoSpain: 10 Years of Videoart in Spain, and NOPHOTO's in situ interpretation of the refashioning of Madrid's Matadero warehouse-cum-cultural landmark.
But this year's PHotoEspaña lineup also recognizes the international community it draws from, especially in its group shows. Five European Gazes: Spanish and Latin American Photography, recognizes the worldwide reach of Hispanic photographers, while Neorealism: The New Image in Italy, 1932-1960, examines that country's history through the lenses of more than 75 photographers.
One show, Local: The End of Globalization, will even deal overtly with the trend toward a global community, drawing together work by 12 photographers to defend the autonomous local community. Likewise, the Encuentros PHE seminar will bring in more than 50 photographers, collectors, and intellectuals to trace the path photography has taken since PHE began in 1998, and to discuss its future route.
And, of course, it wouldn't be a festival without the awards. PHE's top honor is the 12,000-euro PhotoEspaña Award for an outstanding professional career, awarded in past years to Hiroshi Sugimoto, William Klein, William Eggleston, and Nan Golden. Most exciting for the less established photographers is the PHE Discoveries Award, given for the best portfolio from the festival's review. The Bartolomé Ros Award is presented to a Spanish photographer for an outstanding career, and prizes also go to the best photography book of the year, the best off-festival show, and the public's favorite.
The festival's biggest party, though, is sure to happen on June 8 during "The Night of the Photograph." The city's vibrant Barrio de las Letras will be filled that night (and well into the morning) with slide projections, dance, and live music, sure to draw not only the world-renowned photographers, but also Madrid's legendary local partiers. Just don't forget to wish PHotoEspaña "feliz cumpleaños."
For more information on the festival and its exhibitions, visit www.phedigital.com.
American Photo: Are there one or two exhibitions that are particularly exciting this year? Can you tell me about them?
Claude Bussac: This is hard question because we are really proud of each of the 63 shows that PHotoEspaña is organizing this year; they are the result of a lot of work and dedication, and I am not referring to just the 10 years of the Festival, but to all the artists, museums, galleries, and individuals that make this Festival possible. However, I would like to make special mention to Zang Huan's retrospective show with pieces that combines photography and performance in a way that is spiritual and analytical at the same time.
AP: Why are Andres Serrano and Sylvia Plachy such important photographers? What have they contributed to photography over the long course of their careers?
CB: We believe that it is an opportune moment show Sylvia Plachy's work, which by the way has never exhibited before in Spain, because Plachy is somebody that has managed to make black and white, street photography mysterious and unique. She has been taking images for years and years, yet [her] works seem so fresh and relevant today.
We were attracted to the idea of showing Andres Serrano because he is polemic figure, as a photographer and as an artist. People either admire his work or despise it. He is going to give a workshop in Campus PHE07, and we have been hearing how many young artists have been fallowing the development of Serrano's work in the past years.
AP: How did the Sebastião Salgado Africa project come into being? When you began to talk with him about producing the project for PHE, what kinds of themes were you hoping to address?
CB: When we first began working with Salgado, we were interested in presenting a show that might demonstrate the scope of his work, while at the same time offer an in-depth look at a defined subject. I think that this is something we have achieved with Africa, a show that presents 50 images taken in the course of 30 years.
AP: There seem to be many images being shown this year for the first time in a long time, for the first time ever, or for the first time in Spain. How did you get so many exclusive images?
CB: I have to thank the team of curators that we are working with this year. In the previous editions, PHotoEspaña named one artistic director and developed one theme. This year, for the tenth anniversary of PHE, we choose to work with several curators in a celebration of photography. Paul Wombel, Cristina Zelich, Enrica Viganò, Oliva María Rubio, Mireia Sentis, Joaquin Gallego, Catherine Coleman are just some of the many curators that have worked hard to present meaningful and novel exhibitions.
AP: Were any big changes made this year for PHE? What are the new editions to the program?
CB: Perhaps the two most noteworthy changes made this year is PHotoEspaña's participation in Paris and Cuenca. But, no less importantly, we have been working hard to consolidate PHotoEspaña as a project, so that we may continue to offer high-quality photography exhibitions and activities that are meaningful to our local, national, and international public.
AP: Can you tell me about the World Heritage Site Cuenca and why it was chosen as a new venue?
CB: For the past ten years the Festival has been bringing artists from all over the world to Madrid and we felt that it was time for PHotoEspaña to reach out to cities beyond the capital. For those who do not know Cuenca, it's a small medieval town with Arab roots and a noble past that is known for its distinctive architecture consisting in houses that hug the side of a cliff overlooking the river. In Cuenca, due in part to the fact that it is a World Heritage Site, there is lively artistic scene. PHotoEspaña is being very well received by this city, and we are truly looking forward to taking photography to Cuenca in the future.