Spring Auctions: The Wrap Up
Details from the Christie's, Sotheby's and Phillips de Pury & Company auctions.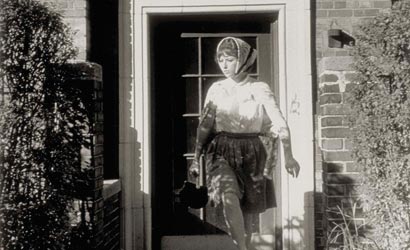 Spring auction week in New York started hot — 85 degrees on Monday. That evening at Christies, the Gert Elfering collection of stunning platinum and platinum-palladium prints by the photographer Horst went on sale. The weather outside correctly predicted the torrid bidding inside. By the auction's end, a new world auction record for the artist had been achieved: A print of Horst's "Mainbocher Corset, Paris 1939," print dated 1985-1995, went to an anonymous bidder for $288,000.
Along with the sale of a single-owner collection of modernist photography and the various-owners sale on Tuesday, the total for Christie's came to $11,176,200. New records were set for Irving Penn, Robert Polidori, and Aaron Siskind.
By mid-week the weather was cooling but not the pace of the sales at Phillips de Pury & Company. An evening sale on Tuesday focused on "27 Exceptional Photographs" and brought in $3,616,800. The following day's auction combined work from the vaunted collection of Alain Dominique Perrin with work from various owners. It brought in another $6,796,365, for an overall total of $10, 412, 365.
By Wednesday night at Sotheby's the clouds had moved in and pouring rain was on its way. The barometric changes didn't dampen spirits — not by a long shot. The sale of the Maggi Weston collection totaled $7,819,700 and was highlighted by a new world record for Edward Weston. His "The Ascent of Attic Angles" from 1921 went to a private buyer in the room for $824,000. The various-owners sale on April 26 brought in $5,203,800. Combined with the sales of the Eugene and Adalbert Cuvelier collection on April 13, the total for Christies was $15,915,500.
More impressive than that number, however, were the records set, not only for Weston but also for Carleton Watkins, Imogen Cunningham, Frantisek Drtikol, Jaromir Funke, and Eugene Atget.
More from the State of the Art blog • Christie's • Phillips • Sotheby's
All across the board, photography showed remarkable strength in the auctions, from 19th century work to pre-war and post-war work. The Weston collection at Sotheby's, which traced photography's evolution from pictorialism to modernism, was a delight for the eye and the intellect. The Horst collection at Christies showed that exquisite modern prints could bring in big money. For the photography market, the auction results point in one direction only: up.