Shooting the Midway
For flight attendant Linda Kramer, the American carnival is a place to capture souls in transit.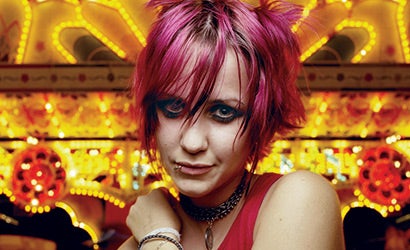 Ever since she was a kid at summer camp, Linda Kramer has had an eye for portraiture. "My parents gave me an Instamatic camera, and I would shoot like crazy for the entire week I was away," she remembers. "I'd shoot all my friends and even people I didn't know. Then I'd come home and show the pictures to my family, and they would say, 'Where's the camp?' Because it was all people."
The same thing happened in 1998 when Kramer, all grown up and equipped with a Hasselblad 503cm, visited a Concord, California carnival. It was the people that caught her eye there, too. In fact, that outing launched Kramer's ongoing American Carnival Portraits project, which has taken her to fairs and carnivals throughout California, the Midwest, and Hawaii. Kramer carefully controls every step in creating the images, which are captured on Kodak Portra 160VC film and ultimately rendered in vibrant 30×40-inch C-prints with a 26×26-inch image area that makes her tightly-composed subjects seem to jump out of the frame. The quality of her prints has much to do with Kramer's meticulous, old-school darkroom technique, which involves a Jobo drum processor that she bought at a swap meet and repaired herself with skateboard parts.
The very arduousness of Kramer's approach contributes a depth and seriousness to her portraits that you might not expect from the frivolity of a carnival. By using the setting's motion and vivid colors as a background, she creates a visual counterpoint to the stillness of her subjects — strengthening the sense of a personal connection with the viewer. Indeed, picking the right background for a shoot is the first order of business when Kramer arrives at a carnival. Even at a large event, she may find only one or two locations that meet her aesthetic requirements. "For me the backgrounds are just as important as the subjects," she says. "If I don't have a strong background to support the person I'm going to photograph, the photograph doesn't work."
After setting up a single large softbox and her tripod, and balancing her strobe with a shutter speed long enough to record (and often blur) the ambient-light background, Kramer leaves her studio-of-the-moment in the care of an assistant and sets out to find her subjects. "The first thing I look at is the eyes." she says. "I try to find someone who has strength in their eyes." Style counts too, but Kramer finds that charisma in front of the camera is more important than any sartorial statement. She once approached a striking woman wearing an American flag bikini, only to find that the woman's camera-shyness made her portraits fall flat. "It didn't matter what she was wearing, how she was made up, how terrific her hair looked," says Kramer, who says she has always been "a great observer of people and their behavior." "There's a confidence level that needs to be there."
And a willingness, too. The people Kramer invites back to her setup rarely decline to be photographed. "I think the exciting atmosphere makes them more agreeable to it," explains Kramer, who nonetheless feels she's "trying to capture a little bit of their soul." Once her subjects are in position, Kramer often takes a few shots just to let them get the smile-for-the-camera poses out of their system. She likes to work with a slightly wide-angle 60mm lens, which lets her get close to the people she's photographing but still include the background, yet doesn't create the visible distortion associated with true wide-angle lenses. Once she begins talking with her subjects, Kramer explains, "usually they get very interested in taking my direction and start engaging with the camera, and with me. They enjoy it. They feel like they're having their own personal photo shoot."
Kramer's interest in portrait photography takes her beyond the carnival grounds as well. As part of advanced coursework at the Bay Area's Diablo Valley College, she's printing a series of full-length portraits that she shot with an 11×14 field camera on a road trip with a friend. But the allure of the carnival — and the portraits she considers the best midway prize of all — keeps calling her back. "I had this vision from the beginning, and I feel like I've refined it," she says. "I could do it every year, once or twice a year, for as long as I live."
To see more of Linda Kramer's photographs, visit lindakramerportraits.com.