Sheila Pree Bright Wins Santa Fe Prize
Bright won the $5,000 award for "Suburbia," a project exploring suburban life within the African American community.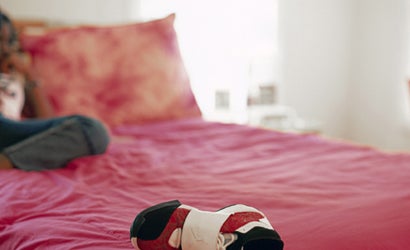 Untitled 16 © Sheila Pree Bright, 2006 Santa Fe Prize Winner
Sheila Pree Bright has won the 2006 Santa Fe Prize for Photography for "Suburbia," a project exploring suburban life within the African American community.
"Like most of my works, my inspiration for this series derives from a personal identification to my experience as an African American person, raised as a 'military brat' who traveled to various places of the world," Bright wrote upon winning the award. "My exposure to various cultures and lifestyles created an appreciation for universal blending, which I view is the subtle influence of American pop culture."
The prize, which is administered through the Santa Fe Center for Photography, includes a $5,000 cash award and complimentary participation in Review Santa Fe.
Chris Pichler, publisher of Nazraeli Press, wrote in his juror's statement: "Sheila Pree Bright's photographs of African American middle class suburbia are intelligent, thoughtful and authentic. The artist photographs what she knows, and in doing so, provides insight to a significant segment of contemporary society rarely seen by those living outside of it. While they counter mainstream media representation of African American culture in the 21st century, these photographs are so beautiful in their own right — masterfully composed, elegantly lit, saturated nearly to the point of liquidity — that they are as interesting visually as they are conceptually. One continues to think about them long after having viewed them. The ability to so engage a viewer, though any medium, is rare."
Finalists for the prize who also receive acceptance to Review Santa Fe include Boogie of Brooklyn, NY, for "In the Projects," Todd Deutsch of Minneapolis, MN, for "Gamers," Bart Michiels of New York, NY for "The Course of History," Apollonia Morrill of Berkeley, CA for "Kalaupapa, 2004-2005," and Rachel Papo of Brooklyn, NY for "Serial No. 3817131."
More information and examples of the photographers' work can be found at www.sfcp.org.