The Road to Recovery
Recounting the story of Alison Wright, who survived a deadly collision in Laos and lived to photograph another day.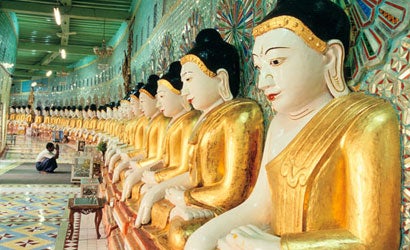 Photographers learn early in their careers how to travel efficiently. They go to cities on the other side of the world and to remote jungles with equal ease, and they know how to return, usually with their crates of expensive gear intact.
But what happens when they themselves don't return intact? Alison Wright can tell you about that particular experience.
A documentary and travel photographer based in San Francisco, Wright's pictures have been published in such magazines as National Geographic Adventure, Natural History, Outside, Islands, Geo, Time, Forbes, and Oprah. (Go to www.alisonwright.com.) Her book Faces of Hope (New World Library, 2003), an uplifting look at children in the developing countries of the Third World, caught the attention of Marian Wright Edelman of the Children's Defense Fund, who urged Wright to turn her camera on children in the United States who are growing up in poverty. That work is now being shopped to book publishers.
In describing her work, Wright uses phrases such as "capturing the human spirit," and "connecting with life." But what might sound like clichés coming from another person has real meaning for her, because she has seen just how tenuous the human hold on life can be, as well as the precious possibilities that arise from cheating death.
On January, 2, 2000, Wright, then 38, was traveling through Laos after a long photo assignment in Southeast Asian when the bus she was riding in was hit by a logging truck. The bus was sheered in half. The point of impact was the seat in which Wright had been sitting.
The force of the crash broke her back, pelvis, coccyx, and each of her ribs. Her left arm, which had been plunged through a broken window, was shredded to the bone. Her teeth were broken. Her spleen was sliced in half. Her diaphragm and lungs were punctured. Her heart, stomach, and intestines were torn loose and lodged in her shoulder. "Yes, it's really possible for that to happen," she says now, smiling impishly.
Several people on the bus were killed that day, but somehow not Wright. After several hours during which she lay dying at the side of the road, a passing pickup truck was flagged down by survivors of the crash, and several of the injured, including Wright, were loaded onto its open bed and taken to a town an hour away, where there was supposed to be clinic. In fact, it turned out to be what Wright recalls as "a bare cement room with cobwebs climbing down the walls." A young boy in a T-shirt doused her wounds in alcohol and used a sewing kit to stitch up her arm, without cleaning out the glass or gravel. She recalls being barely able to breathe because of the injuries to her lungs.
For the next eight hours she lay on the clinic's dirt floor, bleeding. It seemed that all that was left inside her was pain. It was then, she says, that the seriousness of the situation hit her. "This is bad," she thought. "This is really bad." Then she felt someone take her hand. It was an English aid worker who told her he would drive her to Vientiane, the Laotian capital, 150 miles to the south. Wright lay bouncing on the corrugated metal floor in the back of the man's SUV, her head propped against a wheel well.
Some 14 hours after the accident, she was in a hospital in Thailand, where she underwent several operations. Eventually she was medevacked to California, where doctors told her she'd be lucky to walk again, let alone ever resume her career as a travel photographer. "Every time it felt like I was making progress, I'd have another operation — I underwent 20 in all — and be laid up for weeks," she says. Her spinal injuries caused nerve damage that made her skin prickle, as if she'd gotten a severe sunburn. "I could barely tolerate the feel of bed sheets against my body," she says. Every few months a plastic surgeon would reopen the wounds on her arm to dig out more debris, but occasionally bits of glass would work their way out on their own. Wright would tape them into the journal she kept.
A practicing Buddhist, she says it was her ability to meditate and concentrate on her breath that enabled her to endure the pain of the long truck rides in Laos and her demanding recovery. She told her doctors she would climb Mount Kilimanjaro in Kenya to celebrate her 40th birthday. They sent her to a psychiatrist.
But she did so, in December of 2001, nearly two years after the accident. For the first 15,000 feet of the climb she carried her own 30 pounds of photo gear, until the cold air magnified the pain in her back and she turned her lenses over to a guide. On her birthday she stepped onto the mountain's 19,000-foot summit.
There are plenty of lessons that can be drawn from Wright's story. Some of them are practical, and Wright kindly repeats them to everyone she knows. If you travel, she says, you should carry medevac insurance. "Getting me from Thailand to California cost me about $25,000, which I didn't have," she says. "My brother maxed out four credit cards getting me home." These days she carries insurance from a company called MedjetAssist (www.medjetassist.com). "I also have a AAA gold card, which in California gets me $25,000 in medevac insurance, as well as heaps of free towing," she says.
The other lessons, the ones she learned lying on the side of the road in Laos, and in the cement room with the boy in the T-shirt, and in the back of the Englishman's SUV, and during her own recovery in her apartment in San Francisco, are more personal in nature, and perhaps unfathomable to anyone who hasn't gone through what she has. In Janaury it will have been seven years since the accident. She hasn't forgotten one, not one, aspect of the crash and the years of pain that followed. That's why she's the kind of photographer she is today.