Retro Rigs
These cool digicams have classic designs and features ranging from fun to totally functional.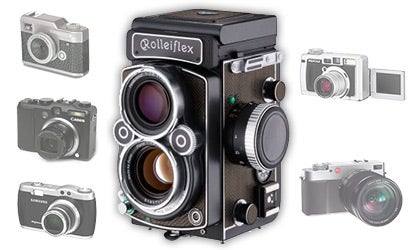 A bit of trivia: the first working digital camera was designed and built in the early to mid-1970s by Steven Sasson, an Engineer at Eastman-Kodak. The result of Sasson's efforts was an eight-pound monstrosity that recorded images in black and white onto a cassette tape. It was a whopping .01 megapixels (that's a scant 10,000 pixels) and took 23 seconds to record its first image. Suffice to say, you won't be slinging this around your neck and snapping sports shots.
Digital cameras have come a long way since the blurry, grainy, noisy B&W neck breakers like this one. Our shooting power is now measured in two-digit megapixels, and our resolutions are high enough to produce an image the size of a bread van. And as technology gets cheaper, faster, and smaller, the camera becomes much more refined. It's sleeker. It has more bells and whistles. It is a precision picture-making machine. Even the cheapest major-label economy digicam available today is light years ahead of where digital imaging technology was 15 years ago.
Styles, tastes and public preferences change quickly. But despite the fast-paced evolution of the digital camera, from palm-sized snap shooters to hefty DSLRs, sometimes you just want the style and grace of days gone by. Luckily, camera manufacturers seem to be old softies, with a penchant for nostalgia. Many have introduced lines of retro cameras that let enthusiasts frolic and play in a land of make-believe Kodachrome.
Here are some retro-styled digicams that might be of interest to the camera collector — for their styling, if not necessarily image quality and processing power. Some of these cameras are still currently available new from major shops, but for some of the older models, you may have to check eBay.
Rolleiflex MiniDigi (check eBay) – Perhaps the most well-known and popular retro camera, among both professionals and consumers alike, is the Rolleiflex MiniDigi. This tiny, palm-sized 3.1 megapixel point-and-shoot is a throwback to a racier time in photography. Modeled after the paparazzi favorite from 50 years ago, the MiniDigi goes out of its way to reproduce the details of the original Rolleiflex 2.8F. Just like the original, this camera has twin vertically mounted lenses, a crank lever, an exposure meter, and, of course, the nifty retro logo. Even the shutter release is a miniaturized version of the original.
There's just something about this camera that gives you a feeling of history and class. Sure, at 3.1 megapixels you won't be using it for too many professional gigs. Wedding portraits are probably out. But it's certainly an eye catcher and a conversation piece, and it adds a certain amount of elegance and class to snapping shots of your friends and family.
Philips Retro mini VGA (just announced-no price available) — Sometimes nostalgia is its own reward. With this model from Philips you won't be shooting professionally, but you'll have the chance to frolic with a fun little light scribe that looks like a relic from decades ago. The Retro mini VGA has exactly the look that comes to mind when you say "retro camera." It lacks many of the more substantial features, such as an LCD screen, and it's limited to QVGA quality, at about 200 pictures. But the thrill of this camera is in its look. As a small, quick, point-and-shoot camera it looks great, even if it only captures 320×240 pixels!
So it may not be your go-to camera for shooting landscapes and portraits or anything you want to blow up bigger than a postage stamp. But it has another suggested function that might just make it the coolest of the bunch. Philips suggests that it could be used as a Web cam. Imagine, instead of some bulbous, plastic-housed web cam with no personality, you have instead something reminiscent of the bygone days of Kodachrome and slide carousels. If you're a photo enthusiast who has discovered the joys of the Webcam, then this just might be the camera for you.
Pentax Optio 750Z (check eBay) — Pentax is the name on the first camera that most professionals ever put their hands on. DSLRs are replacing the legendary K1000, even in Photo 101, but for many a modern photographer that first Pentax holds a lot of pleasant memories.
In the spirit of that nostalgia Pentax introduced the Optio 750Z in fall 2004. With a 7.0 megapixel chip and a 5x optical zoom, the 750Z is a snazzy looking throwback with thoroughly modern features such as the 1.8-inch fold out LCD and Trailing-shutter-curtain sync flash.
But for the aficionado, the retro doesn't stop with the look. With a new, digital spin on an old favorite, the 750Z has a reflex-type digital light meter. Pentax touts this as being handy for shooting alongside medium-format and classic film cameras. Just set up your 750Z, meter, and make your exposure and shutter adjustments on the film camera. And while you're at it, snap a few digital shots for backup. That's a bonus worth the cost.
Samsung Digimax L85 ($279, street) — At 8.1 megapixels with a 5x optical zoom, the L85 is another handy camera to have in your bag or on your collectibles shelf. It has the stylish black-and-silver look of the classic 35-mm point-and-shoots that decorated the necks of tourists everywhere in the '50s and '60s. But once again, form meets function as we turn the L85 over, revealing a gigantic 2.5-inch display that uses Samsung's "special wide-view technology." This feature lets you view a crisp, clean image on-screen regardless of how you twist, turn, raise or lower the camera.
But the biggest and most surprising innovation on this retro goldie is the fact that it was the first digital still camera to integrate HDMI (High Definition Multimedia Interface). This feature allows you to view your photos at full resolution, with no compression, on an HDTV. Retro never looked so good!
Canon PowerShot G7 ($499, street) — Canon, another long-time favorite for professionals and amateurs alike, has stepped up to the Retro line with the PowerShot G7. Though not as purely retro as the rest of the bunch, the G7 still sports those telltale features that bring back a sense of yesteryear. The ridged, metal focus ring is both an accent and a functional detail. And in the words of Canon, it has a "matte black, retro-hip design." The over-all look and feel of the camera is reminiscent of those solid, compact 35-mm rigs like the Konica Hexar that you might have seen in the role of "backup camera" in any photographer's bag 20 or 30 years ago.
At 10.0 megapixels and sporting a 6x Optical Zoom with Optical Image Stabilizer Technology, this is one camera for which function keeps pace with form. Long shots are made steadier, allowing budding nature photographers to grab great shots from a distance. And with the ability to shoot in ISO 1600, low light and blurry images may become a retro problem from a bygone era. (And Canon's just-announced PowerShot G9 /photonews4489 keeps the cool styling, but packs two more megapixels and RAW capture — making the G line more retro-functional than ever!)
Leica Digilux 3 ($2500 Street) — Not to be left out of the party, Leica has had numerous entries under the "retro" banner. Perhaps the most talked about, though, is the Digilux 3. Packing 7.5 megapixels, this jewel's real power punch is the fact that it is a true SLR with interchangeable lenses in Four Thirds mount. It even comes with a decent Leica D Vario Elmarit 14-50mm/f2.8-3.5 lens.
But the feature that makes this DSLR special, above and beyond that groovy retro style, is the fact that it uses Live View. With Live View you can actually use the 2.5″ LCD to frame and shoot, just like with digital point and shoot cameras! Until this product cycle, it was the rare SLR-style camera with a live preview, making the Digilux 3 a real competitor no matter how you frame it.
As camera technology continues to improve and prices continue to fall we can only hope that a variety of styles will emerge. For those who remember the days of load-and-wind, having a retro camera is the next best thing to being able to step back in time. For the new photographer, these retro rigs can be a chance at role-playing and fantasy fulfillment, without the hassle of dealing with developing film. Regardless, nostalgic design is fun and eye catching. If only every modern technology had a tradition to draw upon.
Think we left some classics off this list? Or think we're nuts for calling cameras introduced 36 months ago collectibles? Let us know what you think in our forums!
J. Kevin Tumlinson is a full-time freelance writer and photographer in Houston, Texas. He can be reached via e-mail from his Web site at http://kevin.tumlinson.net/.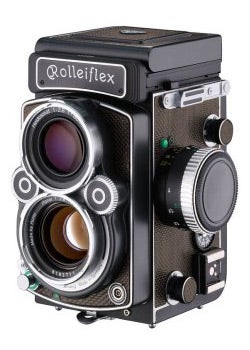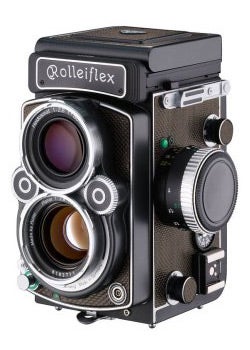 Retro-Rigs-Rolleiflex-MiniDigi
Rolleiflex MiniDigi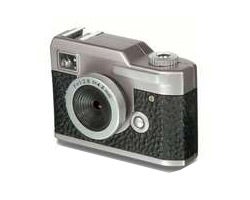 Retro-Rigs-Philips-Retro-mini-VGA
Philips Retro mini VGA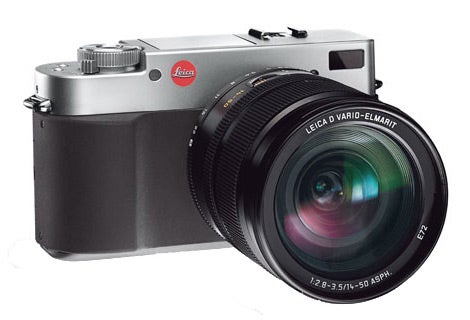 Retro-Rigs-Leica-Digilux-3
Leica Digilux 3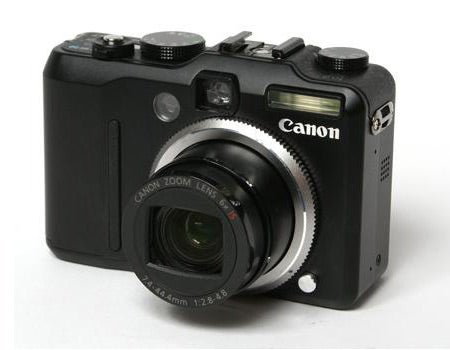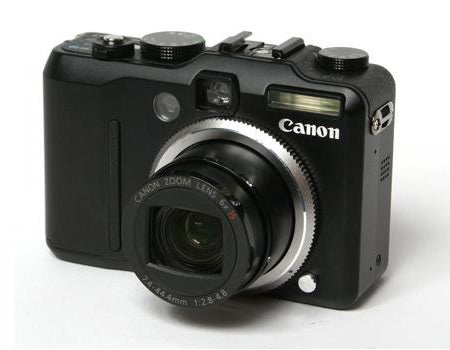 Retro-Rigs-Canon-PowerShot-G7
Canon PowerShot G7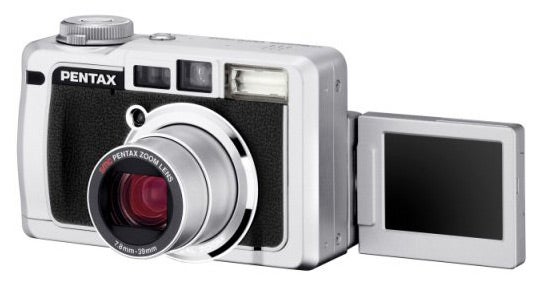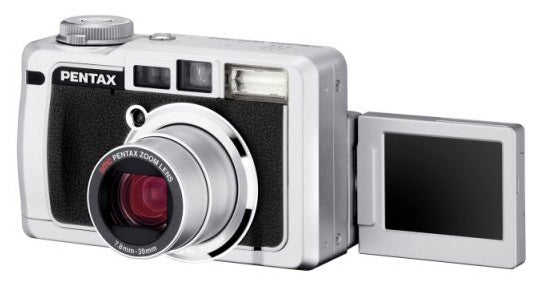 Retro-Rigs-Pentax-Optio-750Z
Pentax Optio 750Z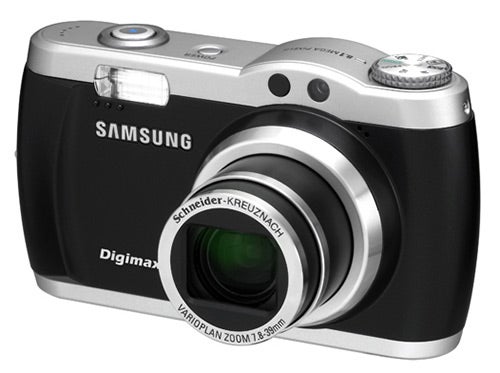 Retro-Rigs-Samsung-Digimax-L85
Samsung Digimax L85