Rare Jazz Photos, Chinese Art on Tap at Arles
The photography festival in the south of France gets underway July 3 and runs through Sept. 16.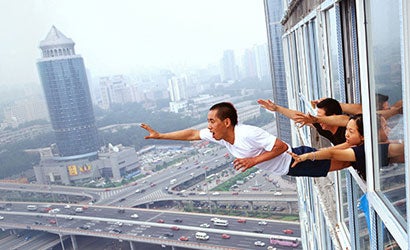 Arles, a beautiful medieval city in the south of France, each summer plays host to one of the longest running and best-loved photo festivals around. This year, Les Rencontres d'Arles as it's known, starts on July 3 and runs through Sept. 16, and features a wide array of contemporary photography exhibitions, slideshows, competitions, and educational programs.
Francois Hebel, the festival's director, says this year is all about the personal albums, especially one by Pannonica de Koenigswarter, the famous patroness of early jazz musicians. "Baroness Nica," as legends like Ornette Colman and Thelonious Monk called her, backed numerous jazz musicians with her own wealth and opened her New York apartment to them as a sanctuary from public attention. While they played and relaxed in her home, Nica would snap intimate pictures of these jazz greats and ask them all for the three wishes they wanted fulfilled before they died. Her photos, along with more than 300 musicians' answers to her questions, will be on display, along with her private photos of her house, New York City, and her more than 120 cats.
The trio of private albums is rounded out by Erik Kessel's Vernacular Collection, a series of everyday photos removed from their original context, and Strands of Armenia, a photographic history of Armenian textiles commissioned by Sultan Abdul-Hamid II.
China's art scene, steadily becoming a world trend-setter, has been embraced at Arles, with the Dashanzi @ Arles exhibition. Dashanzi, described by Hebel as "Beijing's Chelsea" neighborhood, is now a hotspot for artistic and social dialogue and exploration. Started in 2002 in factory spaces in the northeast of Beijing, the neighborhood, also known as "798," has spawned a multidisciplinary art festival, hundreds of galleries, and many talented artists whose work will be displayed in Arles. Highlighted photographers include Huang Rui, the Gao Brothers, and Rongrong & inri.
The Arles festival will also pay tribute to Magnum Photos, which turns 60 this year, and to Alberto García-Alix, along with the PhotoEspaña festival in Madrid, celebrating its tenth year. For the first time, Foundation HSBC in France will also present a retrospective of work by the photographers who have won its prizes since it was established in 1995. The 2007 winners, Julia Fullerton-Batten and Matthew Pillsbury, will also be featured.
One popular part of the festival, the Rencontres d'Arles Awards, which are nominated by committee and voted on by festival attendees, have been tweaked slightly. This year the awards have been reconfigured to include three categories: The Discovery Award, the Contemporary Book Award, and The Historical Book Award. Five nominators will curate separate shows from which the Discovery Award winner will be chosen. The 25,000 euros prize is given to a photographer "whose work has recently been — or deserves to be — discovered on the international scene."
This year's nominators are Bice Curiger (Switzerland), Alain Fleischer (France), Johan Sjöström (Sweden), Thomas Weski (Germany), and Anne Wilkes Tucker (USA). Proposed photographers are Jennifer Allora & Guillermo Calzadilla, Agnieszka Brzezanska, Marilyn Minter, Laura Henno, Eric Mutel, Anna Katarina Scheidegger, Trinidad Carillo, Nanna Hanninen, Qiu, Gay Block, Jeff Chien-Hsing Liao, Joseph Mills, Cat Tuong Nguyen, Peter Piller, and Heidi Specker.
As usual, the list of Arles events and exhibitions goes on and on from here. A performance by Lou Reed of his never-before-performed 1973 album Berlin. A symposium on the changing photography market. A seminar about raising critical photography viewers. A back-by-popular-demand portfolio review. For all the details, visit rencontres-arles.com. For complete coverage of last year's festival, go here.