POYi Winners Announced
Stephen M. Katz and John Moore took first during the 65th annual judging session.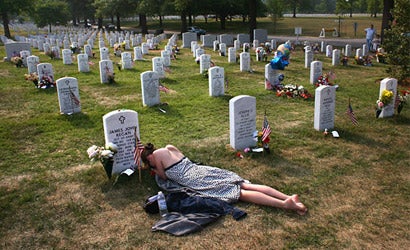 COLUMBIA, Mo. — With their hands dirty from newsprint, judges left the projector off on Friday for the last day of the Pictures of the Year International competition. Unlike the days before, overhead lights were shining bright as the panel of four judges studied newspaper pages spread over the floor, identifying winning entries for one of the final day's categories, Newspaper Best Use.
Judging for the annual competition, founded in 1944 by Cliff and Vi Edom, began on Sunday, February 17 with the Sports Action category. Consisting of 49 individual categories, seven are recognized with special distinction. Designations as the Newspaper Photographer of the Year or Magazine Photographer of the Year are the contest's two highest honors.
Stephen M. Katz, of The Virginia Pilot, took the first place Newspaper Photographer of the Year award. Images from his newspaper's home coverage area and international settings as well comprised Katz's winning portfolio. Picture stories in Katz's portfolio documented leprosy, corruption and mental illness in Nigeria. He also photographed the 1-38 Infantry Regiment from Fort Lewis, Washington as they fought in Iraq. Other awards in the category went to Scott Strazzante and Kuni Takahashi, both of the Chicago Tribune, who placed second and third, respectively.
Getty Images photographer John Moore was selected for the Magazine Photographer of the Year award. Moore's winning submissions were captured in the United States and the international conflict zones of Pakistan, Afghanistan and Iraq. He was the only journalist present at the assassination of former Pakistani Prime Minister Benazir Bhutto, and images captured at the tragedy contributed to his success. While working for the Associated Press in 2005, Moore was part of a team of 11 photographers to receive that year's Pulitzer Prize in Breaking News Photography. Freelance photographer Tomas van Houtryve was awarded second place in the Magazine Photographer of the Year category and freelance photographer Moises Saman placed third.
Other Premiere Awards included the World Understanding Award, claimed by Steve Liss of Polaris Images, the Global Vision Award, won by Daniel Beltra, a freelancer for Greenpeace, and the Community Awareness Award, which was presented to Scott Strazzante of the Chicago Tribune. Also with Premier Award designation, the One Week's Work award went to Robert Cohen of the St. Louis Post-Dispatch, while Paolo Pellegrin and Scott Anderson received the Best Use Book award for Double Blind: War in Lebanon 2006. The First Place award for Best Multimedia Project went to David Stephenson of the Lexington Herald-Leader.
Select category winners will speak at the POYi Education and Awards Program on April 17-18 in Washington, D.C. While detailed information for the program has yet to be announced, it will be posted on the POYi website when available. For information on the judges for this year's competition, please visit Pictures of the Year Judging Begins in Columbia.