Photography Contest Won — Without a Camera
Leigh Anne Langwell's unique photograms win this year's Santa Fe Prize for Photography.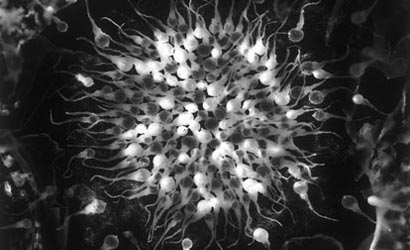 Something isn't quite right with Leigh Anne Langwell's photography. It could be that it looks incredibly lucid — almost too lucid. Or that it's too dark to be color and too vivid to be black and white. Or that, when looking at the images, it's impossible to not say to yourself, these can't be real. Or it could be that she didn't even use a camera to take the photos.
Langwell's "photographs" are actually photograms, images created without a camera by placing objects on photo-sensitive material and exposing them to light. The lack of a camera is apparently not important to the people at Center (formerly the Santa Fe Center for Photography), who this week awarded Langwell the Santa Fe Prize for Photography. But even making the photograph-photogram distinction, her images still cannot be accurately portrayed. They often don't even look like a typical photogram, because she uses a unique process to create them.
"I build three-dimensional sculptures out of translucent and transparent materials in my studio, bring the sculptures into the darkroom and arrange them on a sheet of photographic paper under a safelight," says Langwell, who hails from Albuquerque, N.M. "I expose the sculptures and paper to white light from a 10-watt bulb, fiber-optic lights and electroluminescent wire and then I process the paper in photographic chemistry in the usual way. But the image that one sees on the paper is a record of the shadows cast by the objects, their individual transparencies and material characteristics."
Langwell's surrealistic photograms are in sharp contrast to the very real pain and personal tragedy front and center in the photography of two of the competition's finalists, Kristen Ashburn and Jessica Dimmock.
Ashburn, a New York-based photographer, tackled the AIDS epidemic in Zimbabwe with her photo essay, Bloodline — AIDS and Family. "At first, it was difficult to grasp that 35 percent of the country's population is HIV-positive; every week, close to 3,000 people die there from AIDS-related illnesses," she writes in her essay accompanying the photos. "In nearly every Zimbabwean home, someone is sick or dying of AIDS.
"The elderly are forced to take care of their adult children dying of HIV/AIDS, and their children's children, on small government pensions. Ten-year-olds are compelled to join the workforce. A vicious cycle of unemployment, poverty and the spread of the virus rolls on. And yet I was struck by the strength of so many, especially in the country's HIV positive support groups. Their strength of character is remarkable."
Dimmock, meanwhile, addressed a similar issue on the domestic front. Her photo documentary, The Ninth Floor, visually narrates the lives of a group of heroin addicts who were living in the apartment of a millionaire-turned-addict. The apartment was in complete disarray and at times devolved into chaos, and Dimmock was there to document the ups and downs, the stints of sobriety and the inevitable spirals back into addiction. Along with her camera, Dimmock was also holding a personal connection to the people in the apartment — or at least their situation. "As a child of a former drug addict, there was something hauntingly familiar upon entering this space for the first time," she says. "Motivated by a cross-section of personal history and the reality and desperation of the addicts currently before me, I continue to document these individuals in an attempt to bring forward an honest and raw exploration of addiction, fractured relationships, failed attempts to break away from drugs and each other, and isolation."
The complete portfolios of the winner and finalists, which were judged by Vince Aletti, a photography critic and regular contributor to The New Yorker, Aperture and Photograph, can be seen at Center's Web site.