A New Online Portfolio Option
APhotoEditor's Rob Haggart creates photography websites that photo editors want to look at.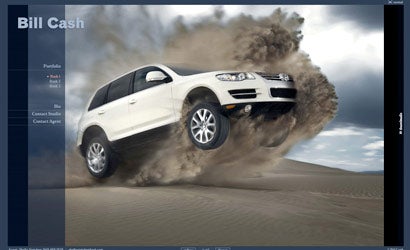 Rob Haggart has looked at a lot of photographers' websites. A LOT.
As the former director of photography for Men's Journal and photo editor for Outside magazine, he's made many big decisions based solely on a photographer's online portfolio.
So it's no surprise that the tagline for his new photography website company is, "It's all about the images." That idea is at the heart of APhotoFolio.com, which launched July 25 with websites from VII photojournalist Antonin Kratochvil and commercial car and motorcycle photographer Bill Cash.
If you know who Haggart is, you probably know him as the creator of APhotoEditor.com. If you don't know him, here's the deal: He started anonymously blogging the insider details of magazine photo departments in August 2007 while he was still at Men's Journal. His blog became wildly popular and his identity the subject of intense speculation. Shortly after leaving Men's Journal and moving out West with his family in December, he dropped his cloak of anonymity – one of the biggest events in the photo blogosphere this year.
At that point Haggart had a lot of big ideas for what to do next: He wanted to work online, he wanted to help photographers, and he wanted to push the photo industry in what he thought was the right direction. The perfect next step presented itself when he was approached by Erik Dungan and Mike Caston, the creators of the popular website creator for wedding photographers BigFolio.com.
Haggart, Dungan, and Caston became partners in January and started to work out the details of APhotoFolio. Having started and run a similar business already, the guys from BigFolio provided the technical knowledge and answered a lot of Haggart's questions. His job was to lay out everything he liked and didn't like about photographers' websites.
"I'd looked at thousands and thousands of web portfolios, so I felt like I had a pretty good idea of what was good and bad," he says. Good: design shows off the images without distracting; photos are big and easy to navigate; bio and contact information is in an obvious place. Bad: no HTML information appears when the site has been stripped of images, as within corporate mail systems; flash sites that don't allow you to link to a specific image; sloppy editing.
Dungan and Caston, along with their small programming team, were able to address most of Haggart's requests. Each photo on their flash sites can be linked to individually, and without an unruly string of random numbers. Websites include an iPhone-friendly version, since iPhones don't support Flash. The web interface is clean and intuitive with the option to place photos left or right, as on magazine pages.
Haggart was planning to launch with one simple design option, but soon found there were two basic camps of what photographers wanted: simple and clean or big and bold. Those became APhotoFolio's two standard design templates: Brooklyn (simple and clean, see Kratochvil's site) and Manhattan (big and bold, see Cash's site). APhotoFolio will also launch a new design six times a year, allowing the company to adapt to changing trends in web aesthetics and to cater to photographers' requests. "I built these two [initial] designs, these are just what I want as a client and buyer," Haggart says. "I'm kind of open to the next round of designs coming from what photographers want."
Yet Haggart also realizes that "what he wants" is a valuable commodity. He's betting that photographers who want to be hired by photo editors will be interested in having their photos selected by a well-respected photo editor — like him. For $300 for an hour, Haggart will look through a photographer's image bank, help them assemble portfolios, and talk them through his editing decisions.
"There is so much emphasis put on [website] design, whereas I think the photography trumps all that," Haggart explains. In his opinion, art buyers are looking for "a signature style," something unique that people connect with and that distinguishes one photographer from the rest. The best websites are transparent venues for that style. "I want these portfolios to be like your black leather portfolio; they just hold the pictures and make it easy to look at them," Haggart says.
Haggart's unusual status as a preeminent blogger also provides him with a valuable service: free marketing. The entire marketing strategy so far for APhotoFolio has been a single post on APhotoEditor.com. A week later a half-dozen photographers had signed up for sites — which may not sound like huge numbers, but Haggart calls it "amazing."
"It's a big decision and $1,000 is a lot of money," he says (websites cost $1,000 plus a $17 monthly hosting fee). "Once you commit, it's at least a year-long [process to create the site], so I didn't expect right out of the gate a ton of people."
Blogging has also become an important aspect of research and development for APhotoFolio. Comments on the blog at APhotoFolio.com have already helped the team identify self-hosting as an important option to offer photographers in the future. "I'm loving the feedback loop on this project," Haggart says.
He's also aware that the cache he's gained from APhotoEditor.com holds him to a very high, and accountable, standard. "Somebody asked me about our servers, what's the quality of them," Haggart recalls. "I was like, you know, with the visibility of my blog, I don't think I can get away with screwing over one single person."