The New Documentarian
With her new documentary on women with eating disorders debuting Nov. 14 on HBO, Lauren Greenfield has become the prototype for a new breed of documentary photographer.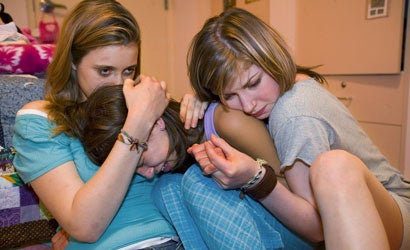 In many ways Lauren Greenfield is the prototype for a new breed of documentarian. Not simply a photographer or a filmmaker, she has used her skills from one to cross over to the other and in doing so has won acclaim for her work in both.
Debuting Nov. 14 on HBO, Greenfield's first documentary, Thin, focuses on four women at Florida's Renfrew Center, a residential facility for the treatment of eating disorders. Greenfield was named IPA Editorial Photographer of 2006 and the film has garnered prizes at several film festivals.
But possibly the most impressive thing about Thin is the way Greenfield has expanded its boundaries to include a film, a book, a museum exhibition, and a resource-packed website.
"Originally I was just going to do the film, then I thought I should do a book, then [I thought] 'it really needs a museum show,' and the website seemed natural as a way to bring all the different elements together," Greenfield explains. "I feel very complete about the project."
Greenfield's initial goal was to show "what it feels like to have an eating disorder," and the film achieves this to a chilling degree. The story follows Brittany, Alisa, Polly, and Shelly, who range in age from 15 to 30, as they alternately overcome and succumb to their crippling fears of food and losing control.
Greenfield contacted Shelly, whose entry into and release from treatment bookends the film, before they began filming. When Shelly showed up to Renfrew her first day, the camera crew was waiting — it was also their first day shooting. Shelly, a psychiatric nurse who fed herself and sometimes purged through a stomach tube, struggled throughout the movie to reach 100 pounds.
At the climax of the film, Polly is asked to leave Renfrew after her close friends tell administrators she has broken several rules, including getting a tattoo with the symbol for recovery from an eating disorder. At one point during the confrontation Polly asked Greenfield to stop filming, which the filmmaker had promised the women she would do whenever they asked.
Greenfield went to talk with Polly, and coaxed her into allowing the cameras to come back on, convincing her of the importance of telling her story. Instead of missing the emotional day, Greenfield and her small team captured one of the most intimate and heart-wrenching moments of the film — Polly purging, the day's stress rendering her unable to deny her constant urge to throw up after eating.
In situations like this, it is easy to see how Greenfield's film work builds on skills she has honed as a documentary photographer. The 40-year-old VII photographer has produced other projects about body image and perceptions, including Girl Culture, during which she developed her initial relationship with the Renfrew Center. These projects obviously taught Greenfield the importance of trust and to follow through on her promises. Of course, Thin was also a learning process, especially the day everything fell apart for Polly, which Greenfield calls a turning point in their relationship and in her career.
"The filmmaking process was much more intense and more in-depth than my photography [because] … it was a really intense and vulnerable time in [the women's] lives" Greenfield says. "This was a really meaningful relationship, I think on both sides."
Making a film was also more intense physically. During the nine weeks of filming (six straight through and three paced to fill in plot points) Greenfield and her three crew members often worked 12- to 16-hour days. They began, as the film does, at 5 a.m. for weigh-ins, where nurses check patients' vital signs and scan their bodies for self-inflicted wounds. Days sometimes ended with Greenfield spending the night at the center, where her crew had a room.
Initially hesitant to relinquish control of the filming process, Greenfield quickly grew so confident in the ability of her cinematographer, Amanda Micheli, that she occasionally left her with the crew and went to shoot "one man band" with a smaller camera she had learned to use. But many of the most important moments happened while the camera was turned off. Greenfield and her crew frequently talked with the women without filming them, becoming friends with them, explaining why the film was important, and building the rapport that gives Thin its incredible intimacy.
Because this was Greenfield's first experience directing — and because shoots are grueling even for experienced filmmakers — she took very few photos during filming. But reflecting upon her work later, she realized there were still stories left to tell after the credits rolled.
While the film is an emotionally wrenching experience, Greenfield describes the book as more academic. One thing she worked to show was the diversity — in age, race, and experience — of the women being treated at Renfrew. And because she felt she had sated the need for reportage with the film, she returned to take mostly portraits, often with patients near wasted trees that mirror their ravaged bodies.
To provide more context and information, these photos are woven together with essays on eating disorders as well as painfully insightful entries from the women's diaries, such as a daily schedule from Brittany where anorexic and bulimic days are marked with smiley faces and other days with crying faces.
With Greenfield's earlier project Girl Culture, a huge community and discussion grew around the book and its accompanying exhibition. Greenfield hopes to prompt a similar response with her Thin shows. One is already on view at Fahey/Klein Gallery in L.A. through Nov. 25, and a three-year touring show will open at the Smithsonian-affiliated Women's Museum in Dallas on Feb. 22.
"That's where the rubber really meets the road," Greenfield says, because it is open to anyone, not just those who can afford the coffee-table book or a subscription to HBO. The fourth component of the project, the website thindocumentary.com, struck Greenfield as a natural way to bring the elements together with extra resources and a discussion space by way of an online forum.
Greenfield didn't initially envision Thin as a multimedia project, but after so much time with her subjects she felt an even greater responsibility than usual to increase public awareness about and to help those suffering from eating disorders.
She has also found herself compelled to hold on to the relationships she's developed with the women she filmed. Polly, Shelly and Alisa came to the Sundance screening, and their reactions ranged from a renewed desire to fight the illness to frustration with other girls getting more screen time. Inspired by the power of Greenfield's work, Polly is now in school to become a photographer.