The Met Goes Contemporary
A new gallery for post-1960s photography opens in New York.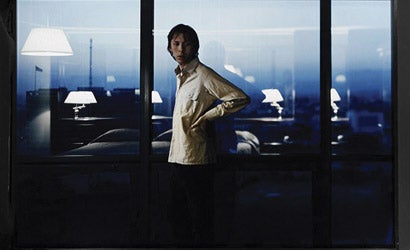 According to the ethos of New York's Metropolitan Museum of Art, new acquisitions do not simply become a part of the museum's vast permanent collection — they must also hold their place within the entire history of the world's art. Therefore the recent opening of the museum's new 2,000-square-foot gallery for post-1960s photography represents more than just a dedicated space for its contemporary prints; it also marks the acceptance of contemporary photography within the hallowed halls of art history.
"It's really kind of a milestone," says Doug Eklund, assistant curator for the Met's department of photographs. For Eklund, the new gallery is an indication that contemporary photography is "taking its place among the other more established periods in the museum."
The Joyce and Robert Menschel Hall for Modern Photography has been in the works for nearly a decade, at least since the early '90s when photography hit one of its "periodic waves of popularity," as Eklund puts it. At that time, the Met had recently acquired several modern photography collections including the Ford Motor Company Collection of American and European photography — so Maria Hambourg, who recently retired as head of the photography department, along with its "patron saint" Joyce Menschel, put together a ten-year plan to fill in the gaps. As its contemporary collection grew, the museum began displaying a few photos outside the modern art wing.
"It's been sort of a stealth way of introducing the Metropolitan's audience to things that they might not have seen before," Eklund says.
But the area is relatively unprotected, so unglazed images can't be shown there, and, more important, it simply isn't big enough to accommodate the expansive prints that have come to distinguish post-'60s photography.
"The expanded scale of contemporary photography was really the thing that gave birth to this space," Eklund explains. The new hall will have plenty of room for those wall-size prints that epitomize photographers such as Andreas Gursky, Thomas Struth, and Jeff Wall.
The Menschel Hall's inaugural show, Depth of Field: Contemporary Photography at the Metropolitan, opened on September 25 and is viewed as an introduction to the department of contemporary photography's collection of "amazing single pictures." Further themed shows are planned for every six months.
By situating the contemporary photography hall near galleries for historical photography, contemporary art, and drawings and prints, curators are encouraging patrons to draw connections between these photos and pieces in other departments. Eklund hopes that by showing how contemporary photography fits into the "whole spectrum of human creativity," the museum can win over skeptics who still question the place of contemporary photography at an institution like the Met.
"There is still something slightly illicit about photography," he admits. "You're required to always fight for it, but I like that about it."