Inside the Box
The new digital art fair installs works in freight containers around Chelsea.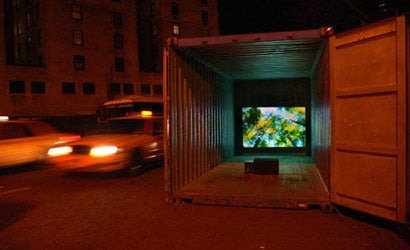 Inside a long rectangular metal room, a video scrolls through scenes of a dark, shrouded wilderness while the soundtrack relays the chirps and squeaks of circling bats. The piece is so serene and mesmerizing it could easily lull the viewer into forgetting where they are: inside an appropriated freight container on the corner of 24th Street and 8th Avenue in New York City.
This video installment is part of the latest incarnation of the Digital and Video Arts Fair (DiVA), aptly named "The Streets." In a global attempt to raise awareness for this relatively young art form, galleries from New York and around the world — including Germany, Lithuania, and China — display digital and video artwork, in this case inside nine shipping containers on the streets of West Chelsea. From now until March 30th both gallery aficionados and regular folk alike can indulge in this uncommon art experience. DiVA adapted this method of exhibition from galleries in Europe, and the festival debuted the format two years ago in Miami, where the containers were set up in a "village," or a large circle. After the success in Miami, DiVA brought the festival to the New York financial district last year, but "it wasn't exactly our audience," says Thierry Alet, the Director of Exhibitions.
Banners adorn the shipping containers explaining the project and inviting passersby to open the big corrugated doors and experience the art for themselves, yet it remains to be seen how many people will actually do this. It's still easy to bypass the giant metal boxes, mistaking these avant-garde exhibition spaces for just another part of the urban landscape. But as this year's festival is in the New York neighborhood that is known for packing art spaces into former warehouses, Alet is confident the artwork will reach the target audience, which includes potential buyers and the art-appreciating general public.
The exhibition that may be the most comprehensible to the most people — since it trades in unequivocal politicized issues — coincidentally features digital still images. Ray Bartkus' work (at 514 W. 25th St.) comprises grids of grainy photos featuring grotesque soldiers waging war in supermarkets and department stores; violent and suicidal television newscasters; and